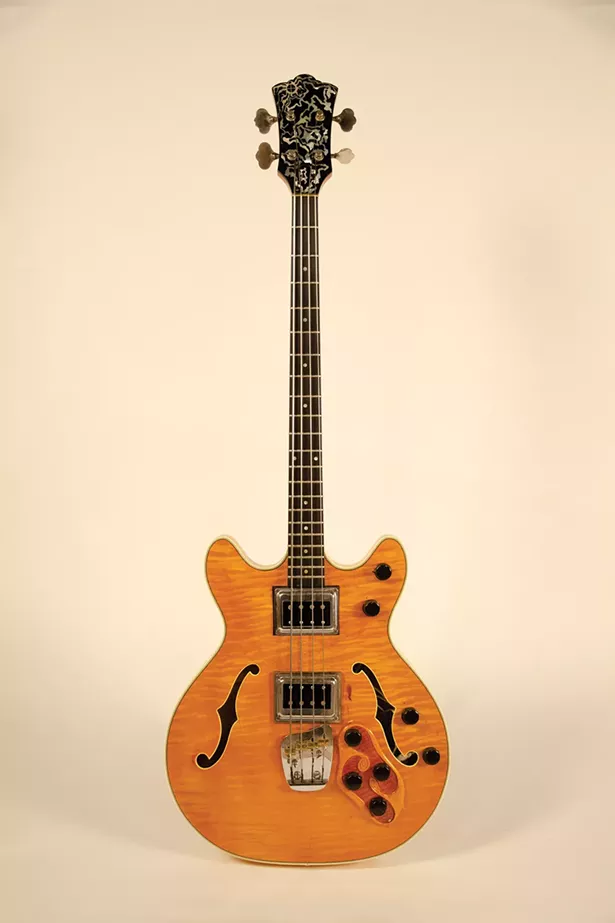 Bass played at Woodstock by Jack Casady of Jefferson Airplane. Lent by Jack Casady.
The 1969 Woodstock festival is remembered for many things­­—the legendary music, the mud, the melee of foot and car traffic, "but Woodstock was more than that," says Wade Lawrence, director and senior curator at The Museum at Bethel Woods. "It was the coming together of a generation."
March 30 marked the kick-off of A Season of Song & Celebration, a yearlong commemoration of the golden anniversary of the 1969 festival with the grand opening of the special exhibit "We Are Golden: Reflections on the 50th Anniversary of the Woodstock Festival and Aspirations for a Peaceful Future."
"For this exhibit, we started by asking, 'Why should anybody care about Woodstock 50 years later?'" Lawrence says. What emerged was the idea of Woodstock as a synonym and symbol for empowered activism. "Young people then had all kinds of things to face: the war in Vietnam, violent Civil Rights protests in the streets. It was a tumultuous time," Lawrence says. "Woodstock offered a break from all that: three days of peace, love, and music. Then at the festival, people looked around and saw each other and realized 'Wow! We young people are a group to be reckoned with. We are a voting bloc.'" Freshly aware of their combined power, this generation of young people returned to the real world with a newfound voice to cut a path into political and social spaces and fight for the world they wanted.
Along with actual artifacts from the festival (like Jack Casady's bass and a piece of the stage), the exhibit includes oral histories of original Woodstock attendees alongside those of today's youth. "The wrongs being righted today aren't too different from wrongs being righted in the '60s," says assistant curator Julia Fell. "Maybe we use different phrases now, but the fight has never really stopped. We still have the fight for civil rights, though we may call it social justice. We still have the fight for women's rights, though we may call it Me Too. We still have the fight for gay rights, though now it's LGBTQ. The fact that we can have a civic dialog about these issues and that young people are taking a stand is a direct link to the '60s."
The exhibit culminates in an interactive invitation for young people to reflect on their hopes and fears for today, leaving viewers with the question, "How can we learn from the Woodstock generation to ensure our world is a better place in 50 years"
"We are Golden" will be on display at the Museum at Bethel Woods until December 31.