Thomas Smith
Black farm soil in Chester.
It's a cliché to say a view looks like a painting, but there's really no better way to describe the views one sees driving through the communities of Warwick, Chester, and Sugar Loaf. Here, the mountains and hills frame majestically rolling fields, and this time of year fall foliage lights the region in multicolored splendor. The area is known as the black dirt region and is home to a rare, dark and extremely fertile soil. This dark earth provides a striking contrast with the green corn fields and cow grazing pastures.
But there's more to the region than the views. These hills are alive with the sound of music (there are several wonderful concert venues in the area) and also with the sounds of artisans hard at work and villages bustling with high end shops that offer unique wares. Main streets in quaint villages maintain their historic charm, and despite the peaceful country vibe there is plenty for visitors to do. The area is a great destination for hikers and bikers in the warmer months and in the winter is a skiing hotspot.
Thomas Smith
Peter and Manin Vonuchtrup at 18th Century Furniture and Builders in Sugar Loaf.
It's the type of place that residents say people come to in order to escape from the stress of their regular lives, where visitors can wander for an afternoon, a day, or even a week. However, visitors should be warned it's a place where—as made evident by the abundance of farms all around—roots tend to take hold.
Warwick Occupying over 100 square miles of land with multiple hamlets and three villages (Florida, Greenwood Lake, and the Village of Warwick), Warwick is a big area and has a big country feel. It's the kind of place where it's easy to picture John Wayne galloping across a field. A historic area (it was here that Sterling Iron Works built the Hudson River Chain that kept the British Navy from sailing up the Hudson during the Revolutionary War), Warwick continues to honor its past. Main Street in the Village of Warwick remains free of generic chain stores. Shops such as Blue and Frazzleberries Country Store sell products in a specific style.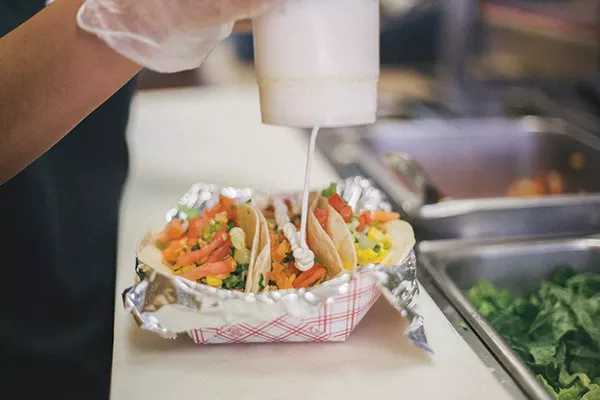 Thomas Smith
Fresh tacos at Taco Hombre in Warwick.
"We call it country-politan," says Katie Schlichting, who owns Frazzleberries with her mother-in-law, Mary Beth Schlichting. The rustic and simultaneously high-end and sophisticated wares offered at Frazzleberries include jewelry, candles, and country-themed furniture. "It's things that make people feel good," Katie says.
She adds that Warwick also gives off a feel-good vibe: "It's a step back in time, I think Warwick provides an escape for a lot of people."
While wandering along Main Street, you'll find places like the Sugar Shack Café, a cute pastry shop overlooking a brook that offers tasty, gluten-free options, and Fetch Bar & Grill, a canine-themed restaurant that caters to humans but also offers complimentary water and small treats for our four-legged friends. Main Street is also home to classic bars, such as Yesterday's Restaurant and Pub and Eddie's Roadhouse. Hungry visitors won't want to miss a chance to dine at Taco Hombre, where this reporter enjoyed an extensive burrito with everything in the name of field research.
One of the newer additions to Main Street in Warwick is Ye Olde Warwick Book Shoppe. A bookstore that features new, used, rare, and collectible books. Owner Tom Roberts opened the store about a year and a half ago. He had wanted to open a shop in Warwick for a while but available spaces "rent very fast." So far business is booming for the new bookstore, and Roberts hopes to expand to the floor above his current shop by November. He says he's happy to be a part of Warwick's Main Street. "It's just a charming, Victorian-esque village," he says.
Leaving the Village of Warwick, one can be moved by the spirits at the Warwick Valley Winery and Distillery and the Applewood Winery. Hikers can pick up the Appalachian Trail at several points within Warwick. A popular stop for travelers is the community of Greenwood Lake, located on Orange County's biggest freshwater lake. Celebrities including New York Yankees shortstop Derek Jeter have homes here, and the community served as the backdrop for last year's film The Magic of Belle Isle, which was directed by Rob Reiner and stars Morgan Freeman.
The views from Thomas P. Morahan Beach, the town beach, are stunning. The gazebo at the beach is bordered on three sides by water and is an ideal picnicking spot. In warm weather months, there's a concert series held at the park on a waterside stage.