Yes, it's that time. Time to finish thawing out from the long Hudson Valley winter and take our well-earned rewards amid the far friendlier climes and unmatched beauty that surrounds us. Which, to music lovers, can mean only one thing: Summer music festival season is here once again. Thanks to the recent Truck America festival and this month's WDST Mountain Jam (June 4-6), the outdoor-leaning concert period is already under way in fine style, but there remains no lack of thrilling musical happenings to add to your calendar for the next few months. Whether you're looking for rock, classical, jazz, or folk/roots sounds, there's at least one festival on the near horizon with a seat or lawn-blanket space waiting just for you.
In what looks to become a Chronogram tradition, here's our second annual rundown of the best the upstate summer music season has to offer. While there were certainly several always-worthy festivals mentioned in 2009's overview that aren't covered below—Tanglewood, the Rosendale Street Festival, Bethel Woods, Bard SummerScape/Music Festival—we've decided this year to highlight some perhaps less familiar examples among the expected recurring favorites. So drive safe, don't forget that sunscreen, and enjoy. We'll see you beneath the blue sky.
Clearwater (June 19-20)
Famously started by Pete Seeger in the early '70s as an ongoing benefit for river cleanup efforts, the Clearwater Great Hudson River Revival—better known as, simply, Clearwater—happens every year at the river's edge, in Croton-on-Hudson's Croton Point Park. Like Seeger himself, the gathering embodies environmental activism (green and nature exhibits), family (children's activities), folk arts (storytelling, crafts), and, of course, music. Joining the founder this year are Steve Earle, David Bromberg, Sean Colvin, Buckwheat Zydeco, Joan Osbourne, the Felice Brothers, C.J. Chenier, Slavic Soul Party, and many more. www.clearwater.org.

Beacon Riverfest (June 26)
Happening in Seeger's hometown of Beacon, just up the Hudson from Croton Point, is the inaugural Beacon Riverfest. Put together and funded with donations collected by local musician Stephen Clair and his tireless crew, the hopeful little fest is certainly off to a great start. Held at the city's beautifully renovated Riverfront Park, this free sunshine soiree presents sets by New York's legendary garage rockers the Fleshtones, Grammy-nominated Woodstock singer-songwriter Tracy Bonham, and top Brooklyn alt-country/jam band Yarn. www.beaconriverfest.com.
Freihofer's Jazz Festival (June 26-27)
The Saratoga Performing Arts Center (SPAC) hosts some of the most recognized names in jazz, blues, and soul every year at this gala sponsored by Freihofer's bakers. On the main stage this season are Al Jarreau with the George Duke Trio, Taj Mahal, Ahmad Jamal, Al DiMeola, Gladys Knight, Ramsey Lewis, Stefon Harris, Juan DeMarcos and the Afro-Cuban All Stars, and New Orleans clarinetist Evan Christopher. The smaller gazebo stage offers famed Polish trumpeter Tomasz Stanko, singer Alyssa Graham, saxophonist Ralph Lalama, bassist Linda Oh, percussionist Steve Kroon, and many more acts. www.spac.org.
Maverick Concerts (June 27-September 5)
America's oldest continuous summer chamber music festival, Maverick is a must even if you're just a curious classical fan. Now in its 95th year, the festival's historic hand-built hall in the forest outside Woodstock is a magical acoustic temple that features jazz, folk, and avant-garde among its signature chamber billings. In addition to return performances by the venerable Tokyo String, Miro, and Shanghai Quartets, Maverick's 2010 schedule includes Trio Solisti, pianist Fred Hersch, composer Steve Reich playing Drumming with percussion ensembles NEXUS and So Percussion, and, for its Woodstock Legends series, folksinger Happy Traum and reed player Steve Gorn. www.maverickconcerts.org.

Belleayre Music Festival (July 3-September 4)

In addition to its gorgeous mountaintop setting, Belleayre is adored for its striking variety of top-name acts. The annual series is managed by the Belleayre Conservatory, a group of community and business leaders formed in 1990 amid fears that the host ski center in Highmount would close down due to slow off-season business. On the roster this year are Ricky Skaggs & Kentucky Thunder, Patti LuPone, Charlie Daniels, the John Scofield/Joe Lovano Quartet, Aaron Neville, a Buddy Holly tribute, Tchaikovsky's first piano concerto by the Belleayre Festival Orchestra with soloist John Covelli, children's events, and a singer-songwriter program with Joseph Arthur and Nicole Atkins.
www.belleayremusic.org
.
Grey Fox Bluegrass Festival (July 15-18)
Falcon Ridge Folk Festival (July 23-25)
These two time-tested blowouts are among the East Coast's most rabidly anticipated folk/roots hootenannies, and justifiably pull in acts and attendees from around the around the globe. Recently installed in its new home of Oak Hill, the award-winning Grey Fox has been the subject a film (2004's Bluegrass Journey) and a BBC-TV documentary. This year's bookings include Sam Bush, Kathy Mattea, David Grisman, Crooked Still, Bill Keith, Railroad Earth, the Gibson Brothers, the Greencards, and more. Falcon Ridge, which takes flight yearly in Hillsdale, covers folk dance as well as music and, like Grey Fox, encourages on-site camping. Among its 2010 performers are Eliza Gilkyson, John Gorka, Red Molly, the Kennedys, Gandalf Murphy and the Slambovian Circus of Dreams, Jimmy LaFave, and others. www.greyfoxbluegrass.com; www.falconridgefolk.com.
Wilco Solid Sound Festival (August 13-15)
Beloved alt-rock unit Wilco performs at and curates this intriguing three-day summit at cutting-edge arts complex MassMOCA in North Adams, Massachusetts. Besides two sets by the band itself, the event boasts individual performances by Wilco side projects the Nels Cline Singers, Glenn Kotche's On Fillmore, Mikael Jorgenson's Pronto, and John Stirrat and Pat Sansone's the Autumn Defense. Also promised are live comedy, art installations, and exhibits like the Solid Sound Stompbox Station, an interactive guitar-pedal display created and demonstrated by band guitarist Cline, along with a concert-poster silkscreening demonstration, workshops, films, video installations, and DJ sets. www.massmoca.org.

Phoenicia Festival of the Voice (August 13-15)
Lovers of the vocal arts should head up the mountain roads to Phoenicia's Parish Field for the picturesque town's first-ever Festival of the Voice. The weekend begins with a concert by world-renowned coloratura soprano Elizabeth Futral and goes on to include a performance of Verdi's "Falstaff" conducted by Metropolitan Opera maestro Steven White and starring Met baritone Louis Otey, and closes with a stunning grand combined choral finale. In between the main acts are a performance by Native American singer and flutist Joseph FireCrow and pianist Justin Kolb; musical theater; Baroque and sacred concerts; and, of course, kids music by town resident Uncle Rock. www.PhoeniciaVoicefest.com.
All Tomorrow's Parties US (September 3-5)
The third installment of this most civilized and forward-thinking UK-born indie gathering takes place once again at Kutshers Country Club in Monticello, and may even surpass the to-die-for bills of its previous years. The opening night, one of ATP's celebrated Don't Look Back segments of acts performing an album in its entirety, presents Iggy and the Stooges playing Raw Power, Mudhoney doing Superfuzz Bigmuff (plus early singles), Sleep with Holy Mountain, and in their first-ever US show, Australia's Scientists playing Blood Red River. Day two has Sonic Youth, the Breeders, Tortoise, Bardo Pond, Explosions in the Sky, and more; while the Jim Jarmusch-curated closing day has Wooden Shjips, Hope Sandoval & the Warm Inventions, Raekwon, the Brian Jonestown Massacre, the Vivian Girls, a Sunn O)))/Boris team-up, and more. www.atpfestival.com.
Just Over the Horizon
Lake George Elvis Presley Music Festival and Competition (June 3-6)
The name says it all. Presley pretenders pit pelvis against pelvis, and everything's Elvis. Lake George.
www.lakegeorgeelvisfest.com.
Rochester International Jazz Festival (June 11-19)
Herbie Hancock, Jeff Beck, Gladys Knight, Keb Mo, Bernie Williams, John Pizzarelli. Rochester.
www.rochesterjazz.com.

Syracuse Jazz Festival (June 25-27)
Natalie Cole, Jeff Lorber, Boz Scaggs, Gil Scott-Heron, Richie Havens, Richard Bona. Syracuse.
www.syracusejazzfest.com.
Grassroots Festival of Music and Dance (July 22-25)
Merle Haggard, Burning Spear, Arrested Development, Rusted Root, Donna the Buffalo, Railroad Earth. Trumansburg. www.grassrootsfest.org/festival/.
Chenango Blues Festival (August 20-21)
Guitar Shorty, John Hammond, Watermelon Slim, Marcia Ball, the Carolina Chocolate Drops' Dom Flemons. Norwich. www.chenangobluesfest.org.
Adam Frehm
The crowd in the rain at the 2009 Grey Fox Bluegrass Festival.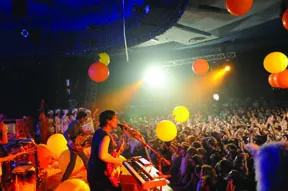 Adam Frehm
The Flaming Lips at the 2009 All Tomorrow's Parties.