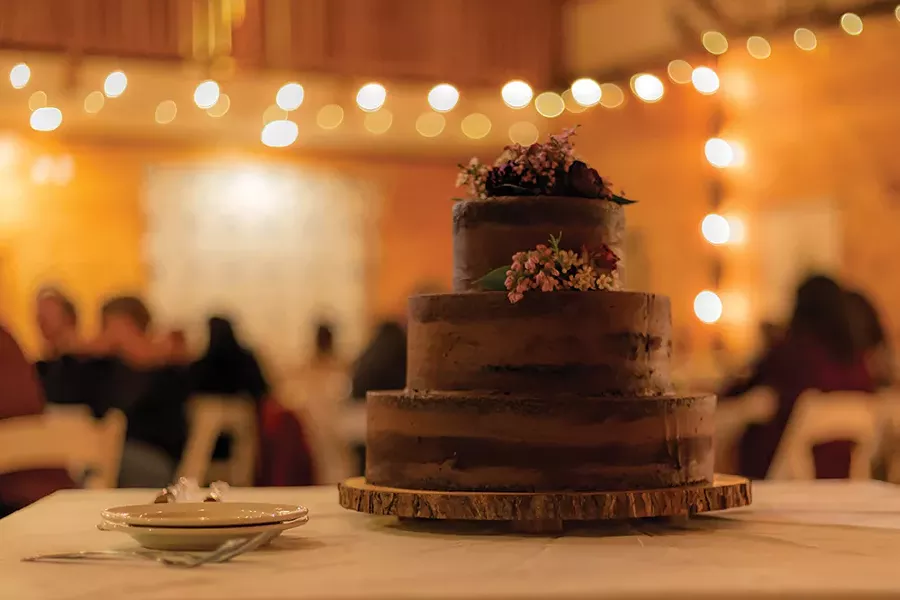 Photo by Rachel Snydstrup
While the vast majority of wedding marketing shows sunkissed summer brides in strapless gowns posing against verdant landscapes, a winter wedding has its own charms and advantages. For one, getting hitched in the colder months takes off some of the competitive pressure—venues have more dates available (often at a discounted rate) and your guests are less likely to have a conflict.
Winter weddings also open up a whole new wardrobe of options—peacoats, capes, fur shrugs, long-sleeve gowns, and woolen suits—and the chance for timeless wedding photos against the backdrop of just-fallen snow.
While the Hudson Valley has grown in popularity as a summer and fall wedding destination, the region is equally beautiful in blanketed in snow. Tucked in the Catskill Mountains with 385 acres of rolling fields and forest, the Ashokan Center hosts weddings all year round. "With winter weddings, the one thing you do have to contend with is inclement weather," says Ashokan Center special events coordinator Lisa Hurley. "Venues, like ours, that have onsite accommodations for all your guests mean you don't have to worry about anyone driving in snowy, icy conditions."
Situated near its namesake reservoir as well as the Esopus Creek, the Ashokan Center is steeped in nature and offers wedding guests a range of exciting activities to choose from, including archery, blacksmithing, and winter hiking. Built in 2013, the retreat center's buildings are sustainably made and offer a cozy, rustic interior. The Esopus Lodge can accommodate up to 185 seated guests. The ballroom and performance stage lend themselves to a wide range of entertainment options. After the night's festivities, just a short walk away, the Sycamore Lodge, the Red Maple Lodge, and the Longhouse offer bunk bed lodging, so all guests can sleep onsite and relish a summer camp-like experience.
"From December to February, Ashokan Center is a winter wonderland, perfect for cozy weddings," Hurley says. If you've been dreaming in white, a winter wedding may be the perfect fit.