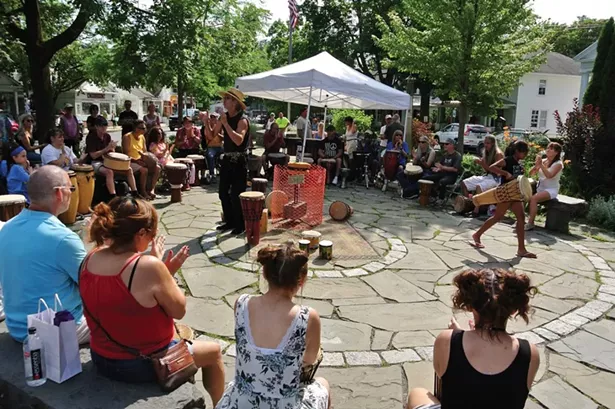 Photo by John Garay
A drum circle on the Woodstock Green
There is perhaps no place more famous in the Hudson Valley than the fabled town of Woodstock. The name lends itself to the most important music festival in the nation's history, Woodstock 1969, which will celebrate its 50th anniversary this summer. Although the "peace, love, and music" mythology of the '60s is certainly still a big part of the Woodstock way of life, the town has evolved to be much more than a monument to the past, offering a diverse selection of food, art, commerce, and entertainment that consistently delights natives and visitors alike.
A quick gander down Tinker Street, Woodstock's main drag, will reveal an eclectic selection of brightly colored boutiques, quirky artisan shops, and restaurants. This magnetic nucleus of creativity and commerce is what has drawn artists and musicians from far and wide for more than a century. If you're looking to immerse yourself in the Woodstock vibe, head over to The Golden Notebook. The iconic indie bookstore is a community hub for casual catch-ups, gatherings, and literary events.
Satiate your sweet tooth with ethically sourced cacao treats from Fruition Chocolate as you peruse Mower's Flea Market, which runs weekends from May through November. Of course, what visit to Woodstock would be complete without a little art and music? Travel back in art history at one of the most important local landmarks: Woodstock Byrdcliffe Guild. Constructed in 1902, it's one of the country's oldest art colonies, and it still maintains a residency program today. Head to a Levon Helm Studios to get your musical kicks at the converted barn/studio formerly owned and run the late Levon Helm, drummer for The Band, and now managed by his daughter, musician Amy Helm.
Woodstock isn't only famous for its Bohemian scene, after all, it is nestled within one of the most beautiful valleys in the nation. Just a 10-minute drive from town, the trailhead for Overlook Mountain offers a 2.4-mile hike on a traversable gravel trail that culminates in stunning panoramas of the Catskill Mountains.
After a long day of snacking, shopping, and hiking, head back town and kick back at Silvia, a elegant-yet-relaxed farm-to-table restaurant with an Asian-inspired menu, located in the one-time home of the Joyous Lake nightclub.
When sleep finally calls, take a load off (Fanny) at Woodstock Way, which has its own onsite cafe and waterfall. The cabins and suites were built from locally sourced wood and reclaimed materials, and are decorated with rich rugs and white accents, creating a modern lodge feel.