As in regions all around the world have been doing since the coronavirus pushed into them into quarantine, the Hudson Valley arts scene has, for the interim, migrated to the internet. Since all of us are lying low these days, here's a roundup of several worthwhile online local arts happenings to click up from the safety and shelter of your cozy abode.
Lara Hope Livestreamed Award Concert
Major Chronogram congratulations go out to regional rockabilly queen—and our former Chronogram coworker, we're proud to say—Lara Hope, who was selected by Kingston Mayor Steven T. Noble, the Department of Art & Cultural Affairs, and the Kingston Art Commission as the recipient of Kingston's 2020 Distinguished Artist Award. On May 8 at 5:30pm, to celebrate the start of her tenure, Hope, who leads the world-travelled Lara Hope & the Ark-Tones, will perform live online via the City of Kingston's Facebook page with the Gold Hope Duo, an act that also features her husband, bassist Matt Goldpaugh. "Lara Hope is an integral part of our local artist community here in Kingston, and we appreciate that she will be giving us a performance so we can enjoy her live music from home," says Mayor Noble. "I hope everyone will tune in and congratulate Lara on winning the 2020 Kingston Distinguished Artist Award!"
Bindlestiff Family Cirkus Kicks Off Weekly Parades
Keith Nelson and Stephanie Monseu of the Bindlestiff Family Cirkus
Beginning on May 7, City of Hudson residents will be treated to an ongoing weekly "Tiny Parade" by the town's beloved Bindlestiff Family Cirkus. Founded in New York in 1995 by performers Keith Nelson and Stephanie Monseu, the Bindlestiffs in 2005 relocated to Hudson, where they've become a cherished facet of the community, presenting eclectic, eccentric-filled revues at welcoming nightspot Club Helsinki between their appearances on the modern-day carny circuit. Not a gang to sit idle even in the face of the closures, the intrepid troupe will stage its Tiny Parades on a different route on the city's streets every Thursday from 6pm to 7:45pm and invites to enjoy the fun from the safety of their windows. Locations and information will be announced on the group's
Facebook page
.
Virtual Creative Writing Workshop with Jamie Cat Callan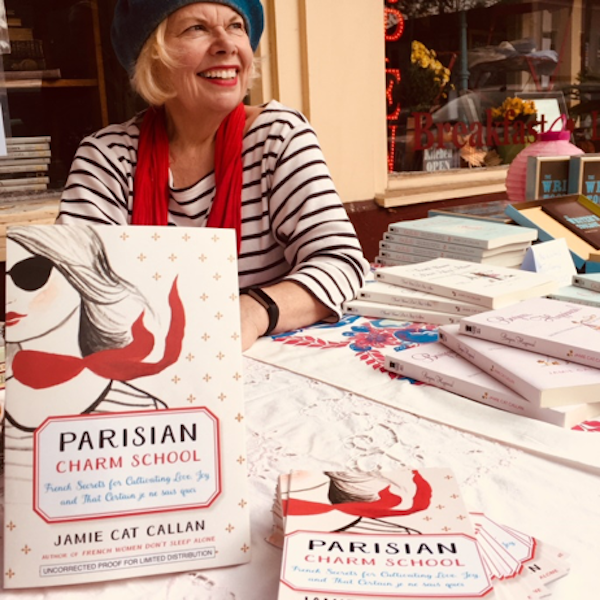 Looking to brush up on your writing skills and maybe even start that novel, memoir, or short story you've been thinking about? Well, now's certainly a good time to take the leap, and, in light of that, this month
Spencertown Academy
will be offering "The Writers Toolbox: Writing from the Right Side of the Brain," an online workshop led by internationally published author Jamie Cat Callan. The award-winning Callan has taught creative writing for over 30 years and is the author of three young adult novels and four French lifestyle books, including
Parisian Charm School
. Her writing has been published in the N
ew York Times
,
Story Magazine
, and the
Missouri Review
. The three-part workshop will meet via Zoom on May 13, 17, and 20 from 4pm to 5:30pm. Suggested donation is $30.
Rosendale Theater and Upstate Films Streaming Movies

Although movie theaters remain closed, many independent cinemas are maintaining their profiles by offering films online, with a portion of the viewing fees going toward helping pay their bills until the lockdown is lifted. Right now, the Rosendale Theater is streaming the documentaries The Booksellers, Ayurveda Unveiled, The Dog Doc, Other Music, Fantastic Fungi, Once Were Brothers, and The Movie House on Main Street, a film about the theater itself. Upstate Films in Rhinebeck also has The Booksellers and Once Were Brothers, as well as What She Said: The Art of Pauline Kael, Saint Frances, And Then We Danced, Corpus Christi, The Whistlers, and A White, White Day. So make some popcorn, rent your indie flick, and settle in for a night of quality cinema.
Club Helsinki Hosting Online Open Mic
Hudson music venue Club Helsinki is helping beat the quarantine blues by shifting its popular Tuesday open mic series to the web. Hosted by musicians Ryder Cooley and Cameron Melville, the Club Helsinki Virtual Open Mic event streams videos submitted by area musicians, spoken word artists, rappers, and all manner of other performers (shoutouts to local healthcare and essential workers are also welcome) beginning every Tuesday at 7pm at its own live streaming site as well as the Club Helsinki Open Mic Facebook page, and at Imby.com (submissions must be received by noon the preceding Monday).
To find out about more upcoming events in the Hudson Valley, subscribe to our weekly newsletter Eat. Play. Stay.