You've probably heard the old saying, 'when you look good, you feel good.' But not every man enjoys spending time shopping in malls, browsing rack after rack and dealing with pushy salespeople, all in the name of fashion.

Luckily, shopping has changed. Forget the stress of brick-and-mortar stores and the uncertainty of buying online. Instead, Vince Rua, a clothier and owner of Christopher's Custom in Kingston, brings the convenience of one-on-one clothes buying directly to your home or office.

Photos Courtesy of Christopher's Custom
Vince Rua in Uptown Kingston.
"Once I have measurements, I don't even need to see you," says Rua, who has customers across the country who trust him to keep them looking their best.
The Kingston resident and former CPA has been in business since 2010 selling formal wear, suits, sport coats, shirts, and top coats. He was voted by Esquire magazine as one of the top 100 men's stores in America and is the exclusive designer of the blazers worn by the NCAA's Final Four coaches. So it's clear that Rua understands what men want.
Photos Courtesy of Christopher's Custom
Coach Gregg Marshall of Wichita State.
"They want someone they can trust and they want to buy affordable products that fit their clothing needs," Rua says.
In addition to serving his customers at Christopher's Custom, Rua is also hoping to serve all of the residents of
Kingston by running for Mayor
. "I moved back to Kingston in 2014 and got involved in Common Council meetings," he says. "I saw how they operated and when someone said 'we need a businessman to get involved,' I decided to run."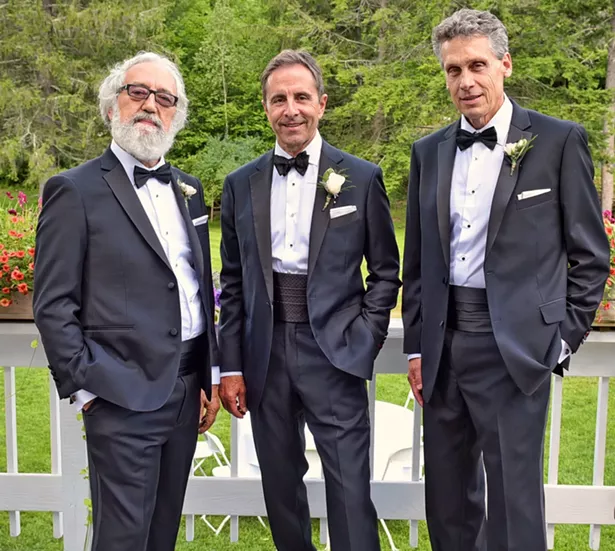 Photos Courtesy of Christopher's Custom
Rua and best men.
Over the years, Rua has served on various boards, including Little League Boards, Alzheimer's Board, and the Center for Disability Services. He also participates in the National Senior Games.
How does he do it all? "Training at Coopers & Lybrand, I've developed excellent time management and multitasking skills," he says. "Combined with an active workout routine, I'm able to get a lot done."
Intrigued or inspired? Be sure to check out @christopherscustom on instagram to keep up with Vince's work.