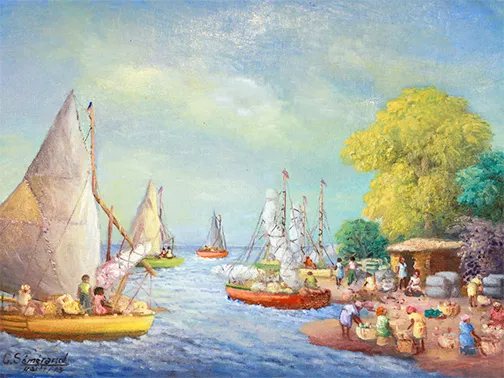 The postcard image for this year's event is a painting by Galland Semerand, titled When My Ship Comes In. Using a softer palette, the artist captures a serene moment in a coastal village. The community in the painting and its harmonious coexistence with nature remind us of the richness of life that we so often see in our mountain village of Chermaitre.
The Vassar Haiti Project
(VHP), founded in 2001, supports the welfare of Haitian artists and artisans, and promotes the sustainable development of Chermaitre, a village in northwest Haiti. Since its inception, the organization has been funding a lunch program and teacher salaries at the primary school in the village, which serves around 280 children. In 2008, VHP funded the construction of a new 7-room school building. In 2009, efforts to reforest the barren hills around Chermaitre began, and 5,000 fruit and lumber trees were planted. In 2011, a gravity-driven water access system was installed around the village, with a main water faucet at the school, where children and adults alike often gather. In 2012, VHP built a new medical center, which serves Chermaitre and six surrounding villages. Most recently, the organization is supporting the women in Chermaitre, who are determined to form a cooperative to learn, share, and develop marketable skills.
All these milestones were achieved through the generous support of the local community in VHP's art sales and fundraisers. The
upcoming Auction & Sale
will run from
Friday, April 4, through Sunday, April 6, in the College Center Multipurpose Room on the second floor of Main Building at Vassar.
Further details are as follows:
Haitian Painting and Handcraft Sale

Fri. April 4. 12pm - 8pm
Opening Reception
: 5pm (Students will present about their recent trip to Haiti in March)
Sat. April 5. 10am - 6pm
Sun. April 6. 10am - 2pm
Live Auction: Saturday, April 5
Registration and Preview: 1pm - 3pm
Auction: 3pm - 5pm
Absentee and telephone bidding will be accepted.
Auction paintings can be viewed here: http://thehaitiproject.org/live-auction-2
The event is free and open to the public, and will feature 400 paintings and thousands of handcrafts sourced directly from Haitian artists and artisans. All purchases are 50% tax deductible, with handcrafts starting at $5, and paintings at $50. For more information, please email haitiproject@vassar.edu, or call 845-797-2123.