Rob Penner
A view of Broadway in Midtown Kingston with the Catskill mountains in the distance.
Located 90 miles from New York, Kingston is an urban anomaly in a rural region better known for its gentrified villages and sublime countryside. Everyone's heard of Woodstock and the Catskill Mountains, but few outside Ulster County know about the small, industrial city on the Hudson. It's the county seat, predominately working class, with a population of roughly 23,000. Driving down Broadway, the city's main drag, you perceive a patchwork of tight little neighborhoods edged by a sprawling conflagration of gas stations and fast-food and drugstore chains—and maybe not much more.
If Kingston doesn't always deliver a good first impression, it's partly the fault of geography. Its attractions are spread out, scattered among three districts: Uptown, the oldest section of the city, which encompasses a two-block shopping arcade; the Rondout, a hilly waterfront district along the Rondout Creek; and Midtown, which contains the city's industry and connects Uptown and the Rondout via the long central corridor of Broadway. Its neighborhoods are Balkanized by ravines, an arterial highway, and a railroad track slicing through the middle of town. One has to live here a while to discover the full range of assets: its 18th-century stone houses; the outdoor dining options in a row of photogenic 19th-century buildings fronting the Rondout Creek; leafy streets lined with Victorian, Queen Anne, and 1920s neocolonial houses; museums devoted to trolleys, the maritime history of the Hudson River, the Colonial era, and local history; monumental brick industrial buildings converted to artists' lofts and small enterprises; a lively, well-supplied farmer's market; and a delightfully landscaped park on the Hudson. There's even a beach.
The city's urban amenities—its neighborhood delis, weekly pick-up of recyclables, hour-and-a-half access to New York, and proximity to surrounding communities—are major draws. As car dependency becomes less fashionable, real estate prices remain comparatively high in surrounding areas, and people rediscover the value of community, Kingston has grown in appeal. A wave of newcomers is helping transform the city.
Take jazz singer Rebecca Martin, who moved to Kingston with her husband, bassist Larry Grenadier, in 2002. She got involved in the community after becoming frustrated with what she saw as the city's lack of vision. "The planning and zoning is way outdated; people are holding fast to ways that just don't work anymore," she says. Martin formed a citizens' action group for her ward, which has since been expanded citywide. Among her many initiatives is the Victory Gardens project (see "Backyard Triumph" in the May issue of Chronogram), which has spearheaded the planting of gardens at the city's public schools.
A Liveable City

Kevin McEvoy, who with his wife Barbara Epstein divides his time between New York and an 18th-century stone house in Kingston, is the treasurer of the Kingston Land Trust, which is working with the developer of a large tract of land along the waterfront to create a trail system that would link the city's parks. McEvoy, a history buff, has hosted walking tours of the city and volunteered as a docent at the Persen House, an 18th-century partially restored house and museum at the corner of John and Crown Streets that's open to visitors for free. He and Epstein don't have a car, so they walk and rely on the city's bus service to get around. "The A bus gives you a grand tour of Kingston," he says. "It runs every hour." Jennifer Schwartz Berky lived in Rome, Jerusalem, Paris, and Washington, DC, before moving to Kingston after being hired as deputy director of the Ulster County Planning Board. Kingston is "as beautiful as anyplace I've lived," Schwartz Berky says. "It's deep with history. It's full of amazing people. It has incredible potential and resources, extremely beautiful architecture, and an amazing landscape. It also has diversity. In [Washington's] Dupont Circle, no one's over 35 and everyone works for the government. You're not likely to spend time with people outside your orbit. But here you're dealing with an elderly neighbor, people different from you."
Last fall, Schwartz Berky organized the Kingston Studio, a program in which students from Parsons the New School for Design worked with Kingston high school students to do an analysis of the Broadway corridor. The group also helped Kingston Cares, a federally funded youth program operated by Family of Woodstock, to put on a community forum about employment, beautification, and crime in Midtown, which was broadcast on the high school TV station. Schwartz Berky is now involved in helping Kingston Cares set up a junior common council whose elected members will sit in Common Council meetings at City Hall and present resolutions.

The Challenge

Like other cities that have lost their manufacturing base, Kingston has struggled to reinvent itself. The city has made some strides, but it needs to be more proactive, according to residents and business owners. Historic preservation guidelines are routinely ignored. The city lacks a comprehensive plan. It has a high quota of empty storefronts; new businesses come and go with alarming frequency. Many Kingstonians are taking action themselves, and a new initiative by the business community could be a sign that the city is about to turn the corner.
The city's three business associations—representing the three parts of town—have traditionally been at loggerheads, but earlier this year, they finally got together, forming a citywide alliance and obtaining a $100,000 community development block grant. The alliance has hired Nancy Donskoj as the city's first Main Street manager. Donskoj, a photographer who with her husband runs a gallery and organizes the popular Soapbox Derby in the Rondout every August—the couple were among the pioneer artists who settled in the city in the 1980s—says she views historic preservation as key to attracting more businesses and visitors: "It's the cornerstone of the Main Street manager program."
The business alliance is also in the process of hiring a consultancy to establish three business-improvement districts. "We're trying to build an incentive for people who might want to plant a flag in Kingston," says the alliance vice president, Kevin Quilty, a Kingston native and owner of Smith Printing. "We're being proactive and working with the aldermen to build a plan. We want to be the go-to town in the Hudson Valley."
Mayor James Sottile believes part of the solution is growing the tax base. Marjorie Rovereto, the president and CEO of Ulster Savings Bank, agrees that the creation of more jobs is critical to the city's future. Rovereto's parents ran a deli on Broadway when she was growing up, and she remembers the days when many people worked for IBM and businesses thrived. "Kingston has been mostly reactive," she says. "We have to take a regional perspective and be forward thinking."
Mark Greene, an Emmy Award-winning animator, owns a multimedia graphic design firm with his wife and is working with the city to promote an economic development initiative aimed at attracting more self-employed, tech-based workers. Part of the city's sell to enterprising New Yorkers is its rich trove of affordable, 100-year-old houses. The advantage of bringing in more small, self-supporting businesses is that they don't require economic assistance, and their nimbleness and adaptability means that they don't have to lay off workers in a down economy, Greene says.
A bricks-and-mortar version of the "digital corridor" concept is the Seven 21 Media Center, a large brick building on Broadway that formerly housed the RNN TV station. The center rents out space to 18 tenants—CEO Jeremy Ellenbogen, who partnered with his parents to purchase and fix up the building, calls them "strategic partners"—offering a variety of media-related services, from sound studios to graphic design. Ellenbogen says that the "collaborative incubator" of Seven 21 has been an unmitigated success, bringing people from Stone Ridge, Woodstock, Dutchess County, and other neighboring regions to Kingston. However, he notes, the $80,000 he pays in property taxes and the seedy condition of Midtown are ongoing challenges.

Before IBM Punched Out

When the IBM plant in the neighboring town of Ulster closed for good in 1993, it was a big blow. But the decline of the city actually began decades before, when factories shut down and moved south and the malls put downtown retailers out of business. The faded script reading "Blum Variety Store: Cigars and Tobacco" and other archaic messages on the sides of brick buildings are a faint echo of the era when the city was filled with humming factories manufacturing pajamas, lace curtains, and cigars. You could buy anything—a dinette, a pair of shoes, coats for the children—simply by taking the bus downtown.
At certain times of night, and on certain corners, Kingston seems lost in the past, and the present takes a backseat in its long, crowded history. The city traces its origins back to 1652, when Thomas Chambers, a hard-drinking English carpenter, obtained a deed from the native Esopus Indians for a piece of land along the Esopus Creek. Others followed, establishing a farming settlement on the fertile fields located a few miles inland from the juncture of the Rondout Creek and Hudson River. Skirmishes with the Indians prompted the governor of New Netherland, Peter Stuyvesant, to construct a stockade for the settlers in 1658. Long after the English took over the colony in 1664, Kingston preserved its traditional ways, with Dutch still spoken in the Reformed Church up until the early 19th century.
Rob Penner
The sloop Clearwater docked at the Rondout harbor.
During the Revolution, Kingston was the site of New York's first Constitutional Convention, with the assembly meeting in the low-slung stone building now called the Senate House. In October 1777, an invading British force torched the town—an event commemorated annually with a conflagration at Kingston Point. In 1829, the sleepy Rondout landing was transformed into a boomtown filled with German and Irish immigrants with the opening of the Delaware and Hudson Canal, which connected the anthracite coal fields of Honesdale, Pennsylvania, to the Rondout Creek at Eddyville. Italians, blacks, and Poles followed, working on the waterfront quarrying limestone and processing cement, manufacturing bricks, harvesting ice, and chiseling bluestone into transportable slabs. Among the men who made fortunes in this cauldron of commerce, none was more powerful than Thomas Cornell, who owned many of the Rondout's steamships and barges, railroads, banks, and ferry service. After his death in 1890, his son-in-law Samuel Coykendall took over the business, building a steamboat landing, rail spur, and amusement park for the tourists boarding his train to Catskill resorts.
In 1872 blueblood, conservative Kingston and pragmatic, prosperous Rondout merged, and a new, red-brick, towering city hall, inspired by the Palazzo Vecchia in Florence, was erected midway between them. The opening of the West Shore Railroad, which connected Kingston with the New Jersey station of Weehawken, in 1883 shifted industry to the center of the city. In 1957 the Cold War came to town when IBM opened a plant manufacturing mainframe computers for the US Air Force. Code-named SAGE, the computers were part of the military's continental air-defense system, designed to scan the skies for threatening objects. At its peak, IBM employed 7,000 and brought prosperity to the area, but it didn't help Kingston's urban areas. Visions of a new, modern city and millions of dollars in federal funds spurred the Kingston Urban Renewal Agency to tear down a huge chunk of the Rondout in the 1960s.
What remained of it was slowly coaxed back to life by intrepid entrepreneurs and artists looking for cheap space. These pioneers established an artists' community that has expanded and strengthened over the years, and even gained national recognition: In 2007, Ulster County was listed as one of the 10 best places in the nation for artists in a special report published in Business Week.
This Town Will Get Its Due

Among the successful arts-related businesses that set up shop here is R&F Handmade Paints, a maker of encaustic paints. The company bought and renovated an 1890 Standard Oil brick building in Midtown. It employs 12 artists, has a gallery, and hosts workshops, with space available free to local high school and college students. When visiting artists come to town, "I tell them about the LGBTQ Center and the homeless shelter on Thomas Street, where they're planting a garden. I'm really proud of that," says owner Richard Frumess. "I find Kingston to be an extremely livable place, but it desperately needs a direction."
Another business with a creative edge is Keegan Ales. Tommy Keegan, born and raised on Long Island, opened the Midtown microbrewery in 2003 and has developed a regular clientele among the city's professionals. His place has become a noteworthy showcase for top musicians since he bumped into locals like Tony Levin, Peter Gabriel's sometime bass player, and offered him a local place to play regularly.
For musician Adam Snyder, who grew up in Kingston, left, and returned a decade ago, the city is both a muse and a laboratory that makes his creative pursuits possible. His This Town Will Get Its Due (Bare Bones Records, 2007) consists of songs mostly inspired by the city, and his personal collection of memorabilia is included in the current exhibit on Kingston at the Kingston Museum of Contemporary Arts (KMOCA), which he co-founded. "Besides the architecture, there are great, unpretentious people here," Snyder says. "You can do your own thing. It's very affordable to do artistic projects here."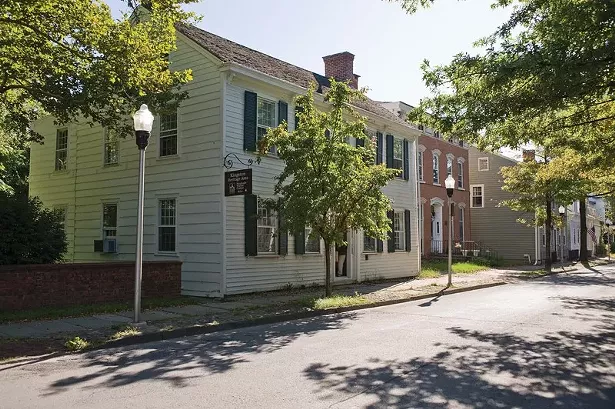 Rob Penner
A view of Clinton Avenue behind the Senate House in Uptown Kingston.
Artist Anne Surprenant, who moved to Kingston several years ago with her husband, Brian Early, an architectural designer, agreed that the city's combination of affordability and lack of posturing is fertile ground for creative endeavors. She is opening a gallery in Uptown this November, which she envisions as a performance space and artists' hangout. "We can do a small thing in a small way and it grows," she says.
In addition to Surprenant's gallery, two restaurants and a bar are opening soon in Uptown. The Alternative Bookstore, sold a few months ago, seems to be holding its own under new ownership. After losing several galleries and stores, Uptown seems poised for a comeback.
"We've been on the cusp for a long time," concludes Schwartz Berky. "There's clearly a change, but we could miss the opportunity," she says. "It has everything to do with everyone working together for the common good."
RESOURCES
City of Kingston www.ci.kingston.ny.us
Donskoj & Co. www.donskoj.com
Friends of Historic Kingston www.fohk.org
Keegan Ales www.keeganales.com
Kingston Citizens www.kingstoncitizens.org
Kingston Digital Corridor www.kingstondigitalcorridor.org
Kingston Land Trust www.kingstonlandtrust.org
Kingston Museum of Contemporary Arts www.kmoca.org
Hudson River Maritime Museum www.hrmm.org
Kingston Together www.kingstontogether.org
R&F Handmade Paints www.rfpaints.com
Seven21 Media Center www.seven21.com
Ulster County www.co.ulster.ny.us