Winona Barton-Ballentine
Bobby Bui and Gary Hemphill's Mid-Century Modern home sits in a wooded glen adjacent to the Zena reservoir. Built by a ship's captain, the walls of windows maximize the water view, especially in winter. When the couple bought the house, the front garden was completely overgrown. After taking out multiple dead trees, they restored the stone steps and deck. Hemphill designed and planted the garden.
"When does someone actually become a local?" wonders Bobby Bui as he serves me salad greens across his six-seat dining table. We are enjoying lunch in the Mid-Century Modern home he shares with partner Gary Hemphill, as the two reflect on their move to the Catskills in 2010 and the roundabout journey that brought them to their Zena abode.

Hemphill and Bui's dining area is an open, airy affair where their mutual love for design and architecture is well displayed. Sitting toward the center of their 1,590-square-foot home, the space features low Mid-Century credenzas topped with stacked coffee table books and Mid-Century lamps, a collection of low-slung chairs and a bookshelf filled with design magazines. Modernist paintings splash the white walls in shades of blue, gray, and bright red.
Winona Barton-Ballentine
The home's dining area flows into the central kitchen and is open to the rest of the home. Staying true to the Mid-Century Modern aesthetic, the couple installed a George Nelson Bubble Lamp over the dining table. The surrounding teak and paper lamps were custom designed by the original owner. "We found partial design drawings on top of several of the lamps when we were restoring the room," says Bui.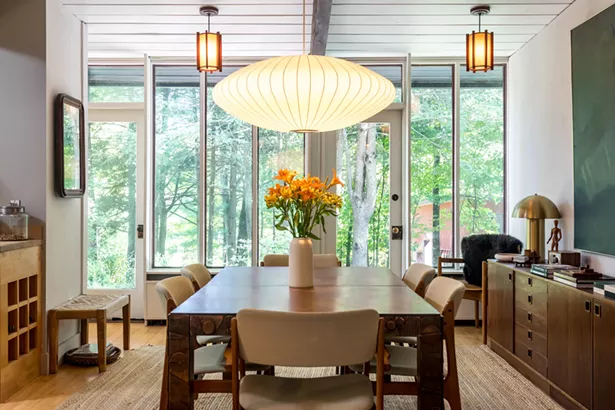 It's the perennial upstate question—especially in Woodstock, where the changing collage of legacy families, artists, wanderers, and weekenders contribute to the creative dynamism, and sometimes tension, that form the town's constant base line. Bui, Hemphill, and I attempt to get to the bottom of it on one of those late spring days that brings people to the Catskills.
June sunshine spills through the home's front-facing wall, a mix of rectangular windows and single-paned French doors. Along the back wall, an oversized window looks out to Hemphill's garden. Throughout the space, the blonde wood floorboards are punctuated with beige rugs. Above, the slightly angled wood ceiling is painted white and crisscrossed with rough-hewn beams.
Winona Barton-Ballentine
The home's kitchen was remodeled by the home's previous owners, avid cooks, with stainless steel appliances, wood cabinets, and clean white countertops. The open-concept space looks into a bonus room, outfitted as an office and TV lounge for Hemphill. The modernist, geometric print on the wall was painted in 2016 by Nathalie Du Pasquier.
Maybe you become a local when you take on the stewardship of a distinct piece of local architecture—in this case a Mid-Mod, post-and-beam home built by a ship's captain attempting to recreate life at sea. Maybe it's when you confront the reality of caring for said home—trading off cosmetic updates for the practical needs of a new roof or septic tank. Maybe it's the first summer you plant a garden, or the summer that whole garden is devoured by chipmunks. Maybe it's when you decide to run for a town board. Or maybe, you simply become a local by walking your road and talking to your neighbors and learning how they got there too.
Wherever the line is between local and "just passing through," Bui and Hemphill seem to have crossed it long ago. Built in 1965, their house leaves its own distinct stamp on the surrounding landscape.
Winona Barton-Ballentine
The bluestone fireplace in the living room.
Like a ship, it economizes space and includes clever built-ins along the starboard side. With its long portside wall of French doors and windows, it seems to be sailing through a forest of deciduous trees and evergreens. However, at its center, the exposed wood framing and the bluestone fireplace are distinctly rooted in the Catskills.
The Eye Roll That Launched a Ship
Winona Barton-Ballentine
The living room is connected with the rest of the house through a long back hallway fortified with built-ins. The home's oversized front door has a ships' bell installed in the corner. On the back wall, the couple hung two paintings gifted to them by former neighbor and Andes gallery owner Merna Popper. To the left, the range oil painting is by Susan Nonn. The oil painting is by an unknown artist. "Some people think the portrait is of Elvia and others think it's of Stallone," says Bui.
"I remember the day I decided to leave New York City," says Bui. "I was at the CVS on our corner, a place where we'd spent a lot of time and money but nobody knew us. I asked the cashier for a bag and she just rolled her eyes and gave me an indignant puff." While the incident may have seemed small, it was the snapping point for years of absorbing the city's harder edges—strangers' fights on the street, noise, and the general anonymity of it all—that brought the realization that New York City might not be the best place for Bui to live.

"I'm very attuned to the things around me," says Bui, a clinical psychologist with the Maverick Psychotherapy Group. "However, I felt like no one had time for one another. It just didn't feel right anymore." Born in Vietnam, Bui had moved with his family to California after the war and then to Manhattan to study at NYU. He was working at the Ethical Culture Fieldston School at the time, and taking on various teaching positions.
Winona Barton-Ballentine
Detail of the dining room sideboard.

For Hemphill, an Ohio native, city life wasn't a problem. "I'm just kind of built to be oblivious to it," says Hemphill, who works as the COO of a beverage marketing corporation. Hemphill enjoyed the ability to walk everywhere from their Chelsea apartment, but missed being able to really connect with people, as Bui did.
Bui decided to stake out for the Catskills, at least part-time, finding himself and Hemphill a rental in Andes near his teaching position at SUNY Delhi. The two soon found a new weekend activity scouring country auctions for furniture and art, as well as the chance to meet and talk with their new neighbors. "We noticed right away how easy it was to meet people up here," says Bui. "People weren't in a rush. Even though the town only had 600 people, we made new friends. We really loved it." They remained weekend renters for a while to keep Bui's teaching prospects open. The longer they remained in the area, however, the more the place felt like home. "We both loved the greater sense of community we found," says Bui.
Mid-Century Modern Quest
Winona Barton-Ballentine
The home's living room enjoys views in two directions. They added a Finish teak and leather lounge chair by Finnish designer Yrjö Kukkapuro they found on Craigslistand a black chaise lounge they brought with them from Chelsea. The glass coffee table was made by the Italian furniture designer Artedi—the couple found it at a country auction. The back wall features a colorful abstract oil painting by Michael V. Cilberti found at a flea market in Chelsea.
Bui moved on to teaching at SUNY New Paltz, and the two decided to look for a permanent home within a half hour's drive. "Our primary goal was to find a house with a Mid-Century Modern vibe to complement our style," says Hemphill. "But this was right when the market was heating up." They ended up looking for almost a year and at over 100 properties with no success. Many times when they bid on a property, they were beat out by all-cash buyers. "It was almost like there was something wrong with us because we wanted a mortgage," says Bui.
When they saw the listing for their home in Zena, they jumped on it. Meeting their realtor, Gary Heckleman, at the site, they immediately realized they'd stumbled onto something special. "We could see it had good bones," says Bui. Their realtor realized it as well. "Gary said to us, 'Okay, we are going to walk around this home for 15 minutes, then we're going straight back to my office and immediately make an offer," remembers Bui. "I didn't even question him, I just said yes." It was a successful strategy: In part because they were able to offer the owners some flexibility with the move-in date, Bui and Hemphill were able to buy the home and it was theirs in 2015.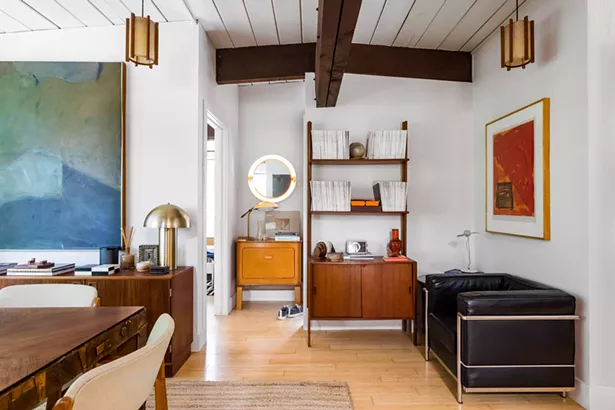 Country Skill Set
Previously owned by a pair of local artists, multicolored walls gave the home a bohemian vibe. Hemphill and Bui wanted a more neutral aesthetic, choosing white for the interior walls and repainting the exterior a dark brown with yellow-trimmed doors. Inside, they were able to restore some of the home's original light fixtures and panels. They added Mid-Mod shades and lamps where they needed complete lighting replacements. The home's double-sided bluestone fireplace, open to the living room and primary bedroom, was well preserved. In the living room, the couple added leather armchairs, a chaise lounge, and wooden credenza to complement the design.
Winona Barton-Ballentine
The home features three bedrooms and two baths. Adjacent to the dining room, one bedroom has been outfitted for guests and has a desk for Bui. The desk is a 1970s design by Milo Baughman bought on Facebook Marketplace. Over the bed, the couple hung a collection of photos, including one of 1960's French pop star, Francoise Hardy, by Reg Lancaster.
While Bui and Hemphill had hoped to modernize the bathrooms, and make other cosmetic changes, they soon realized maintaining their country home required foundational work—even though it was in good shape. "When we closed, we thought we were just going to start renovating," says Bui. "Instead, we had to put in a new specialized rubber roof due to the pivot of the roof line, update the electrical, and put in a new septic tank." They also replaced many of the home's windows and tackled the surrounding landscape, clearing out overgrown woods and rebuilding the front deck.
While Bui and Hemphill were learning the realities of owning a country house, they were also embracing their new community—a skill that came naturally to them. As a therapist and educator, Bui had become attuned to the needs of the local youth and was inspired to join the library board. "I went out and got enough signatures, I ran, and I won," he says. Through his involvement, Bui hopes to grow opportunities for children in the area.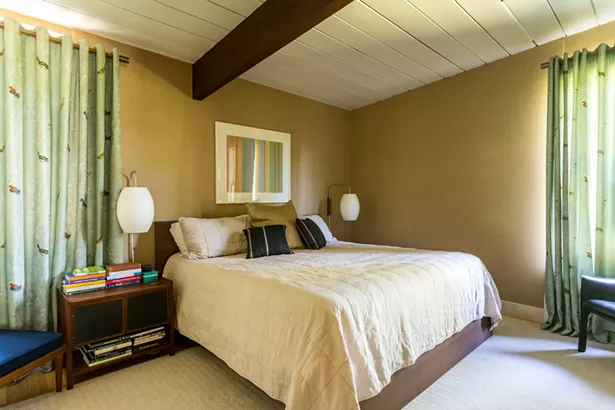 As working from home became more commonplace, Hemphill began spending more time upstate. Instead of taking to the streets of Manhattan, he had to take to the backroads of Zena—meeting his neighbors as he walked. In the end, both have been very happy with the place they've found themselves. "The bottom line is we set out to find a Mid-Century Modern home and we found a great community," says Hemphill.