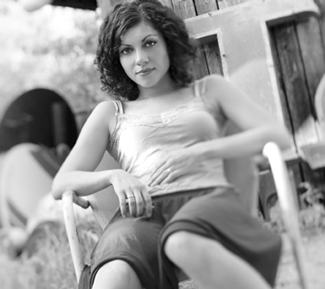 Carrie Rodriguez performs at The Egg in Albany on March 10.
Witnessing the women—or "gEarls," as they like to be known—of Uncle Earl play acoustic instruments around a single stage microphone, it is easy to have faith that no matter how technologically advanced our culture becomes, the power of old-time string band music played with conviction and passion will remain current and vital. And upon hearing the Cinderella story of Carrie Rodriguez, one could very well believe that fairy tales do, in fact, happen away from the glare of "American Idol" and Hollywood.
Hudson Valley residents will get a chance to witness two splendid manifestations of the unlikely at The Egg in Albany on March 10, when Uncle Earl and Carrie Rodriguez, both touring in support of heralded new CD releases, share the bill.
Uncle Earl's last show at the Egg was cited as one of the best of 2006, and this year finds the quintet returning in support of Waterloo, its sophomore effort of boot-kickin', front-porch folk music produced by Led Zeppelin bassist and bluegrass aficionado John Paul Jones.
Rodriguez is making her first foray as a front person, introducing listeners to her solo debut, Seven Angels on a Bicycle, which was produced by longtime collaborator—and writer of rock chestnuts "Wild Thing" and "Angel Of The Morning"—Chip Taylor. Impressed with her fiddle skills, Taylor plucked Rodriguez from obscurity in Austin, Texas, in 2001. When she subsequently stepped up to the microphone to sing for the first time during a European tour, she brought the house down, ushering in a career as Taylor's duet partner on three highly acclaimed CDs. With Seven Angels on a Bicycle, her apprenticeship seems over, and she confidently steps into the spotlight with her own finely crafted, austere songs of longing, lust, and mischief, accompanying herself on her trusty fiddle and surrounded by an urbane, tastefully rendered Americana that conveys as much shadow as light.
As both fans and the gEarls themselves attest, Uncle Earl shows are special events, partly because all five band members have demanding professional musical lives outside of the group, with solo albums, clog dancing, and songwriting merits to their credits. Spread from Colorado to North Carolina to Cape Breton Island to Nashville, the glue that brings Uncle Earl together is made of the greater-than-the-sum-of-its-parts power of the individual talents of the performers. The resulting music and frequent touring has won the band devotees from clubs to coffeehouses to the thriving bluegrass festival circuit.
Uncle Earl and Rodriguez show that songs both ancient and ancient-inspired, mixed with style, verve, and understated grace, can flourish in a world that sometimes seems hellbent on leaving such things behind.
Uncle Earl and Carrie Rodriguez perform at The Egg in Albany on March 10 at 8pm. (518) 473-1845; www.theegg.org.