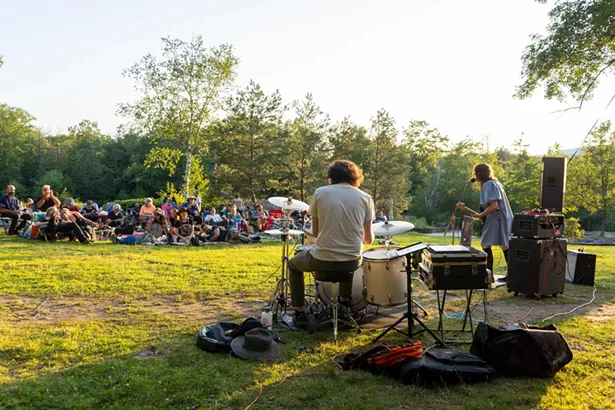 Images courtesy of Upstate Films
The 2021 Hudson Valley Picture Show at Opus 40
Film buffs, rejoice! Back for the second year is Upstate Films' Hudson Valley Picture Show, an outdoor traveling cinema festival that zig-zags across the Hudson Valley for screenings of classic films at some of the region's most beloved venues, including Opus 40 in Saugerties, Kaatsban in Tivoli, Olana in Hudson, and more.
The festival, presented in partnership with Del's Roadside, kicks off the first weekend of July with showings of two cult classics set against the iconic bluestone vistas of Opus 40 sculpture park in Saugerties.
Showing Friday evening, July 1 is the 1975 British absurdist take on Arthurian legend, Monty Python and The Holy Grail: The Singalong Version. Opening the show will be a live music set by legendary British songwriter Wreckless Eric, of "I'd Go the Whole Wide World" fame.
Images courtesy of Upstate Films
Monty Python And The Holy Grail will be screening July 1 at Opus 40
Then, Saturday, July 2 will play host to a screening of Dazed and Confused, Rick Linklater's joyful, raunchy, and whip-smart feature about a group of rowdy Austin teenagers, including a young Matthew McConaughey, as they leave high school and stumble towards the real world. Both shows are $14 for general admission, or $10 for Upstate Films members.
Images courtesy of Upstate Films
Dazed and Confused will be screening July 2 at Opus 40
On subsequent weekends through the end of July, the Hudson Valley Picture Show will hit the road to drive-up diner Del's Roadside in Rhinebeck with a free showing of 1994 action-thriller Speed, starring Keanu Reeves, Sandra Bullock, and Dennis Hopper (July 8); the Old Dutch Church in Kingston for Hallelujah: Leonard Cohen, A Journey A Song, Dayna Goldfine and Dan Geller's portrait of Cohen and his most beloved song (July 16); The School in Kinderhook for Wes Anderson's runaway romance Moonrise Kingdom; and on the Starr Library Lawn in Rhinebeck for Miracles on Montgomery: Highlights from Upstate Films' First 50 Years, which celebrates the organization's history of programming cinematic delights.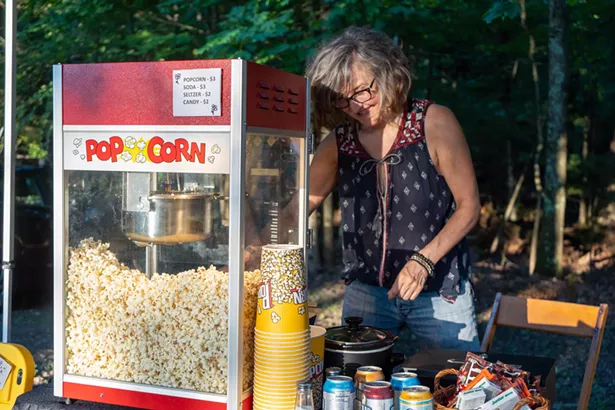 Images courtesy of Upstate Films
The 2021 Hudson Valley Picture Show at Opus 40
The outdoor film fun will continue on select weekends through the end of October, with more hits like The Big Lebowski, Do the Right Thing, and Close Encounters of the Third Kind, and the festival will cap its season off with The Cabinet of Dr. Caligari featuring a special live score from the Anvil Orchestra. Before each film screening, you can look forward to acts from regional artists and performers, including live music, poetry, dance, lively conversations, and even a variety show.
For more information about the Hudson Valley Picture Show or to become an Upstate Films member, visit Upstatefilms.org.