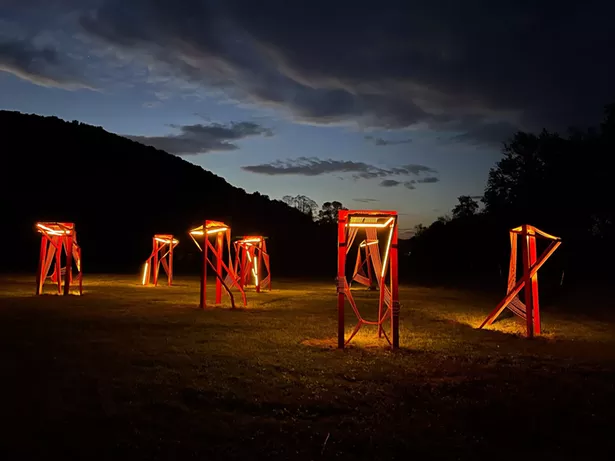 Nina Cooke John, Point of Action, Wassaic Project
The Hudson Valley abounds with inspiring places to view art of all kinds. From historic institutions and museums to larger-than-life contemporary sculpture gardens to the independent galleries that seemingly dot every town and hamlet, there's a venue to fit every mood. And this August 27-29, you can set out to visit a cool 61 of them as part of Upstate Art Weekend, a three-day, self-guided visual arts festival that explores the diversity of visual arts around the region.


Founded by Helen Toomer, a curator and co-founder of Stoneleaf Retreat art center in Marbletown, the festival had its inaugural run last year during the pandemic when Toomer brought together 23 arts venues for a weekend of art and the great outdoors.

Upstate Art Weekend founder and Stoneleaf Retreat co-founder Helen Toomer and her family
"I wanted to launch Upstate Art Weekend years ago, but each year, the timing was never right," says Toomer, who has previously directed internationally known fairs including PULSE, IFPDA Fine Art Print Fair, and Collective Design Fair. "Then the pandemic hit so I put it off again until I woke up in the middle of the night one day in June and knew I had to do it," she says. "I needed to see people and art safely again and knew others felt the same way."
Joy Curtis, Celestial Bodies, River Valley Arts Collective & Al Held Foundation
Following on its success is this year's expanded event, which stretches across six counties and offers visitors the coordinated opportunity to safely explore sculpture parks, museums, galleries, artists' studios, residencies, public artworks, and creative projects.
The curated participant list includes well-known names like Storm King Art Center, Dia Beacon, Olana, and Magazzino, as well as three exhibition sites that just opened in recent months—the Barns Art Center in Fishkill, Sunfair in Hudson, and Foreland in Catskill.

Dana Sherwood, Crossing the Wild Line, The Barns Art Center
"Upstate Art Weekend is about community, collaboration, art, and the outdoors, which are essential to our well-being," says Toomer. "Our goal is to highlight the cultural vibrancy of Upstate New York and connect people and places, building a community that not only visits for the weekend, but returns throughout the year."
The full program for Upstate Art Weekend will be announced in the coming weeks. View the official map, illustrated and published in partnership with Chronogram,
here
. Further information about events and Local Favorites can be found on Instagram
@upstateartweekend
.