Page 2 of 3
Across the Rip Van Winkle, the village of Catskill's star has been rising. Lumberyard Contemporary Performing Arts, birthed from the American Dance Institute, has just partnered up with the Brooklyn Academy of Music to allow artists to premiere new works, building on their mission as an incubator. They're also renovating and building fine new facilities with the help of five million dollars in social investment funding from the Rudolf Steiner Foundation, the largest amount RSF has ever given and the first grant to a performance art institution. Construction is slated to begin in November. "It's not just about the artists but about the community," says executive and artistic director Adrienne Willis. "To have audiences from the Catskills and Berkshires be the first eyes on a piece is incredibly valuable to both the artists and the community here. People come with no preconceived notions, open heart and mind, and we try to break down barriers—our audience educator presents in the lobby before the performance, and we have receptions after so the artist can get sincere feedback. I think the benefits will spill over to the smaller arts organizations and to all of Greene County." Lumberyard will host its second annual Shindig on September 23, blending new work from Urban Bush Women with bluegrass, Rip Van Winkle Brewery beer, and barbecue from American Glory.
Catskill's Bridge Street Theatre is producing the award-winning play "How To Pray" in its reclaimed factory space this month (September 14-24). Joe's Garage, an actual renovated garage, hosts art openings and events. HiLo Catskill blends cafe, bar, gallery, and performance space.
John Garay
John Sowle and Steven Patterson at Bridge Street Theater in Catskill.
"We have a lot of new creative businesses lately," says Liz Kirkhus, membership director for the Greene County Chamber of Commerce. "There's the Rodney Shop, where Rodney Greenblatt has his paintings and ceramics and sculpture. The Village Common has natural three-ingredient candles, and the Corduroy Shop makes all kinds of things out of reclaimed vintage fabrics and does upholstery. CounterEv makes furniture out of reclaimed bowling alley wood. The Thomas Cole House has a really cool interactive exhibit right now—about 25,000 people a year blow through there." Catskill is also where you'll find Magpie Bookshop, "specializing in awesome" both new and gently used.
For dinner, how about wandering to nearby Athens? It's another great little river town building its very own brand of cool. You can dine on elegant French cuisine at Rive Gauche Bistro, or eat down on the waterfront at Hagar's Harbor, where the signature burger blends Angus beef with brisket. Athens is also the home of Crossroads Brewery—one stop on the Catskill Beverage Trail which will be hosting its very first festival at Windham this November. And Bonfiglio and Bread Bakery, formerly of Hudson, is reopening in Athens soon.
Greene County's ski mountains aren't just for winter anymore. Hunter Mountain's festival offerings are legendary—their Oktoberfest begins in late September, and your day can include a zipline zoom or a skyride to the summit. Windham Mountain is huge on the mountain biking circuit and has created a new trail, the Kaaterskill Cruise, just for newbies to the sport. Windham also offers a resort golf course and a skyride of its own, and presents live music at the Wheelhouse Lodge.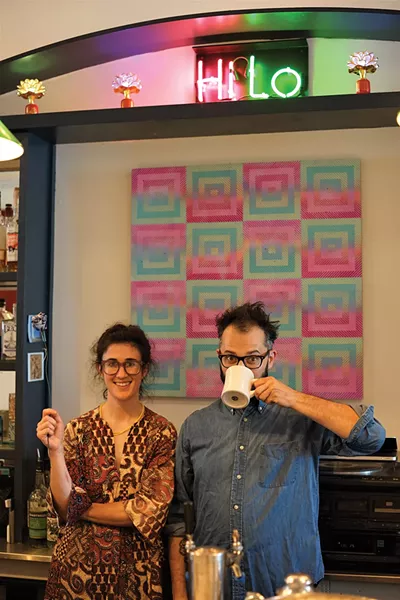 John Garay
Laura Davidson and Liam Singer at Hi-Lo Cafe Bar in Catskill.
Don't miss a stop in quirky Tannersville, called the Painted Village in the Sky for its brightly colored building facades on Main Street. Maggie's Krooked Cafe is one of several nice places to grab a bit; Slam Allen will be doing Music In The Park on September 8, and on September 24 it's time for the fifth annual Cruisin' On The Mountaintop car show.
In Coxsackie you'll find the Reed Street Bottle Shop, dedicated to the belief that wine should be fun, and the classic Hi-Way Drive In Theatre. Coxsackie is also home to Mansion and Reed, a general store packed with local artisanal goodies with a B and B up top. "These two sisters own the whole block there, and they've just opened a card shop. The bottle shop has been hosting tastings and events. And Coxsackie has a lovely farmers' market on Wednesdays," says Kirkhus. "I think anyone who hasn't wandered around Greene County in a while is missing out."