From community theaters to internationally acclaimed dance troupes stopping through, the Hudson Valley arts and culture scene is rich. Check out these March events.
While you're planning your month, check out our March film picks, music shows, and food events.
he Department of Theatre Arts at SUNY New Paltz presents Quiara Alegria Hudes's 2012 Pulitzer Prize-winning play "Water by the Spoonful," about a disturbed Iraq veteran's return to a civilian life. The ex-marine's injuries follow him home to Philadelphia's crumbling buildings and alley graffiti, where he limps around and suffers from nightmares of his tour. In the struggle to find a stable place in the world, birth families break apart and online families come together. Although dark, the play radiates humorous and empathetic warmth. The decrepit, abandoned buildings in need of repair and support, represent the communities who live in urban blight. "Water by the Spoonful" will be performed by student actors and runs March 1-4 and 8-11 at Parker Theatre on the SUNY New Paltz campus. (845) 257-3880
.
Three families search for the American Dream in this classic, Tony Award-winning play. The musical portrays the journeys of African Americans, suburbanites, the white upper-class, and Eastern -European immigrants through four bold main characters. Set in the early 20th century, the play offers a richly artistic historical portrait of the United States. Kevin Archambault, of Up in One Productions, directs a cast of 12 local performers in the famous production this month in Rhinebeck. The Center for Performing Arts in Rhinebeck will present "Ragtime the Musical" from March 9-18
.
(845) 876-3080
.
Bread and Puppet Theater: "The Basic Bye-Bye Show"

On March 29 and 30, Bread and Puppet Theater sweeps into Hudson to perform two different shows at Time & Space Limited. Thursday, March 29 will see a raucous retrospective of Bread and Puppet's dynamic, timely, and unapologetic repertoire, "Cantastorias from the Possibilitarian Arsenal." (Cantastoria is Italian for a sung story). The following night, Friday, March 30 the troupe performs "The Basic Bye-Bye Show," a politically charged puppet show.
Since its beginning in the radical counterculture of the 1960s in New York City, the nonprofit and self-sustaining theater company has been puppeteers for political activism, tackling topics like ecology, capitalism, and militarism. "'The Basic Bye-Bye Show,'" says founder Peter Shumann, "is based on the fact that our culture is saying its basic bye-bye to Mother Earth by continuing the devastating effects of the global economy on our planet." Known for combining avant-garde theater with conventional modes of storytelling, B&P's "The Basic Bye-Bye Show" features puppets surrounded by a small stage embroidered with words like "Resist," while an eclectic ensemble of instruments play. In Schumann's own words, Bread and Puppet Theater helps people "overcome the established order and the obsessive submission to its politics and consequent brutalities." (518) 822-8100.
Time & Space Limited is welcoming Bread and Puppet Theater to the stage on March 29, as well, to perform "Cantastorias from a Possibilitarian Arsenal."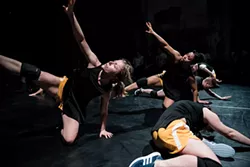 Close your eyes and imagine you're at a volleyball game—hear the sneakers squeaking, the players grunting. It is this gymnasium soundtrack that accompanies Abby Zbikowski's modern dance "Abandoned Playground,"—nine athletically clothed performers move with frenetic, synchronized intensity to the sound of their own stomping and shouting. Tension rises as dancers run, tumble, and kick their way on and off stage. Through them you understand dancing as a sport as well as an art form. Zbikowski won the 2017 Juried Bessie Award for her works in contemporary dance, which focus more on physical rigor than a pristine finished product. Catch the daring performance on March 31 at 7:30pm or April 1 at 2pm at Bard College's Fisher Center. Tickets are $25. (845) 758-6822.