Unshattered
CEO Kelly Lyndgaard (right) with members of the Unshattered team after winning "Best Nonprofit of the Year" at the Think Dutchess awards in November.
Dea Tobias sits at her sewing machine, guiding a rectangle of leather through the machine's darting needle. In a few hours, the stitched fabric will sit as the body of a handcrafted tote, with a leather front and back, Woolrich plaid sides, and an orange sateen lining, plus carrying straps.
Tobias is a fulltime seamstress at Unshattered, a nonprofit in Hopewell Junction that employs women recovering from addiction. Like other handbags she has sewn at this job, this tote consists of recycled materials—goods formerly seen as discards that have been made new again. It's a concept that Tobias and her seamstress colleagues are intimately familiar with, for each knows what it's like to live a fragmented, damaged life and then transform into a whole woman. A woman, unshattered.
"It's truly amazing here," says Tobias of Unshattered's busy studio. "I'm around the ladies that know my struggle. They know what I've been through and they relate."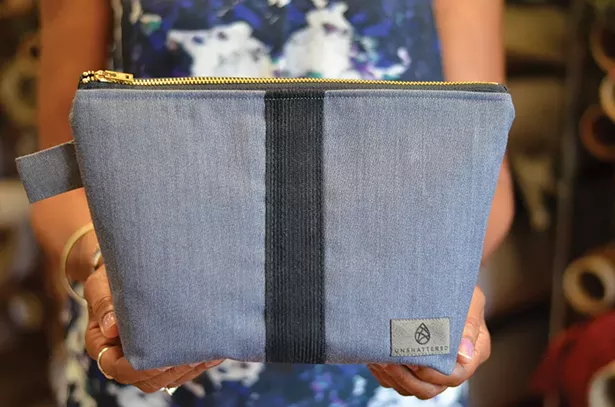 A makeup kit made from an upcycled West Point cadet uniform.
Unshattered was founded after its CEO, Kelly Lyndgaard, was deeply moved by hearing a recovering addict share the story of how her teenage brother thought it would be funny to get her high when she was eight. "Fast forward 10 years and she's a homeless, IV drug-user," Lyndgaard says.
The woman was in recovery at Hoving Home, a residential addiction treatment center in Garrison (with four other locations across the country), that serves women involved in drug addiction, alcoholism, and other challenges.
Months after hearing the woman's tale, Lyndgaard, a hobby seamstress, began teaching the residents of Hoving Home how to sew handbags from donated coats, providing them with a marketable skill. She soon realized that without a clear career path, they were vulnerable to future economic hardships and relapse. Unshattered was incorporated in 2015 as an independent nonprofit to train and provide jobs for women who've undergone addiction recovery programs.
A tote made from a retired US Army uniform paired with manufacturing straps donated by Ultrafabrics in Tarrytown.
Beth Greco is president of Hoving Home, which partners with Unshattered, including dedicating training space in its Garrison location to prepare participating residents for work at Unshattered and providing transportation to the women's subsequent employment there. "One of the things in recovery is that continuum of care," says Greco. "[Recovering women] can finish our program, but there has to be a next step. What Unshattered has done is given us a very viable next step for some of the women."
Housed in a 2,000-square-foot studio, Unshattered's site includes a workshop, office, and retail boutique. Lyndgaard, who left an executive position at IBM to head up the nonprofit, receives no salary. Revenue for 2018 was about $250,000, with 100 percent of the organization's sales going to employee salaries and benefits. Fundraising covers operational costs. About two dozen business partners provide additional support.
In the two-and-a-half years Unshattered has been in business, none of its employees have relapsed. That's impressive, considering that while addiction can be managed, relapses in drug abuse are both possible and likely, according to the National Institute on Drug Abuse. "You picture devastation and addiction. That was their lives," says Lyndgaard. "They've chosen to get well, chosen to do the hard work to get back on their feet."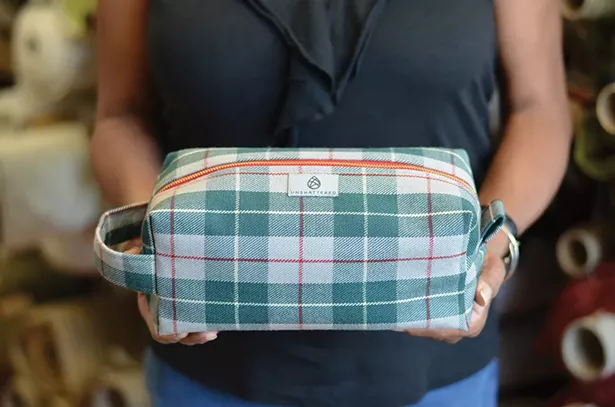 A toiletry kit made from 1955 Mercedes Benz upholstery.
Unshattered, which won Think Dutchess's 2018 Nonprofit of the Year Award, provides a 10-week apprenticeship for women who have completed an addiction recovery program, after which they decide on a fulltime, salaried position at the nonprofit. "It's not about me deciding whether or not I want to hire you," says Lyndgaard. "It's: are you willing to do the work that it takes to create employment for yourself and drive enough value in revenue to the team?"
Materials for Unshattered's handbags come from retired military uniforms, Broadway and manufacturing scraps, upholstery, and other goods that are assembled into sewing kits for the seamstresses. A gold thread is sewn into each bag as a nod toward kintsugi, the Japanese art form where broken pottery is repaired with gold, making the piece more beautiful in repair than when it was whole. Another element is a hidden message from the seamstress that made the handbag, perhaps a note stating her days of sobriety or another meaningful message. The handbags also are named for a person struggling with addiction, with completed designs sold through Unshattered's catalog, website, retailers, and consumer shows.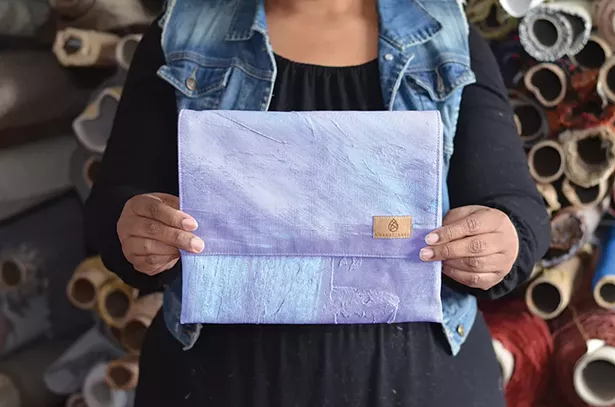 A handbag made from a backdrop from a Broadway show.
Thanks to the help she's received, Tobias has been sober for two years. A native of McComb, Mississippi, she suffered early abuses, had a nervous breakdown, and was raped by a family member before turning to crack cocaine to numb the pain. Desperate, she joined an uncle in California who connected her with a Hoving Home location in Pasadena. She began the program but worried about returning home afterward. "I didn't know what my next step was but I knew that going back to doing the things that I used to do wouldn't work," Tobias says. Then, in November 2017 she had the opportunity to move to New York's Hoving Home and work at Unshattered. "It's about women like myself, my beautiful handbags and learning to live," Tobias says.
DeeDee Wheeler also lives a distinctly different life from a few years ago. Born in New Jersey's Clinton Correctional Facility for Women (now the Edna Mahan Correctional Facility for Women), Wheeler was raised by her emotionally abusive, alcoholic mother. She then became addicted to crack cocaine and had many failed attempts at sobriety. A mother of four and grandmother of four, Wheeler is now not only sober, but also works as a designer/seamstress at Unshattered and lives on her own. In October 2018, she spoke at the White House at the signing of bipartisan legislation to combat the opioid crisis. "It's just a joyful moment to see the work that we do and how much people really love us," says Wheeler. "I just think it's something that means a lot to you and then to somebody else."
How to Help
Unshattered is looking for a larger studio and also needs:
• Funding to support the move
• A commercial van
• Additional sewing machines
• Investments in operational technology