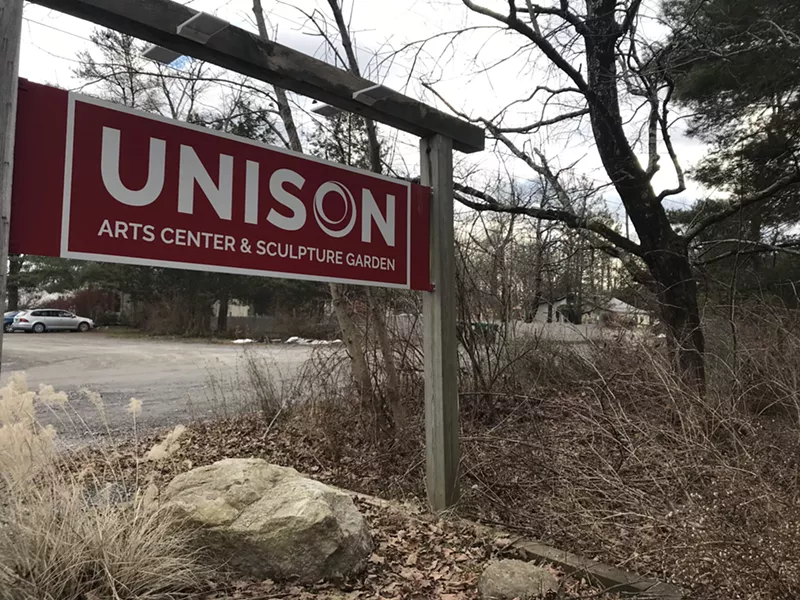 Never underestimate the power of the arts.
Two years ago, Unison Arts Center folks thought the center's 40th birthday might be its goodbye party. Turned out, there were people eager to carry the torch lit by founders Stuart and Helene Bigley, and Unison is roaring into 2019 with more eclectic programming than ever.
Current director Alexandra Baer first visited the New Paltz arts and culture center with her young daughter years ago for Music Together. Now she's presiding over a blossoming of the original vision: art as an integral part of community life. "We're becoming the essence of a community foundation, a unifier among organizations," she says.


Unison currently partners with SUNY New Paltz to sponsor bigger events (Dar Williams is coming in April), connects experienced artists with Kingston teens through the PUGG (Pop Up Gallery Group) work-study program, and works with the New Paltz schools' PTAs to bring topnotch kids' entertainment to town.
Unison Arts Center sculpture garden
"The SUNY New Paltz sculpture department curated part of the sculpture garden last year and it was really well received," says Baer, a sculptor herself. "People experience a Unison thing and realize, 'Hey, that was really great,' and they start to trust us as curators. They come back. That means we can do more music, more dance, more cutting-edge education, bigger names, more getting people out and together. It's the antidote to screen obsession for all ages."
This month alone there are half a dozen performance events, a 10x10 painting show and sale, and a New Year's Eve bash with the Bernstein Bard Quartet. You're very much invited.