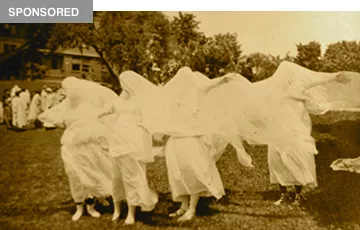 Unfinished is a new opera in development from composer Joshua Groffman and librettist Sarah Heady based on the story of now-shuttered Bennett College in Millbrook, NY. Drawing on each artist's passion for unpacking Hudson Valley history, Unfinished uses experimental poetic and musical approaches to memorialize Bennett and its local legacy. In lieu of what is now an impossibility—saving the physical structures of Bennett College from the wrecking ball—Unfinished aims to catalogue and reflect Bennett stakeholders' emotions surrounding this loss. In so doing, the opera asks critical questions about the course of 20th century history, the past and future of Dutchess County, and the meaning of place.
This workshop-style performance of scenes will feature sopranos Danielle Messina and Maggie Finnegan and mezzo soprano Jennifer Panara, conducted by Daniela Candillari and directed by Kelvin Chan. A facilitated discussion will follow the performance to gather critical feedback and questions that will inform the development of the project going forward.
Tickets are $10 at
http://unfinished.brownpapertickets.com
Vital Opera, the producing partner of Unfinished, is a developing project to cultivate human connection through the medium of operatic expression. More at: www.vitalopera.org. Questions? Send us a message at
vitalopera@gmail.com
.
More about Bennett College:
The Bennett School for Girls opened in Millbrook in 1908 as a finishing school for young women. As the twentieth century progressed and educational expectations for women changed, Bennett evolved, too, eventually becoming Bennett College, a degree-granting junior college.
Following the social upheavals of the 1960s, the model of single-sex education came under strain and Bennett took steps to evolve further, making efforts to restructure itself as a co-ed institution. Unfortunately, these efforts ultimately failed, enrollment dropped, and Bennett's financial situation worsened. In August 1977, shortly before the start of the fall semester, Bennett closed abruptly leaving both students and the college's employees – the majority of whom came from Millbrook and nearby – in the lurch.
Since its closure, the 22-acre Bennett campus, just outside the village, has stood abandoned. Decades of attempts to repurpose the site have failed, and the college's buildings have decayed beyond repair. In 2014, a large part of the former campus property passed into the hands of Millbrook-based owners, who declared their intention to repurpose the grounds as a public park. Given the likelihood that campus buildings will be demolished in the near future, Unfinished comes at a critical time for the Bennett community and for Millbrook.
Saturday August 20, 2016 at 5pm Grace Episcopal Church 3328 Franklin Avenue Millbrook, NY 12545