"I was the only sommelier that couldn't drink wine," Maureen Sciutto, owner of Unfiltered Wine & Spirits in Woodstock, says with a laugh. "...till I found natural wine and it didn't make me have rashes and hives and hot flashes." Accordingly, about 80 percent of the selection in her shop, which opened in late June, is made using minimal intervention and organic farming practices with "nothing added, nothing taken away" as champions of the style like to say. Or as Sciutto calls it, "the old, honest way of making wine."
Sciutto, who grew up down the road in Saugerties, has worked in the restaurant industry for 30 years, first as a server and bartender and eventually as a certified sommelier and wine consultant. When she moved back to the area to start a family in 2018, she took a job waiting tables at Silvia. It wasn't long before she segued into managing the wine list there and, later, at the partners' sister restaurant, Good Night.
Education has been a consistent aspect of Sciutto's work in wine from training teams of servers as an consultant to holding classes for the public. When she took over the beverage program at the Flatiron Kitchen & Taphouse in Davidson, North Carolina in 2016, Sciutto revamped the monthly wine tastings, designing a curriculum that drew classes of 60 to 70 people. "I always wanted to open a wine school and wine store," she says. "But I really homed in on my passion there and learned how to go through the motions of actually doing it."
The earnest desire to educate and facilitate exploration followed her back up north where she oversaw the transition of Silvia's wine list from conventional to natural, educating the staff and the guests through the process. "A lot of the importers I was using don't do a whole lot of business upstate, so I was getting a lot of direct trends happening in the city," Sciutto says. "The wine list at Silvia was a good year or two ahead of everyone else around here. We took that seriously. We needed to set a benchmark, to push people outside their comfort zone. I always said if someone didn't like the wine they could send it back and it was just another opportunity for the staff to try."
At Silvia, she rotated the wine list constantly, dialoguing with guests and fellow employees about their preferences, using pricing and the by-the-glass list to entice the clientele to try more adventurous wines. "I would put in the wines people would expect, then throw in one or two or three weird wines," she says. "They sounded weird and looked weird, but when people tried them, they'd say, 'oh, this is good. Maybe I should be trying new things.' I paid attention to what was selling and what wasn't. I started seeing people turning labels around, noticing the importer. I was like, 'OK, maybe people are ready to start shopping differently and viewing things a bit differently.'"
In 2021, pregnant with her second child, Sciutto was searching for a way out of the restaurant industry. Her sister, in school to be a life coach at the time, called one day to see if she could use Sciutto as a guinea pig to practice a technique for finding your life's calling. "It was hard work actually," Sciutto remembers. "It was about identifying your true passion in life, how to focus on it, and how to overcome the obstacles that make you think you can do it. It just flipped a switch that made me move when I was stuck." Setting aside old doubts, Sciutto started putting the idea out into the world, telling friends and coworkers her plan. One of the partners of Silvia heard about her goal and offered to come in as an investor.
"Within a few months, we found a space and the ball started rolling," she says. "I guess 15 different people tried to get a liquor store in this spot but the landlord chose us. It was a really whimsical thing. I put it out into the world, and the world just gave it to me."
Following renovations, Unfiltered Wine & Spirits opened at the end of June. The vast majority of the wines, categorized by importer, are natural. "There is this whole stigma with natural wines being funky and natty and full of debris—I'm trying to get people out of that mindset," Sciutto says. "Only 10 percent of the ones I carry are funky. The rest are classy wines you wouldn't necessarily know are natural by drinking." Her curiosity leads her to focus on grapes she's never heard of as well as native varietals and grapes previously only used in blends.
"After talking to people for a few minutes, I get a sense of what they're into," Sciutto says, like a good facilitator. "If I think they'll like something, I tell them to try it and if they don't, to bring it back. Every wine on the shelf I believe in. It has its purpose."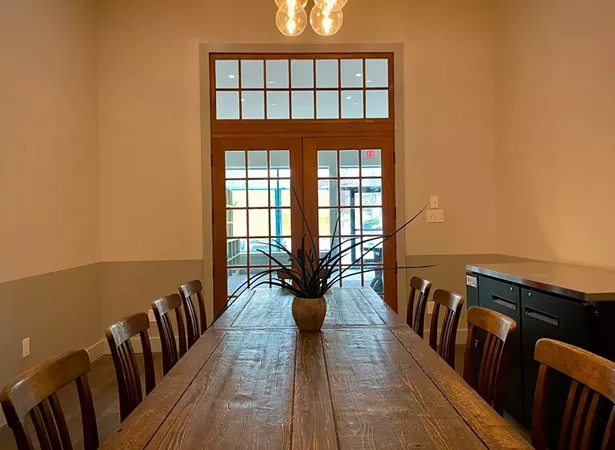 One of the offerings at Unfiltered is curated cases, where you set your price point and any preferences and Sciutto will handpick a dozen wines for you at a 15 percent discount (order online or in-person). Soon she will debut a wine club, which will include thee wines a month from small producers around the world with accompanying tasting notes.
Sciutto custom-designed the interior of Unfiltered to accommodate classes and tastings, which she plans to launch this September. (In the meantime, you can book her for a private tasting.) A long table in the center of the tasting room sits 10 to 15. Educational offerings will be available through Eventbrite links on her website, and registration will come with a curriculum available for download. "Each class will come with five to six wines plus meats or cheeses or food from a local chef," she says. "The possibilities are endless: region-specific, grape-specific, porftolio specific. I'm really excited about having people in and tasting and trying and learning."

Unfiltered Wine & Spirits is open seven days a week.