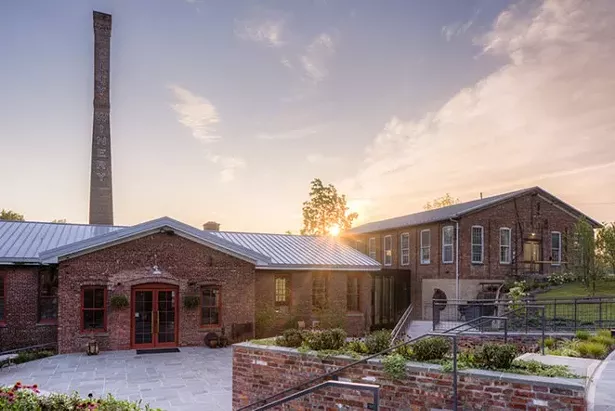 Images courtesy of City Winery Hudson Valley
With the leaves quickly falling and frosty mornings already nipping at our noses, the holiday season is almost upon us once again—and with it comes festive family parties and company celebrations aplenty. If you've been dreaming of planning a party in the Hudson Valley and have been searching high and low for a one-of-a-kind spot to host your festive bash, look no further than City Winery Hudson Valley in Montgomery.
Since the picturesque, 22-acre riverside winery opened in the renovated Montgomery Mills textile factory in 2020, it's become a go-to destination for award-winning wine, gourmet fine dining, and world-class performing arts. With the property's swoon-worthy, industrial-chic vibe and endlessly customizable spaces it's become a fave for celebrations of all kinds.
Whether you're looking for an intimate space or want to go all-in and rent out the entire venue for 1,000, the property's potential for customization is nearly endless.
Looking for an intimate space for a few dozen people that's steeped in history? Take over the Speakeasy Boiler Bar—the factory's original boiler room—and spend an enchanting evening catching up with friends and family. The bar's skylight views of the 19th century smokestack are second-to-none.
Images courtesy of City Winery Hudson Valley
In need of something a little more grand? Rent out the venue's Restaurant and Tasting Bar plus the Smoke Stack Patio and let your guests (and the good vibes) flow out to the multi-level terraces to enjoy prime views of the Wallkill River and waterfall.

With two full-service bars, the winery's own vintages on tap at the tasting bar, use of the built-in stage, and a roaring fireplace to keep you and up to 250 guests cozy, it's easy to see why it's the perfect place to celebrate the season.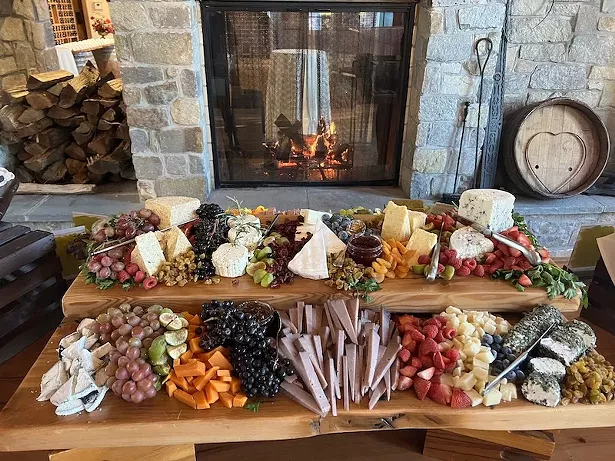 Images courtesy of City Winery Hudson Valley
This year, the bar and kitchen teams are offering up a bright and merry list of holiday specials that are sure to satisfy. The festive cocktails on offer include a Gingerbread Martini, City Mule with cranberry bitters, Harvest Sangria crafted with thyme rosé syrup, and classic mulled wine.


In addition to classic offerings from City Winery's catering team, such as a custom flatbread station or Bavarian pretzel bar, the special holiday buffet menu takes advantage of the best of the season. The elevated takes on comforting dishes include a kale Caesar salad, brussels sprouts and roasted heirloom carrots with feta cranberry balsamic, herb-roasted turkey with gravy, and holiday ham with maple bourbon glaze.
As if all that weren't enough, you can top off the whole experience with a wine tasting led by one of the staff wine professionals or send your guests home with one of the winery's award-winning wines wrapped in custom-designed, commemorative label. No matter what options you choose, working with City Winery's event team means your holiday event will be one your guests will always remember.
As part of City Winery's "Uncork the Holidays" special, book your holiday event before November 11 and you'll receive a gratis party planning upgrade. For more information about events at City Winery Hudson Valley, visit Citywinery.com/hudsonvalley or email [email protected].