Courtesy of Uncharted Power
Poughkeepsie Mayor Rob Rolison and Uncharted Power's Jessica O. Matthews.
Poughkeepsie's downtown Innovation Zone, established in 2019 to encourage mixed-use development, is about to take a giant step toward living up to that name as a pilot project developed by Uncharted Power begins installing a system of smart pavers to enable power delivery, data collection, and integrated technology.

The idea is to develop a "living digital dashboard" that will streamline infrastructure management and eventually generate revenue. Fittingly, the idea springs from a woman-led company situated in the former headquarters of an exclusionary "gentleman's" club.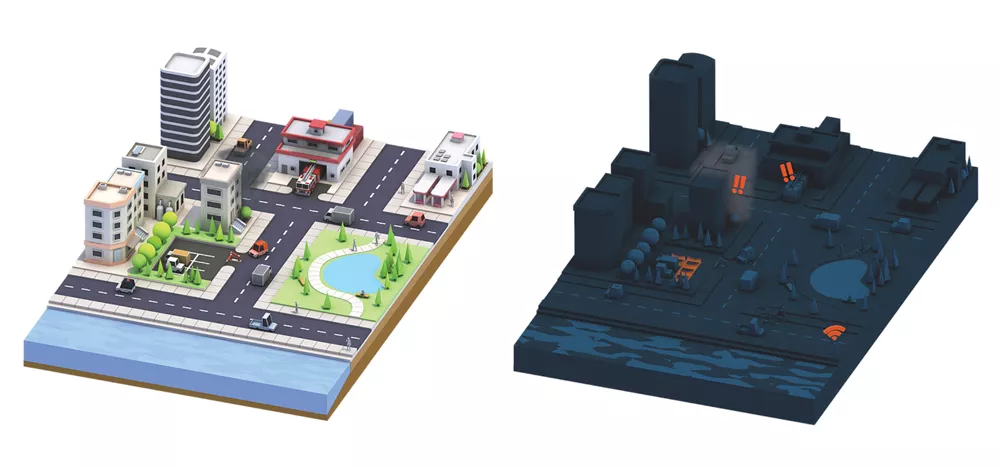 The sensors beneath the city: Uncharted Power will develop a "living digital dashboard" through the installation of smart paver technology in Poughkeepsie.
"Here's what we know right now: The world is in crisis, with natural disasters wreaking havoc at exponentially increasing rates, millions of students don't have the connectivity they need to get educated, cities are facing increasing deficits and can't foot their bills," says Uncharted Power founder Jessica O. Matthews. "And in all of this, it's the marginalized communities bearing the brunt of the pain." This has the potential to improve everything from health services and digital learning to water filtration and parking,"
Matthews is a Poughkeepsie native, born in Vassar Brothers Hospital and educated at Our Lady of Lourdes before heading to Harvard for college and business school. But she's back now and leading Uncharted from her office in the former Amrita Club on the corner of Church and Market.
Courtesy of Uncharted Power
Uncharted Power's CEO Jessica O. Matthews speaks with Poughkeepsie residents on the street.
"I'm 33 now and I've been working this since I was 18," she says. "With so much cool tech popping up, why do we not live in a Jetsons' world? Well, cities had no cost-effective way to implement innovation. You can see the good food but you don't have the tray and the utensils. So cities end up with these siloed, expensive attempts at solutions, like installing four solar street lights."
Made from sustainably sourced polymer fiber, the hollow pavers are a surface more durable than asphalt that lays the foundation for fully upgradeable smart-city technology. "This revolutionizes the installation and maintenance of infrastructure—the pavers have sensors that, for example, can detect the vibrations from a weakening water line before it breaks," says Matthews.

Uncharted Power's hollow polymer fiber smart pavers installed on a Poughkeepsie sidewalk.
"The sensors generate a digital image of the entire city that anyone can access; if you have unusual noise, say, or a power outage, you can pin the location down to within one meter. It basically brings the convenience of the digital world into the physical world. We build the tray, so cities can eat." A mesh network of nano data centers within the pavers can provide cloud services, generating needed public funds.
Within Uncharted Power's smart pavers, a mesh network of nano data centers provides cloud services, generating needed public funds.
Mayor Rob Rolison says the project, funded by a $1.8 million multi-year grant from the Siegel Family Endowment and Community Foundations of the Hudson Valley, has lots of people excited. "People will come here to see this, and companies that can utilize it will be drawn in," he says. "We're a Climate-Smart City, we have community choice aggregation in place—this is the next logical step, and I could not be more thrilled that it's here, now, thanks to a daughter of Poughkeepsie."
[Editor's note: The Uncharted Smart City pilot program in Poughkeepsie was completed in 2021 and included the development of a digital twin and the deployment of edge infrastructure to reduce the cost of final-mile infrastructure and data management.]