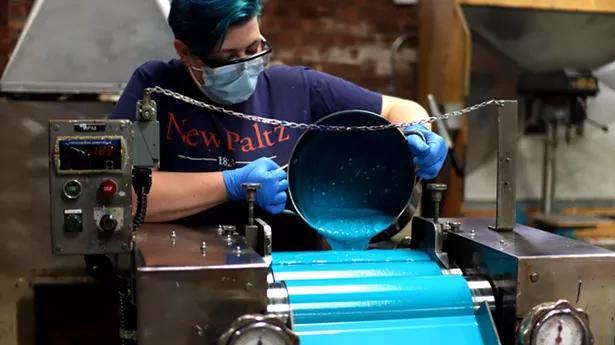 Image courtesy of R&F Handmade Paints
Maddison Ginter mills Cobalt Teal paint at R&F Handmade Paints.
Ulster County is a longtime haven for artists, makers, and creators. Its proximity to the New York City market has proven lucrative, and artisans who locate here find locals who appreciate the high-quality services, products, and performances that are right in their own backyard. By encouraging affordable business space and improving workforce training and business support, the
Ulster County 2040
plan aims to make the "Made in the Hudson Valley" brand known worldwide. Below are some businesses whose reach embraces their local community and beyond.
Image courtesy of Top Shelf Jewelry
Top Shelf Jewelry has been a mainstay in Ulster County for 42 years.

Top Shelf Jewelry
Talk about longevity: Barbara Hoff has owned
Top Shelf Jewelry
in the old Ellenville train station for 42 years. The business operated on a wholesale basis for 38 years, selling jewelry to Mohonk Mountain House's gift shop, local boutiques like Handmade & More, and other outlets all around the world. When Hoff decided to spin off a retail biz, she chose to stay put, and expanded her line to include hyperlocal items like personalized baseball caps. "I find it very welcoming in Ulster County. And there has been an influx of people over the past couple of years who—along with residents who are already here—appreciate the importance of shopping locally."
Courtesy: Artist and Anna Zorina Gallery, New York City
Artist Andrew Lyght.
Andrew Lyght
Artist Andrew Lyght is inspired by the vintage architecture and beauty that surrounds the Ponckhockie section of Kingston, where he lives and works in a beautifully restored brick barn. Originally from Guyana, Lyght has resided in Canada, New York City, and Europe. In 2006, he arrived in Kingston. "I came here to oversee the construction of a brownstone house that my friend, artist Susan Spencer Crowe, was building in the Ponckhockie section," Lyght says. "I fell in love with the area." He met artist Benjamin Wigfall at an exhibition in 2009, and bought the barn that was Wigfall's Communications Village in 2010, converting it into his home, studio, storage space, and gallery. "It's quiet here, and the best place to make art," Lyght says. "It's close enough to the city, but far enough away to not get distracted by what's going on in the city." His weekday routine includes coffee at Monkey Joe; on the weekends, Dolce is his mainstay. "There's good food here, places to shop—it's the perfect place to create," Lyght says. "There's something about the environment that makes it very special."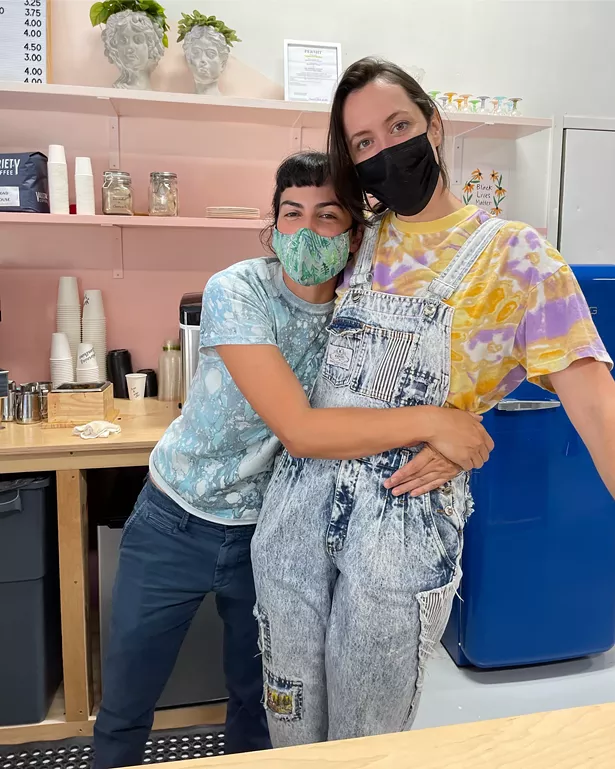 Image courtesy of Reservoir Studio
Natalia Moena and Victoria Messner founded Reservoir Studio in Ellenville, and have helped create a community focus there.
Reservoir Studio
Revitalization is coming to Ellenville, and
Reservoir Studio
is here for it. Victoria Messner and Natalia Moena transplanted their photo studio from New York City to the village in August 2020. The business, which includes branding, website, and product photography services, has been heartily welcomed and has a lot of local business. In return, the duo helped create Market on Market, a weekly artisans and farmer's market event that's attracted upwards of 500 people each Friday. By reaching out to the community, Reservoir Studio hopes to spread the word that Ellenville is a good place to invest capital and time. "We're trying to elevate Ellenville's identity," Messner says. "There's definitely a market for new and exciting things to come in."
Photo: Jeremy Liebman
Artist and sculptor Arlene Shechet.
<!————————StartFragment————————>
Arlene Shechet
"I can't remember a time when I wasn't thinking about art or creating things," Woodstock-based sculptor
Arlene Shechet
says. The renowned artist—whose works are currently on view at the Metropolitan Museum of Art, and the Whitney—has made Ulster County her home for the past 20 years. "I wanted to be out of the city, but wanted to be close because I still do a lot of business in the city," Shechet says. "I work with a lot of living materials—wood, stone, clay—and here I am in the midst of it all." Shechet says she also appreciates the availability of qualified assistants in the area. "There's a good group of artists, makers, and sources for materials up here," she says. "In New York City, those resources are shrinking rather than growing. But here, they are growing, rather than shrinking."
<!————————EndFragment————————>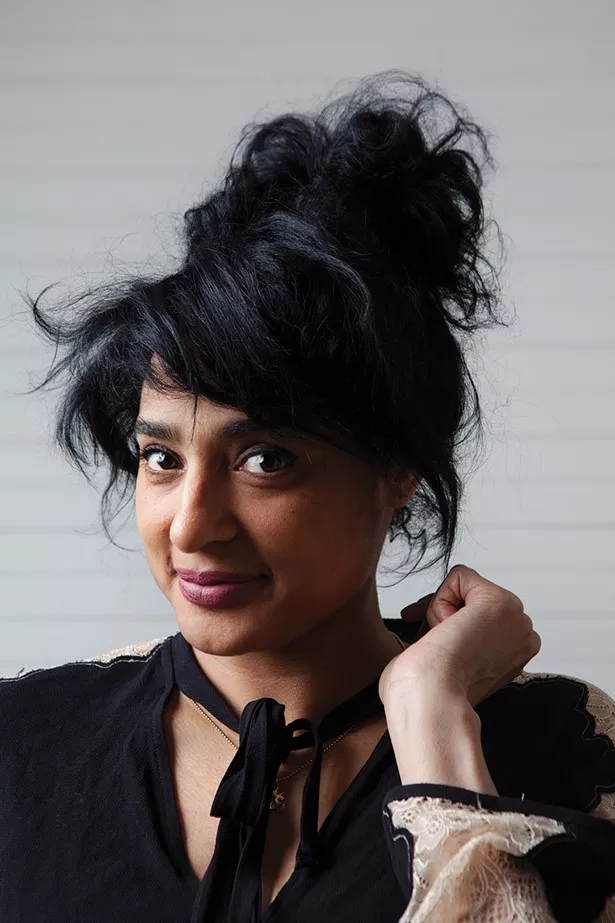 Photo: Fionn Reilly
SIMI was born in Woodstock; after traveling the world, she's returned to her roots.
SIMI
Musician, songwriter, and visual artist
SIMI
was raised in Woodstock and traveled the world with major musical acts. A couple of years ago, she followed her inspiration back home, and now performs both nationally and locally—catch her upcoming gig on December 18 at Levon Helm Studios in Woodstock. "Woodstock has always been a beautiful place," SIMI says. "It's a valley of artists, creatives, and open-minded people. I realized, after I went out into the world, how unique it is." Raised by activist parents, SIMI continues that legacy. "I'm creating a life where I'm an artist/musician and using my platform to raise awareness of issues like domestic violence, safe houses, and addiction," and that work flourished when she moved back to Woodstock, she says. "There's a sense of hope that happens here; a sense of the community rallying around what everyone needs to survive," SIMI says. "There's something in Ulster County that's a unified force."
Image courtesy of Shadowland Stages
Shadowland Stages expanded its production space last fall with its black-box theatre.
Shadowland Stages
Shadowland Stages
' story began in the 1920s, when an Art Deco-style moviehouse opened on Canal Street in Ellenville. In 1985, it became the Shadowland Theatre, noted for being Ulster County's only nonprofit professional Actors' Equity theater. For 35 years, it staged professional shows every summer in Ellenville. But Artistic Director Brendan Burke and the theater's board of directors had bigger dreams—which came true in October 2021 with the opening of a black box theater just around the corner from the original space. "Our mission is bringing arts to the region. And we're always aware that part of our job was to contribute to the economy," Burke says. He appreciates the intimacy of operating in a small town: "If we have a problem, the solution is just a phone call away. And there's an extraordinary attachment to positive growth in the community."
Photo: Stephan Schacher
The women of New York Heartwoods, with their furry best friends.
New York Heartwoods
Ten years ago, Megan Offner started milling and selling lumber and live-edge wood slabs with the intention of using trees that were harvested in ways that maintained the health of the woods. But when Hurricane Irene hit in 2011, her work quickly pivoted to salvaging downed trees to keep them out of landfills. "This region has some of the most beautiful hardwoods in the world, and historically they've often been chipped or otherwise wasted," Offner says. Now, with an all-female crew of woodworkers,
New York Heartwoods
produces "Full Circle Furniture"—consulting with homeowners and architects to transform their trees into finished designs. She continues to focus on local, ethically, and sustainably harvested materials, using trees that are being removed to make way for home renovations or new construction. Despite the labor-intensive nature of sourcing downed timber, an economy of scale can be achieved if enough material is being processed at any one time. "We can do it in a way that's competitive with lumberyard prices," Offner says.
Image courtesy of Walters-Storyk Design Group
John Storyk works in the Highland office of Walters-Storyk Design Group.
Walters-Storyk Design Group
Founding partners John Storyk and Beth Walters's architectural and acoustic design and analysis firm has designed media production facilities for such legendary artists as Jimi Hendrix, Bruce Springsteen, Jay-Z, and Alicia Keys, building a global reputation for recording studio design. Although he's often traveling across the globe to check on their projects, Storyk says he has no intention of leaving Highland, the home of
Walters-Storyk Design Group
's headquarters for more than three decades. "We had the opportunity to move to a more urban setting. Everybody rejected it," he says. "The natural beauty of this part of the world has been the perfect atmosphere for this creative team to work. Our work may happen elsewhere, but all of our people are here."
Image courtesy of R&F Handmade Paints
R&F Handmade Paints is an industry leader in wax-based encaustic paint and linseed-oil-based pigment sticks, and has offered well-known artist workshops.
R&F Handmade Paints
Richard Frumess started
R&F Handmade Paints
in 1988 in New York City, creating encaustic paints to use in his own artwork at a time when there were no commercial manufacturers of the medium. Two years later, R&F moved to Midtown Kingston; it's now the premier manufacturer of wax-based encaustic paint and linseed-oil-based pigment sticks. "Richard loves Kingston, and I do, too," says Darin Seim, president of R&F Handmade Paints. "Our business is international, but we're doing well here." R&F Handmade Paints is a creative and educational hub for encaustic painters; prior to COVID, the company hosted workshops taught (and attended) by leading artists in the industry, and was the home of countless exhibitions showcasing well-known painters. Its gallery has reopened, and Richard and Darin plan to renew workshops soon. The popular R&F artist residency program, in a vintage building around the corner from the shop, will gear up next year as well. The secret of R&F's success lies in its 18 employees, Seim says. "Our staff is our biggest asset," he says. "They work hard and are just great to be around."