Page 5 of 5
US Secretary of State Condoleezza Rice has lumped Myanmar together with Belarus, Zimbabwe, and Iran as an "outpost of tyranny." In many ways she's right—it is the longest running military dictatorship in the world. While in many ways Myanmar is more open, it is also more democratically corrupt and egalitarian in its oppression.
Among Myanmar's youth, hip-hop music is more popular than rock, yet neither touch on the dominant social and political themes of the day. Instead, songs are usually about love and heartbreak—or getting rich. Even so, the military government locked up two popular rappers this year, Zayar Thaw and Yan Yan Chan, members of the popular group ACID. Zayar Thaw was also a member of the Internet-based, non-violent, youth-led activist group Generation Wave, which formed after last September's crackdown, calling for a change in government. The group passed out pamphlets denouncing the May constitutional referendum and DVDs that showed the brutality used against the Buddhist monks last September.
And there are small, subtle signs of creative expression as well. A coffee shop menu in central Yangon displays pictures of the food on the right and blank pages on the left. People stick notes commenting on their favorite dishes, or about a date gone particularly well, and they correct each other's spelling and comment upon comments, creating a Talmudic compendium to the sandwich and coffee selection.
These sorts of things—banal hip-hop music, the "organic" coffee shop menu—wouldn't be out of place either in China, Myanmar's patron, which is also a one-party state without free and fair elections, where poverty inheres in the countryside while the cities develop, where political prisoners rot in jail and freedom of speech is curtailed. Yet America has full diplomatic and economic relations with China while shunning Burma.
Myanmar's people understand that America's policy is "all stick, no carrot," as one former Western diplomat put it. They understand that if the US and its close allies were serious about a full-court press on Myanmar's aging generals, they would apply diplomatic pressure on Russia and China to stop selling weapons to the country. The US and its allies would ask neighboring countries to stop courting Myanmar for its natural gas.
One rainy afternoon in Yangon I boarded a packed public bus and stood in the isle gazing over people's heads into the flooded streets. The bus jerked violently and every few minutes the conductor's assistant would leap off and shout out the names of coming destinations to the awaiting crowds with machine-gun like rapidity. More people climbed aboard. There was barely room to breathe, let alone stand. The cackling emanations from two small flat screen TVs that sounded like a cricket match were soon recognized as preprogrammed laugh tracks from "Mr. Bean."
Part of Myanmar's tragedy is that its people place a high premium on education, yet their thirst for knowledge is being placated by pop music, fashion, and other momentarily satiating treats that only further imprison them.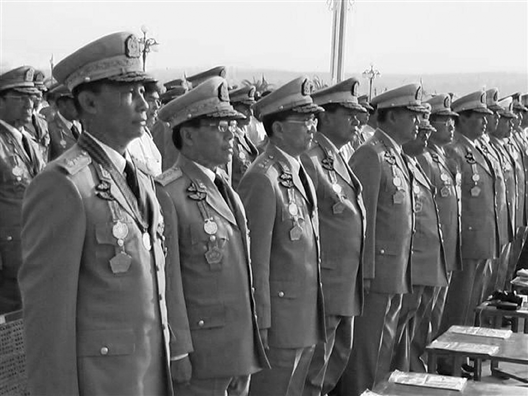 The members of Myanmar's military junta stand at attention during Armed Forces Day parade at the country's new capital near the town of Pyinmana on March 27, 2006. [REUTERS/Aung Hla Tun]
A monk looks on after being halted by riot police and military officials while he and others attempted to enter the Shwedagon Pagoda in Yangon on September 26, 2007. [REUTERS/Adrees Latif]