An impossibly beautiful country, Myanmar is full of dilapidated colonial structures slowly crumbling in the damp swelter of the tropics, the surface of each slowly losing ground to organic pastels of mosses and molds. Between the housing blocks of downtown Yangon, the country's largest city and former capital, bundles of fraying wires connect the isolated citizenry with one another. Satellite dishes, cell phones, and Internet cafes connect them with the outside world. On a recent visit to the apartment of a former Yangon city policeman and his family, two color televisions sat playing side-by-side, each with satellite connections, while a wall-mounted air-conditioner hummed quietly nearby. The only electronic gadget not turned on was a multi-speaker stereo system.
"It was bad before," the eldest of the policeman's three daughters said over the din in the room. "Then some people died and now it's still bad." Her story is emblematic—due to the influence of the Internet and satellite TV—of how much more than ever before the Myanmar people are aware of their own country's glacial pace of progress than at any point in the past. She happened to be on the street one day during last year's uprising shouting antigovernment slogans. The next day she stayed in, fearing a stray bullet as she watched the blood-soaked crackdown live on Al Jazeera. "Do you think the Burmese are cowards?" she asked.
It was last year's social upheaval, sparked by a rise in fuel prices, that inspired hope that a chapter would be closing on the world's longest-running military regime. But the Buddhist clergy and common citizens were quickly beaten back with batons and bullets, and the world moved on.
During this September's anniversary a bomb explosion in downtown Yangon wounded four, websites run by dissenters and exiles were attacked and shut down, and about 100 monks filed silently through the streets of a western fishing town to commemorate the crackdown. But this seems hardly dramatic enough to undo the disillusionment that set in after the defeat of the Saffron Revolution. In some ways, it only underscores it.

LURCHING FORWARD, LOST IN TIME
Two years ago—11 months before the monks' rebellion—I sat in one of the few, cramped Internet cafes in Yangon, the former capital, and glanced at my neighbors' screens—all soft-core porn and foreign news websites. When I returned this summer, I found the cafes had become diverse and diffuse, packed with young people gabbing away on Google Talk, checking out the social networking sites Orkut, Hi5, and Friendster. Signs posted openly, even in small towns, explained how to circumvent government censors through proxy servers hosted at www.yoyahoo.com and www.bypassany.com.
Myanmar is like that. Change perspectives, and its lost-in-time quality suddenly shifts as well, with a lurch forward. Against the backdrop of the 2,500-year-old golden Swedegon Pagoda, teenagers post photos on Facebook while Korean soap operas compete with English Premier League soccer for people's attention. Cellphone stores proliferate, despite the cost of new connections—$1,500—from the single, government-owned provider, Myanma Post and Telecommunications. (Black market connections start at about $2,500.)
At night in downtown Yangon, men can be found sitting huddled on low stools beneath the crowded umbrellas of downtown teashops, strumming loud acoustic traditional folk melodies. Despite the demonstrations of 2007, not one is a song of dissention or outrage. The only things exploding these days are the papayas, pineapples, and mangoes—the spirit of protest is, for the most part, silenced.
In fact, the State Peace and Development Council, as the military government renamed itself in 1997, is even more entrenched now than it was a year ago, having profited from global increases in food and fuel prices—Myanmar is an exporter of each. A few signs of conspicuous consumption by the small urban middle class—satellite TV dishes, hip-hop music, and the latest urban fashions—are seeping down from the much smaller class of multimillionaire businessmen directly tied to the junta's chairman, Than Shwe.
Meanwhile, Myanmar's broad mass of 50 million people remains among the poorest in the world. Ranked 132nd out of 177 countries in the 2007 United Nation's Development Program's Human Development Index, most experts doubt the government's statistics and think the reality is worse. "It's so extraordinarily opaque," offered Sean Turnall, who heads Burma Economic Watch and is a professor of economics at Macquarie University in Sydney. "You've got secrecy at every level."
The paradox of Myanmar is that its military, more indirectly than directly, almost wholly controls the driving economic engine behind the country's newfound access to global commodities and media. Those who benefit are connected, in some way, to top generals or other upper-ranking officers. This poses a quandary to Myanmar's masses: Deal with the devil to better one's family or suffer silently as the world passes by.
And pass by it will. According to Amnesty International over 2,100 political prisoners are still languishing in Myanmar's jails, with over 1,000 locked up in the past year alone. Many sit in solitary confinment; some are denied medical treatment. Myanmar is one of the only countries to be publicly denounced for human rights abuses by the otherwise confidential and neutral International Committee of the Red Cross.
In late August, the UN's special envoy to Myanmar, Ibrahim Gambari, visited. It was the 37th visit by a UN special envoy. Aung San Suu Kyi, the head of the opposition who has been under house arrest for 13 of the past 19 years, refused to meet with him to protest the lack of progress. In ill health, she is now refusing to see her doctor to drive home the same point and is reportedly refusing food. I was in the country at the time, and Gambari's visit barely elicited a peep from the many Burmese I spoke with.
According to Mark Farmaner, director of the Burma Campaign UK, the number of political prisoners has almost doubled since Gambari first visited two years ago and proclaimed the regime had a new page with the international community. "There is not a single reform or any progress to show for it," said Farmaner. "Gambari's visits are no longer about his own initiative now, it is all about preparing the group for when Ban Ki-moon visits in December. Twenty years of talking about talking is over. We need to see real concrete progress."
The Myanmar government's road map toward what it calls "disciplined democracy" is supported by China, Russia, and its neighbors in Southeast Asia. Elections have been set for 2010. In May, just after cyclone Nargis killed 134,000 of its citizens, the regime held a referendum on the new constitution, which passed with an approval rate of 92.4 percent. These results were largely denounced as a sham.
GREEN GOLD
The purpose of my latest trip was to report on the country's booming jade industry, largely sustained by recently wealthy Chinese consumers. Jade plays a prominent role in Chinese culture and lore, and is often given as a present during engagement ceremonies. For the Beijing Olympics, gold, silver, and bronze medals were constructed with rings of jade on the back.
Just before the start of the Beijing Olympics a report co-released by US and Thai-based activist groups the All Kachin Students and Youth Union and 8-8-08 for Burma called for a global ban on Burmese "blood jade." The groups accused the jade mines of being "plagued with deplorable working conditions, an HIV/AIDS epidemic, and environmental destruction."
One morning I went to the Ministry of Mines in Yangon seeking official permission to travel to Hpakant, the main jade mining town in northern Kachin state. Greeted by half-dressed soldiers lounging idly in the front parking lot, 20 minutes of general confusion ensued until a ranking officer came by and told me the ministry had moved to Naypidaw, the new multi-billion dollar concrete bunker capital built in the middle of a jungle where Myanmar's leadership moved suddenly and without warning in November, 2005.
I then flew to Mandalay, in the middle of the country, and took a slow, rickety 24-hour train to the Myitkyina, the regional capital of Kachin state, where the Japanese and Americans fought fierce battles in the Second World War. From there, together with two guides, I made a 16-hour journey to the small city of Hpakant on the back of a small, cheap Chinese motorcycle. Leaving around noon, we rode through the night across medieval landscapes—a tableau combining the worst of Goya and America's Wild West—where abandoned wooden oxcarts and shuttered towns stared blankly, their vacant streets surrounded by jungle. The half-destroyed dirt roads were pockmarked with massive craters, many as much as two feet deep and filled with water from the seasonal rains. In some places, the mud was so thick and soupy, we had to walk our motorcycles. Ancient hulking trucks puttered along in the mud, some getting mired in the muck for days. At one collapsed bridge, people simply sat and waited while the army organized villagers to get chainsaws and start construction on another. Road signs along the way announced, like a cruel joke, "Government has arranged for road repair from each company."
Connected to the outside world through the one crumbling road, we arrived at dawn to a Hpakant full of Caterpillar backhoes and industrial-sized dump trucks. Taking two months to be transported, the large yellow Caterpillar machines float up the Irrawaddy River and then over the hills to reach Hpakant's mining area, where they are put into use by the more than 450 private companies operating there. Joined by 100 joint ventures, the majority of which are owned by Burmese with Chinese heritage, all work to dig jade out of 3,000 separate mines.
Hpakant itself is set among a series of hills that are slowly being denuded by the mining machinery. Entire mountaintops are severed only to be repositioned as piles elsewhere. Plant life bursts forth where it can, but most of the earth is an excavation site, undulating for miles into the distance. The Myanmar military maintains an invisible presence and the most prominent office in town belongs to the Kachin Independent Organization, an ethnic breakaway group that signed a cease-fire with the government in 1994 and now makes handsome profits off extortion rackets in Hpakant, as well as through the sale of opium, timber, and precious stones near their headquarters along the Myanmar-China border.
In essence, the country runs like a mafia, from the languid teashops of Yangon to the remote jungle areas of Kachin state in Upper Burma, where Hpakant is located, and where much of the world's jade comes from. It was there I met Sai Joseph, a gregarious and entrepreneurial family man who manages one midsize jade company. "There are only a few wealthy people in Myanmar," he told me, "those who get in with the political people, the authorities who have power."
According to Joseph, an ethnic Shan living in Hpakant for only four years, business was very good. The road, he said, is kept bad on purpose in order to dissuade the "office workers" (i.e., government officials) from visiting too often. Once a scene from Dante's Inferno—the few outsiders who visited sometimes described thousands upon thousands of half-naked men, women, and children clawing into the rock in search of jade—the mining is now a largely mechanical process executed by industrial backhoes and dump trucks. A few mines still employ human diggers, and earlier this year one such site collapsed, killing 20. A prime piece of real estate, it is best to be in a joint venture with the military government. But it is also possible to do business otherwise, paying bribes to the right officials.
The week before President Bush left for Beijing he signed into law the Burma Jade Act, adding Myanmar's jade and rubies to the long list of goods restricted for import. Jewelers such as Bulgari and Tiffany had already elected to stop using Myanmar stones in their products.
Democracy advocates in exile hold out hope that China, which is Myanmar's largest trading partner and its ally on the United Nations Security Council, will become the linchpin for changes in the regime. But most Burmese I spoke with on my two-week visit didn't think China would ever yield to Western pleas for it to play such a role. Jade sellers in the marketplaces of Rangoon largely shrugged off the ban, saying that business from neighboring China, India, Thailand, Singapore, and the Arab Gulf states was booming. Business with China is in fact thriving, partly because tighter Western sanctions have made the junta more dependent on China for diplomatic support, as well as arms and consumer goods.
SANCTIONS WELCOMED
Since 1997, US sanctions on Myanmar such as the Burma Jade Act have only tightened. Largely as a result of lobby groups in Washington, the sanctions have helped to further isolate an already xenophobic and authoritarian junta, which has been in power for most of the past 50 years and is the longest running military dictatorship in the world.
"Sanctions are the only thing this government welcomes," said Win Kyaw Oo, a former journalist who claims he lost his job by asking the wrong questions of the right people. "The government wants to isolate itself and the sanctions help them do this."
While India and China bring in foreign investment from their export-oriented manufacturing industries that employ large numbers of unskilled laborers who are slowly moving them up the value chain, Myanmar's economy benefits primarily from its natural resources. Despite being awash in foreign currency, Myanmar's government has yet to invest heavily in manufacturing. Instead, Myanmar's big-ticket industries are based on extracting natural resources. Last year, sales of natural gas brought in about $3 billion, sales of jade an estimated $400 million.
"[Myanmar] has got only one part of the equation—it's got nothing to do with a broadly progressive economic program," said economist Sean Turnell. "It's about the extraction of valuable resources. The most prominent industries employ very few Burmese, so you don't get those spillover effects."
Operating with a siege mentality, Myanmar's generals have been on a shopping spree in search of fresh arms and defense systems from Russia and China. According to a former Western diplomat, the defense attachés of these two countries are some of the only who have frequent and unhindered access to Myanmar's top leadership. With nearly half a million soldiers, it has one of the largest standing armies in the world—the 10th largest according to some estimates. Roughly a third of its annual budget is allocated to defense—more than twice the amount for health and education combined.
And so power remains in the hands of those aligned with the ruling party. "Without having personal ties with high-ranking personnel in one way or another, no businesses could survive or expand," explained Win Kyaw Oo.
AWASH IN CORRUPTION
Most major enterprises in Myanmar operate in deep secrecy. Transparency International once again listed Myanmar as one of the world's most corrupt countries this year.
If a businessman wants to build a hotel or export teak wood or import cars in Myanmar, the most efficient and effective way is to go through an army general who can open the right doors and provide a guarantee. The country's newfound wealth has also opened opportunities for mid-ranking officers who run local and regional extortion rackets. The message to the people is clear: Send your children to the military academy, and with a little luck and the right connections they might strike it rich too.
While the ruling elite would like to see the sanctions lifted, there is no urgency in the matter. According to a former Western diplomat, "They'd like to normalize relations if, for no other reason than to avoid being treated as a pariah nation. But they also don't see normalized relations as absolutely necessary to their survival. Russia, China, India, and Burma's ASEAN [Association of Southeast Asian Nations] enablers have shown them that sanctions, while they have interfered with their wealth-building, certainly haven't weakened their regime."
"The very presence of these companies in Burma is their vote of confidence in the political stability of the regime," said Matthew Smith, a project coordinator with the Thailand-based environmental and human rights organization EarthRights International (ERI). "By virtue of them being there, we can assume that the regime has successfully convinced these companies that nothing will compromise its grip on political power, and this is a conviction the regime doesn't hesitate to demonstrate, as we've seen through its political imprisonments and violent treatment of dissent."
In September, ERI released a report detailing the investments of 69 Chinese multinationals invested in 90 hydropower, oil, natural gas, and mining projects, expressing concern at the secrecy and lack of transparency that shrouds most projects.
Indeed, after having snuck into the jade mining area of Hpakant—which is restricted to foreigners—I was not there for more than a few hours before the authorities found, detained, and frog-marched me back to Yangon. A few days after being returned to Yangon, just past dawn, four plainclothes police officers woke me to say that my trip to Myanmar was now over and I was being deported. Driving me through the empty streets, and kind enough though to let me stop and take some departing snaps of the ancient, golden Swedagon Pagoda, they took me to the gleaming new international airport terminal, which has all the charm of a military hospital waiting room. With a firm pat on the back, an immigration official dressed smartly in whites returned my passport as I set foot onto a Thai Airways plane bound for Bangkok.
DOUBLE STANDARD
If Yangon and Hpakant are anything to go by, Myanmar's people and economy will continue to grow and flourish. More tolerant, diverse and dynamic than America's gas guzzling and glitz-filled ally Saudi Arabia, Myanmar has over 300 ethnic groups, and in the 1920s Yangon received more immigrants than New York. It has a highly literate population that places a premium on education.
US Secretary of State Condoleezza Rice has lumped Myanmar together with Belarus, Zimbabwe, and Iran as an "outpost of tyranny." In many ways she's right—it is the longest running military dictatorship in the world. While in many ways Myanmar is more open, it is also more democratically corrupt and egalitarian in its oppression.
Among Myanmar's youth, hip-hop music is more popular than rock, yet neither touch on the dominant social and political themes of the day. Instead, songs are usually about love and heartbreak—or getting rich. Even so, the military government locked up two popular rappers this year, Zayar Thaw and Yan Yan Chan, members of the popular group ACID. Zayar Thaw was also a member of the Internet-based, non-violent, youth-led activist group Generation Wave, which formed after last September's crackdown, calling for a change in government. The group passed out pamphlets denouncing the May constitutional referendum and DVDs that showed the brutality used against the Buddhist monks last September.
And there are small, subtle signs of creative expression as well. A coffee shop menu in central Yangon displays pictures of the food on the right and blank pages on the left. People stick notes commenting on their favorite dishes, or about a date gone particularly well, and they correct each other's spelling and comment upon comments, creating a Talmudic compendium to the sandwich and coffee selection.
These sorts of things—banal hip-hop music, the "organic" coffee shop menu—wouldn't be out of place either in China, Myanmar's patron, which is also a one-party state without free and fair elections, where poverty inheres in the countryside while the cities develop, where political prisoners rot in jail and freedom of speech is curtailed. Yet America has full diplomatic and economic relations with China while shunning Burma.
Myanmar's people understand that America's policy is "all stick, no carrot," as one former Western diplomat put it. They understand that if the US and its close allies were serious about a full-court press on Myanmar's aging generals, they would apply diplomatic pressure on Russia and China to stop selling weapons to the country. The US and its allies would ask neighboring countries to stop courting Myanmar for its natural gas.
One rainy afternoon in Yangon I boarded a packed public bus and stood in the isle gazing over people's heads into the flooded streets. The bus jerked violently and every few minutes the conductor's assistant would leap off and shout out the names of coming destinations to the awaiting crowds with machine-gun like rapidity. More people climbed aboard. There was barely room to breathe, let alone stand. The cackling emanations from two small flat screen TVs that sounded like a cricket match were soon recognized as preprogrammed laugh tracks from "Mr. Bean."
Part of Myanmar's tragedy is that its people place a high premium on education, yet their thirst for knowledge is being placated by pop music, fashion, and other momentarily satiating treats that only further imprison them.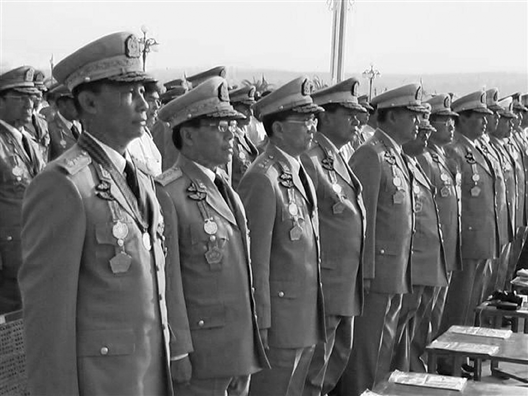 The members of Myanmar's military junta stand at attention during Armed Forces Day parade at the country's new capital near the town of Pyinmana on March 27, 2006. [REUTERS/Aung Hla Tun]
A monk looks on after being halted by riot police and military officials while he and others attempted to enter the Shwedagon Pagoda in Yangon on September 26, 2007. [REUTERS/Adrees Latif]