When Picasso first arrived in Paris in 1900 as a nearly impoverished 18-year old Spanish artist, Edgar Degas was already renowned. Picasso stayed in the same neighborhood as the elder artist—Montmartre—and eventually moved there permanently, within a five-minute walk of Degas's studio. In the meantime, Picasso began imitating the paintings Degas had made in Paris cafes and nightclubs 30 years before. But because he was Picasso, his canvases were not exactly copies. "Picasso Looks at Degas," at the Clark Institute in Williamstown, Massachusetts, is the first exhibition examining this surprising artistic lineage.
The show juxtaposes In a Café (L'Absinthe) by Degas with Portrait of Sebastià Junyer i Vidal by Picasso. "It seems very clear that [Picasso's] idea here is to do Degas one better," observes Sarah Lees, associate curator at the Clark Art Institute. "His figures are more bluish looking and down-at-the-heels." Degas' once-scandalous painting shows two dispirited absinthe drinkers lodged behind a table. Picasso's, painted in Barcelona in 1903 during his Blue Period, invents an early "heroin chic." Though his subjects are not (as far as I know) junkies, they have that same creepy, ethereal languor.
Like Degas, Picasso graduated from anecdotal scenes of cafe life to an eternal fascination with the feminine form. The late works of the elder artist often depicted women toweling themselves after a bath, usually with obscured faces and simplified forms. Picasso's responses to these works typically pushed them even further. This exhibit compares Degas's Combing the Hair (La Coiffure) with Picasso's Nude Wringing Her Hair, where the vulnerability of Degas's work is transformed into a sexual sadism.
Both Degas and Picasso were self-taught sculptors of great talent. (For my money, they were both better sculptors than painters.) "Picasso Looks at Degas" discovers sculptures by Picasso from 1931, mislabeled as bathers, that were inspired by bronzes of Degas. "Picasso's are highly simplified; they're very humorous," remarks Lees. "They're almost mocking Degas, yet going after the same idea of how the body takes up space. They're funny, they're exuberant, they're really wonderful."
Most art lovers associate Degas with dance but are unaware that Picasso also was fascinated with ballet. Picasso met his first wife, Russian ballerina Olga Khokhlova, while designing sets for the Ballets Russe in 1917. The Clark displays previously unknown photos of Khokhlova, revealing what a major dancer she was.
Though Degas and Picasso apparently never met, the dialogue between them was long, extensive—and perhaps oedipal. Picasso found the elderly, eminent, top-hatted "master" unapproachable, yet ripe for private parody. In the late 1870s, Degas created monotypes of life in Parisian brothels. Picasso, impressed with these works, eventually bought nine of them. In March 1971, near the end of his life, Picasso began a series of 39 etchings of Degas visiting houses of prostitution. In these works, the bemused master is a stand-in for Picasso himself.
"Picasso Looks at Degas" contains over 100 artworks, roughly half by each artist. Virtually the entire art careers of both prolific painters are represented. The curators, Elizabeth Cowling and Richard Kendall, emphasize traditionalist elements in the radical Picasso, and avant-garde tendencies in the bourgeois Degas.
"Picasso Looks at Degas" will continue at the Clark Art Institute, 225 South Street in Williamstown, Massachusetts, until September 12. (413) 458-2303; www.clarkart.edu.
Pablo Picasso, The Blue Room (The Tub), 1901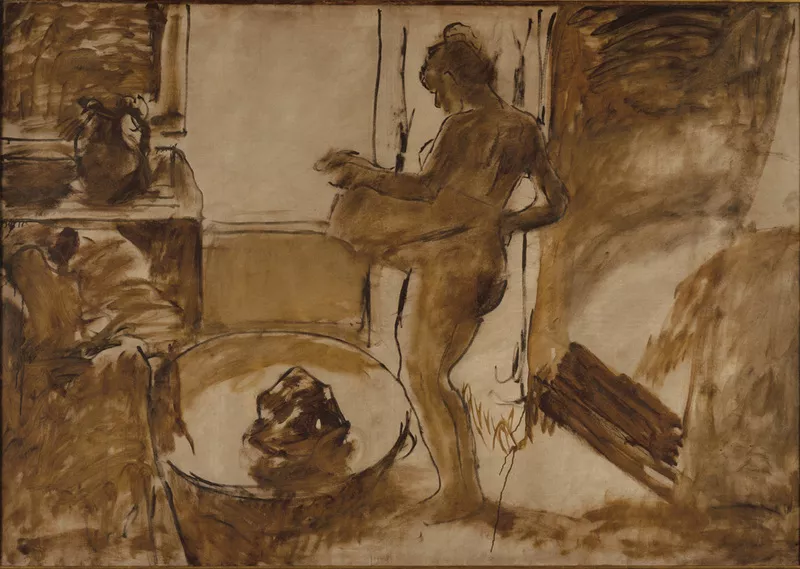 Edgar Degas, Nude Woman Drying Herself, 1884–86