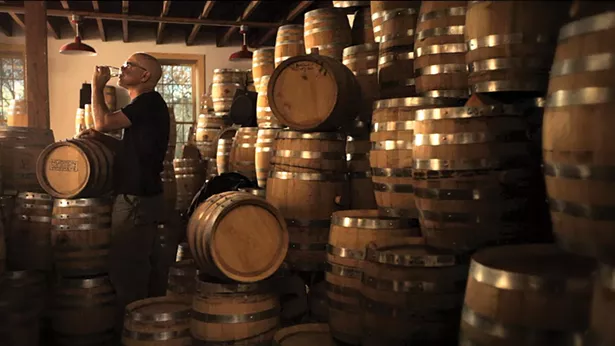 Brand ambassador Ralph Erenzo tasting product at Tuthilltown Spirits Distillery in Gardiner.
Scaling up is still in progress at Tuthilltown Spirits Distillery in Gardiner. "Since William Grant & Sons took over the property in 2017, they've been working on making the facility actually capable of meeting the demand that's been generated over the past several years," says brand ambassador David Powell. "The old 500-gallon cooker has been replaced by a 3,000-gallon tank doing three cooks a day. There are eight fermentation tanks and new stills are crossing the ocean as we speak."
The collaboration between Tuthilltown Spirits cofounders Ralph Erenzo and Brian Lee and the United Kingdom's oldest family-owned distiller and distributor began in 2010, when William Grant & Sons offered to add Tuthilltown's Hudson Whiskey to its spirituous global lineup, which includes world-renowned names The Balvenie, Sailor Jerry's rum, and Hendrick's gin.
Beyond the award-winning bourbon, the Scottish whiskey dynasty was drawn to their new product's backstory and happy to acquire its birthplace as their sole North American outpost. What won't change, representatives say, is the commitment to local sourcing and intimate quality control. "The historical significance of the land and the brand is very special," says Powell. "Ralph distilled New York's first drops of liquor here after a 70-year gap. He's the founding father of our state's craft distillery movement, and we love having the creator of the brand on board as a resource. His commitment to quality got it to this level of high demand, where Hudson Whiskey is notorious for being out of stock. Scaling up is always a challenge, but by 2020, that won't be a problem anymore."
Hudson Whiskey's Manhattan Rye.
Serving as brand ambassador is a dream job for Powell, whose resume includes nine years of craft mixology at Manhattan classics like the Red Rooster and Raines Law Room. "Like athletes, bartenders look for a life after the bar," he says. "It feels like I'm in a charmed position here. There's always something new in the pipeline. We have two master blenders working on the property. We're extending the Hudson brand and revisiting the rest of the Tuthilltown line, and we have virtually infinite space for creation. The next 18 months will be phenomenal; we're bringing out three new Hudson varieties and collaborating on really interesting things like peated Scotch."
You can stop by the distillery's visitor center, which is open daily, take a walk on the nature trail by the creek, and sample a flight of five handcrafted spirits. If you visit on a weekend afternoon, tours of the distillery are offered every hour on the hour from 12-5pm. The experience pairs especially well, Powell says, with a visit to one of the farms or orchards where the distillers source their ingredients. "We buy entire crops from eight family farms within a 50-mile radius, which is what drove Ralph's whole mission: giving those farmers a decent market. As a bartender, I knew every bottle had a story; as an ambassador, this is a great story to be able to tell. Come visit. We do modern-day alchemy here."