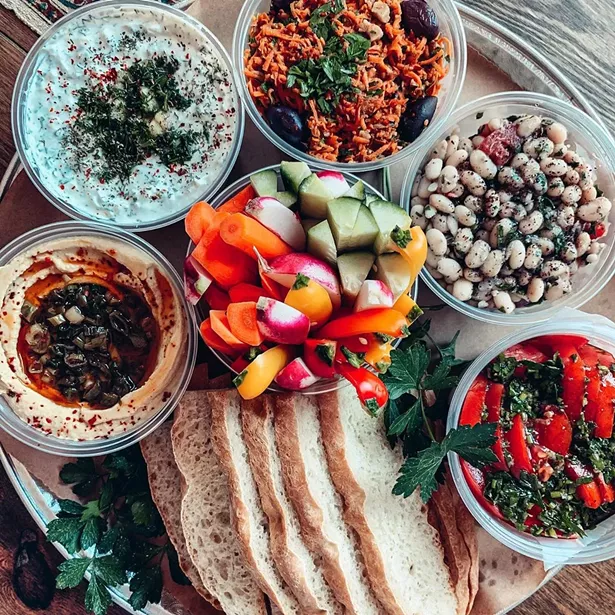 After sitting empty for over a decade, the former Midtown Chophouse space on the corner of Broadway and Downs Street in Kingston reopened as Turkish eatery
Masa Midtown
on March 1. Yep, just in time for the pandemic (collective eye roll).
"Originally, we planned to be a catering venue that would host occasional pop-up events in the space here, with the intention of opening a few days a week for restaurant-style dining down the road," says chef/proprietor Ozlem Oguzcan-Cranston. Also known as Chef Oz, she spent the last seven years prior doing catering and private chefing in the city before relocating upstate full-time with her husband last year.
They pair purchased the building housing Masa at 666 Broadway in April 2019 and spent almost a year planning and renovating the space into a 60-seat restaurant. The clean homey space has exposed ceiling beams, beadboard paneling, elegant tile floors, and long wooden tables. They had a grand opening celebration, and then...lockdown. "We were like, 'Wow, we opened an event space and then every event in the world got cancelled within a week,'" she says. "We didn't want to wait for the pandemic to pass, so within two weeks of everything shutting down, we started doing takeout."
Over the course of lockdown and the summer, Masa has opened weekends for takeout dinners, brunch, and pop-up bakery sales. Like its Turkish-born chef, the food at Masa is homestyle Turkish to the core, and features rustic Mediterranean fare like zucchini herb fritters with lemon garlic yogurt; raki-steamed mussels with fennel seed, tomato jus, and charred pita; yogurt-marinated chicken thighs on the bone with basmati rice; and filo spring rolls with spinach, kale, shallots, and feta cream.
Oguzcan-Cranston was raised on many of the recipes she now serves. "I never got concrete recipes from my mom," she says. "She would say things like, 'You just have to feel it out.' and 'Taste it." There was a lot of eyeballing. But as I do it more and more I'm getting pretty close."

Order the simit on its own, or as part of the breakfast box, which comes with two simits; a classic, cold breakfast salad; a hard-boiled egg; and whipped feta (basically Turkish cream cheese). "It's such a common street food," Oguzcan-Cranston says. "Typically, people break it like a piece of bread, and schmear each bite as they go, or just eat it without any kind of topping. It goes really well with Turkish tea."
Masa is currently open Thursdays and Fridays, 3-8pm, for curbside pick-up of dinner orders as well as Saturday mornings, 10am-2pm, for brunch takeout. (They're also catering small events).
All ordering is done online via ToastTab.
Keep your eyes peeled for the weekly are dinner specials. This week, the special features mild Poblano peppers and grape leaves stuffed with the classic blend of ground beef, onions, tomatoes, and fresh parsley, with a side of bulgur rice pilaf and shepherd's salad for $14.
The restaurant gets its name, "masa" from the Turkish word for table—in other words, a place to gather and break bread. Although Masa hasn't been able to do much sit-down hosting since its late winter opening, in August, Oguzcan-Cranston decided to start offering a pop-up pastry sale in the Masa space on the first Saturday of every month. (That means then next one is tomorrow, September 5, 11am-3pm!) "It's nice for me because the space was intended for people to come in and gather," she says. And in case you miss brunch, Masa is also at the
Kingston Waterfront farmers' market
on Sundays.
"It's been awesome," Oguzcan-Cranston says. "Kind of a learning curve, sort of chaotic, definitely an adventure. But we've been so welcomed by the community—not just Kingston but people from Woodstock, Rosendale, and Stone Sidge. Word spread, so it's been really good."
Masa Midtown
666 Broadway, Kingston NY 12401
(718) 408-0468
Hours: Thursday and Friday: 3-8pm; Saturday: 10am-2pm