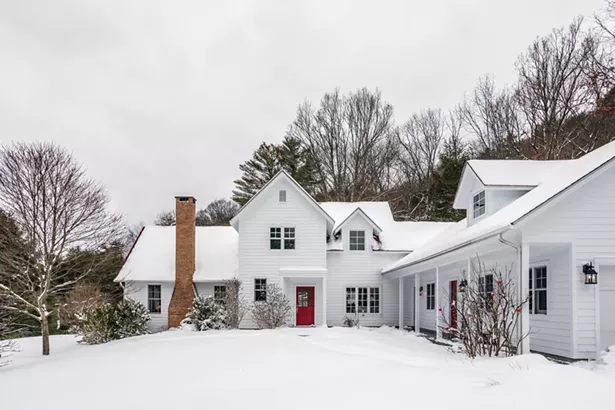 Winona Barton Ballentine
Laurie Ylvisaker's 2,000-square-foot farmhouse sits at the top of what she and her neighbors have dubbed Rainbow Hill. Her grandfather, a best-selling author, and her grandmother, a German immigrant, were the first year-round residents of the Maverick Colony of the Arts, invited by colony founder Hervey White. Ylvisaker spent much of her childhood visiting them and "as a 13-year-old existentialist, I always knew this was where I'd ultimately be," she explains.
Although she's roamed like the quintessential rolling stone, Laurie Ylvisaker's life has truly come full circle. A descendant of Woodstock art colonists, her childhood was colored by the artists, musicians, and writers who first made the town a creative hub. "Their creative and free-spirited lifestyle carved an indelible impression on my way of life," says Ylvisaker. Her 2,000-square-foot nouveau farmhouse expresses a similar theme—that is, honoring history and reworking local forebears' oeuvre for the present day. Built in 2001, it was inspired by the 1850s barn that still sits at the front of her 22-acre property. Steep gabled roof lines and clapboard siding recall 19th-century farm life, while the home's modern interior provides wide swathes of wall space ideal for hanging art. "One of the best compliments I get is when people ask me, 'Who had this farmhouse before you renovated it?'" Ylvisaker says of the home she built herself. "But really I designed it."
Before she built her home, however, and became one of the area's most respected real estate agents—before she even found her way back to Ohayo Mountain—Ylvisaker followed many paths. Like Dorothy off to Oz, she travelled far before she realized there's no place like home—especially if that home is Woodstock.
Back to the Garden
Like the oak that graces the edge of her yard, Ylvisaker's local roots run deep. "My grandparents were the first year-round residents of the Maverick Art colony," she explains. Founded by Hervey White in 1905 in what is today's West Hurley, the Maverick colony was intrinsic to Woodstock history.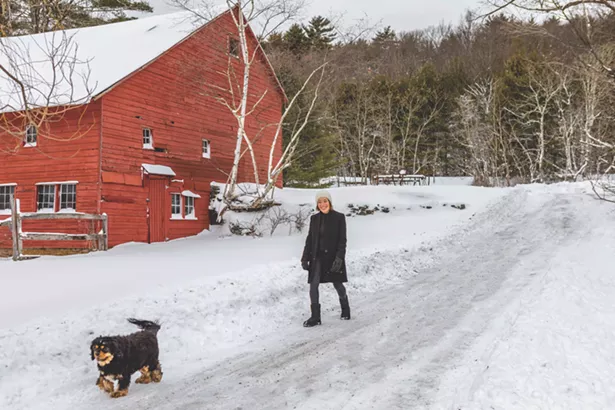 Winona Barton Ballentine
Ylvisaker and her dog Cooper walking the dirt road on her land. The farmhouse design was inspired by the 1850s barn that sits at the front of her 22-acre property. "It's the oldest barn in Woodstock," she says. After many adventures, she finally returned to the area in 2000 and found the antique barn while driving by. In 2001, she designed and built her farmhouse to echo the themes of the historic barn.
In 1915, White held his first summer Maverick festival filled with live music, theater, and costumed attendees. These bacchanals were regularly held each August around the full moon, influencing the local music events of the 1960s and anticipating the 1969 Woodstock Festival. "That's how it all started," says Ylvisaker, who has been active in local arts. "The Maverick artists needed to raise money to drill a well or pay off everybody's accounts at the butcher in town and so they would hold a festival." In 1916 White also established the Maverick Concerts series, which has become the longest continuously running chamber music series in America. White also allowed fellow artists to build their own seasonal cottages in the woods.
Ylvisaker's grandfather, author Henry Morton Robinson, moved his wife and young children to one of those rudimentary colony "shacks" while White was still alive. "He was a bit of a bon vivant," Ylvisaker says of her grandfather, author of The Cardinal and other works, who used to haul buckets of water up the mountain to his wife each day, until they were able to buy a year-round farmhouse nearby. Throughout her childhood Ylvisaker regularly travelled to Woodstock with her mother to visit her grandparents. Memories of those visits include playing in open meadows, and hearing stories of her grandfather and the mythologist Joseph Campbell debating literature in front of her grandparents' large stone fireplace. (The two would eventually write The Skeleton Key to Finnegan's Wake together.)
Winona Barton Ballentine
The home's open dining area enjoys views to the adjacent meadow. Ylvisaker designed the space to easily sit 10 people around the pine farm table. A large painting by local artist Stephen Kerner hangs along one wall. Another smaller work by artist Judith Sobel hangs between the dining and living room. As a child, "Woodstock and the artists that convened at my grandmother's table always intrigued me," she says.
Later Ylvisaker attended the Emma Willard boarding school in Troy—where every weekend she would hop on the Trailways bus and then hop off at the end of the road leading to her grandparents' house. "Woodstock was in the curve," she explains. "I got to see it at the end of the colony days and then when the Beat, jazz, and folk scene was becoming very big." Ylvisaker went to hear bands at the Cafe Espresso and Deanie's Restaurant and even went to see Sound-Outs at Pan's Meadow—the direct forerunner to the iconic Woodstock festival. "It was pretty impressive and I was impressionable," she remembers.
En Plein Air
Ylvisaker eventually made her way out to Los Angeles where she worked promoting such greats as Van Morrison, Steve Miller, Stevie Wonder, and Smokey Robinson. "It was a great time in the music business because record companies would still nurture and grow artists and put together tours," she says. "The music was incredible." Over time however, the "sex, drugs, and rock 'n' roll" aspect became too excessive.

When she heard about 8,400 acres of farmland in the undeveloped area of West Palm Beach that was to be a planned utopian community, it intrigued her. "I jumped in my car, drove across country, and joined them," she says It was her first foray into real estate and she started low on the totem pole helping with the project's marketing, research, and public relations.
Her talent for real estate grew, as did her vision of building more egalitarian and utopian communities. This interest led her to become a part of the Ethiopia famine relief in the 1980s, working with the United States Agency for International Development. It was an experience that would forever alter her, inspiring her toward greater acts of service. "I realized that what worked there was the same thing that works here; it's really just one person helping another person," she says.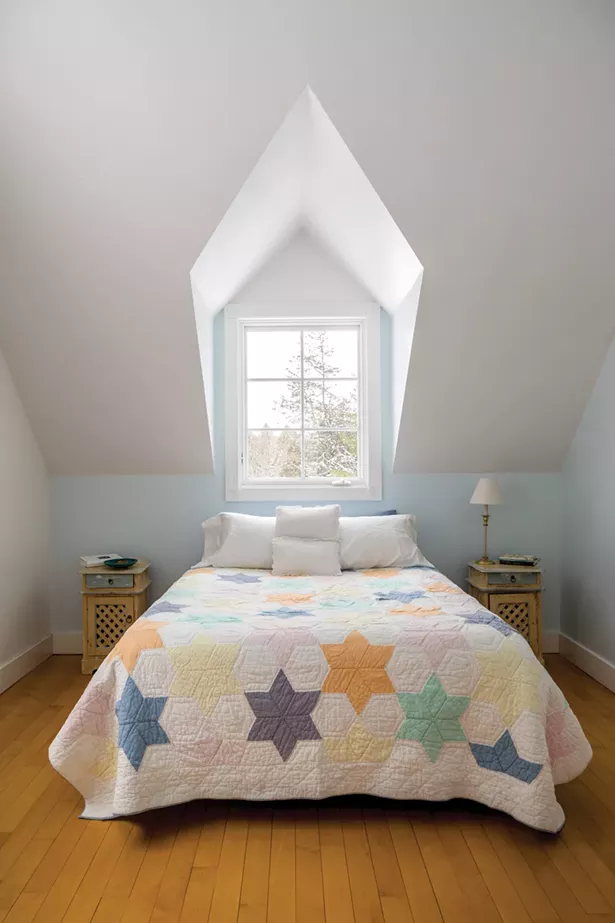 Winona Barton Ballentine
Ylvisaker's second floor bedroom has creatively angled dormers originally inspired by a picture she found in a magazine. The room features views of the woods and further to the east, and as the seasons roll by the light changes drastically. "I find I have to move my bed to another wall in the summer," she explains.
When she came back to the US, she began raising money for African maternal and child health care. She also made her way back to Northern California where she bought and revived a series of fixer-uppers. However, in the late '90s another kind of tragedy struck: Her house burned down, and, along with it, all the memorabilia of her many adventures. It was devastating, but it also pointed her toward her next chapter. "I felt like it was a sign," says Ylvisaker. "It was the end of California for me. But, ultimately, it's how I got back to Woodstock."
Blank Canvas
Ylvisaker came home. It wasn't long before the red barn at the top of Ohayo Mountain caught her eye. Once the center of a cattle farm, the lands around it had some animals living on them but were mostly overgrown with pine trees. "My father had horses and they'd been a part of my life, so it was nice to drive by. But the barn was looking so sad," she explains. "And then one day, there was a little for sale sign." It was winter, and she took the opportunity to explore the thick forest behind the barn by following deer trails in the snow. "I saw that big oak tree and I got the lay of the land. I knew I wanted privacy, and I wanted to save the barn." She bought it and then commenced to create the clean, modern refuge she's called home for the past 20 years.
Ylvisaker wanted the farmhouse to complement the barn and continue many of its themes in the exterior design. She trimmed the stark white clapboard siding with an eye-catching red roof and doors. She also cleared some pines from the immediate area and planted a garden. An adjacent meadow and pond add to the rustic, peaceful aesthetic.
The home's interior design abounds in openness, clean lines, and light. A rain porch runs the length of the home's entrance, where two doors lead to a mud room and foyer. Inside, "it was all about the big windows," she explains. Inspired by her years in California, Ylvisaker installed square Mexican tiles throughout the first floor, with radiant heating underneath. Combined with the walls of oversized windows the effect is an airy space that remains warm and light throughout the year.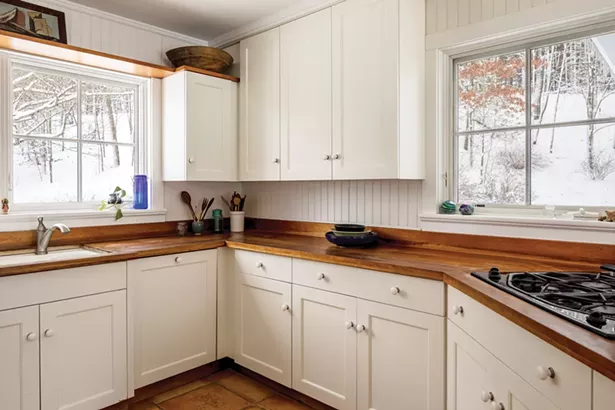 Winona Barton Ballentine
The cherry wood counters in Ylvisaker's kitchen wereinspired by her grandmother's farmhouse kitchen. Thewindows look out past her yard to the woods and hillsidebehind the house.
Adjacent to the foyer, the home's open kitchen looks through banks of west and north facing windows onto the wooded hill behind. Inspired by her grandmother's farmhouse kitchen, Ylvisaker topped the white cabinetry and wainscoting with cherry wood countertops and shelves. "My grandmother had a cherry wood kitchen and I always loved it because cherry gets warmer with age," says Ylvisaker.

Past the kitchen, and a guest room with a wall of windows, the home easily flows down two steps into a grand sunken living room with 30-foot cathedral ceilings. The high ceilings gave Ylvisaker ample wall space and, like a blank canvas, she filled it with mostly local art. The home's second story has two distinct wings, both with white maple plank floors and radiant heating throughout. Above the kitchen, her master bedroom suite features cut-out dormers inspired by a magazine picture. Above the garage a separate studio is a private space for yoga or extra space for guests.
Winona Barton Ballentine
In the living room, cathedral ceilings reach 30 feet at their apex, leaving ample wall space for art as well as banks of windows with views in three directions. Above the gas fireplace, Ylvisaker hung a limited edition print by Joan Snyder titled ...And Acquainted with Grief. "Having several big personal losses at the time I saw it in her home, it cried out to me—and then I saw the name," she says. "It was meant to be for me."
Since her return to Woodstock, Ylvisaker has been committed to continuing the spirt of community that she first encountered at the Maverick Colony as a child. Ylvisaker founded the Woodstock Poetry Festival, which ran for three summers, 2001-2003, and brought world-class poets to town, including Robert Bly, Sharon Olds, and Lawrence Ferlinghetti. "Being involved in our local communities—whether volunteering for arts boards or serving on the planning board—is very important to me," she says. "I ask myself, what's going to keep this place alive? It's so much a part of my spirit."