Noni Brueckner
Family-style chicken for four at Trotwood.
Under new owners Greg Brier and Jonathan Picco, the legendary Round Top resort Glen Falls House offers a saturated sensory experience, epitomized in its restaurant Trotwood, which serves up farm-fresh American comfort food inspired by Greene County's bounty.
Trotwood: A Year-Round Dining Destination

This is the first year Glen Falls House will be open year-round. A hundred miles north of New York, and 30 minutes from both Hunter and Windham mountains, the summer resort is primed to make the transition to ski lodge. "That's a new season for us, so we really need to establish ourselves as a winter destination," Picco says.
A huge part of this effort is directed at the restaurant, which has new life under head chef Chrissy Michaels. Though she has no formal training, both Michaels' parents were chefs, and she grew up cooking classic Italian dishes. She spent 13 years in New York City restaurant industry, earning her stripes at places like Saraghina and Pizza Moto before moving Upstate. Before Glen Falls, she was the head chef at Westwind Orchard in Accord for two years. "I've been working with fire as a pizza chef for most of my cooking career. I
love it," Michaels says. "But being here is great because it gets me onto plates."
Her self-described cooking style is "farm-to-table American comfort food," though the classic Mediterranean flavors of her childhood sneak in. "I make the best food when I have the best quality ingredients," she says. "So, I use as many local producers as possible." In Greene County alone, she sources directly from Lime Kiln Farm in West Coxsackie, Bulich Creekside Farm in Leeds, and Stoneledge in South Cairo.
Farther upstate, she gets cheese curd from Palantine Valley Dairy, which she uses to make American cheese. The seasonally-driven menu includes adventurous twists on classic dishes like the Peaches & Green, a tangy dish with kale, honey-glazed peaches, spiced almonds, and Lime Kiln goat feta ($12), or the Chicken Sandwich, a buttermilk-fried, pasture-raised chicken thigh with slaw, pickled peppers, and house-made American cheese ($14).
Dishes sometimes come to Michaels in dreams (literally), while other times they are improvisations based on the produce, like the tomato toast ($10). When she picked up a pound of hard but sweet peaches from a local farm, Michaels started experimenting, adding soft, ripe tomatoes to complement the crunch. Then to balance, she added garlic, then maple syrup, then mint, and suddenly it was so juicy that she decided to serve it with fresh focaccia for sopping up the sauce.
Trotwood, which is open to the public, offers two mains under $15 and, on Thursdays and Sundays, a rotating $14 Blue Plate special, featuring favorites like meatloaf, shepherd's pie, and mac 'n' cheese. "The restaurant is resonating really well with the local community," Brier says. "We have repeat customers who are here not one but three or four times a week. They go straight for what's new, like a bullseye."
The daytime menu features lighter breakfast and lunch fare like the Salmon Toast ($12) and the Mezze Plate, with hummus, cucumber tomato salad, olive tapenade, and toasted pita ($12). "The food and where it's sourced is really important to us," Picco says. "We're
really proud of this program."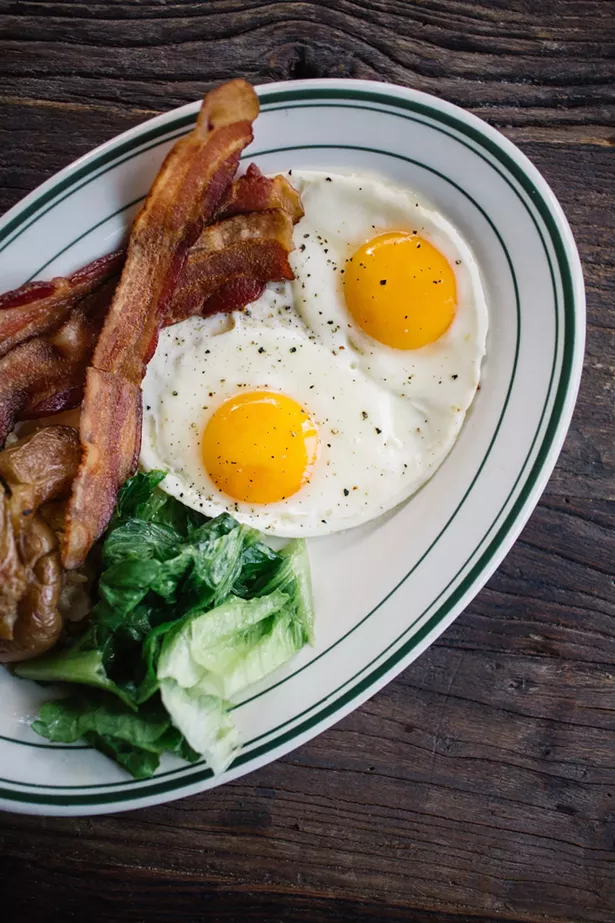 Forging Ahead

A swirling vortex of possibility, under its new owners, the Glen Falls house offers a saturated sensory experience. Just as likely to be the site of someone's a back-to-nature baptism as a raging midnight party, the resort blends genuine hospitality, an unapologetic love of fun, and a reverence for the natural world.
"People hold this property close, and we take that very seriously," says Brier. "I always say, 'If you want to shop and vacation, go to the Hamptons; to really live, come to the Catskills.'"
Trotwood at Glen Falls House

230 Winter Clove Road, Round Top
Restaurant is open Thursday–Sunday.
Breakfast and lunch served 8am-4pm; dinner served 6-10pm.
(518) 622-9363