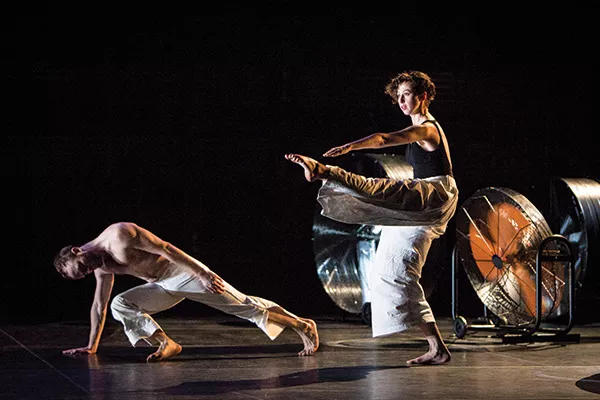 The Trisha Brown Dance Company performing I'm going to toss my arms—if you catch them they're yours. The company will perform at Bard's Fisher Center on June 27 and 28.
When the Trisha Brown Dance Company opens the Bard SummerScape Festival this month, it will be a bittersweet event for fans, as it also marks one of the company's last appearances performing Brown's large works on the great proscenium stages of the world. Now that the venerable 77-year-old Brown has retired, her company is transitioning to performing her smaller works in smaller venues.
An original member of the New York City experimental dance incubator Judson Dance Theater in 1962, Brown later cofounded the Grand Union in 1970, a collective where the newly born avant-garde choreographers pioneered movement improvization, as musicians had been doing for decades. So wedded were they to going beyond the envelope, the group deliberately chose a name which didn't include the word dance, thereby eliminating criticism of what they weren't.
Brown has created over 100 groundbreaking works throughout her career. While others have attempted to choreograph on walls and roofs, Brown was the first. With her company in harnesses at the Whitney Museum in 1971, she is the only choreographer to have created movement patterns on walls while also demanding the dancers circumnavigate each other's wires, thus forging the path in which subsequent choreographers have attempted to dance in her wall prints.
Her company danced on scattered rooftops in Soho in 1973 and more recently in manufactured fog, appearing as simultaneous soloists in galleries throughout MoMA, beside Richard Serra's double 120-foot-long sculptures in Paris' Tuileries gardens, perilously close to the rims of Michael Heizer's 20-foot-deep holes in the ground sculptures at Dia:Beacon, and into and out of clothing suspended from a pipe frame, where they indulged in gravity to hang awhile before moving on to the next item.
Among her many awards are the National Medal of Arts, the MacArthur "genius" grant, multiple Bessies (the dance equivalent of Broadway's Tony), including their Lifetime Achievement Award, numerous National Endowment for the Arts and Guggenheim Fellowships, as well as being an American Academy of Arts and Science Fellow.
Brown has also produced a prodigious body of drawings, shown in galleries and museums worldwide in both realistic and abstract styles, the latter sometimes created by using her body to manipulate charcoal crayons on large sheets of paper on the floor, delighting onlookers with effects such as performing a turn with charcoal between her toes to produce a perfect circle.
Using composers from John Cage to Bob Dylan and performing with marching bands, the movement which has come out of Brown's body possesses a unique sense of "flow" which can mask the complexity of her choreography, sometimes giving it a somnambulant, or dream-like, quality.
The company will be performing three works at Bard. In Set and Reset (1983), Brown tangles and then untangles her dancers to Laurie Anderson's "Long Time, No See." Black-and-white themed set and costumes are by Robert Rauschenberg, also collaborating with famed dance lighting designer Beverly Emmons.
In the 1994 solo If you couldn't see me (originally choreographed for Brown herself), the dancer never fully faces the audience. A diaphanous costume cut to reveal back muscles and legs helps compensate the audience for its lack of a 360-degree view. The effect is mesmerizing. Costume, set, lighting, and otherworldly music by Rauschenberg.
Brown's final choreographic work, I'm going to toss my arms—if you catch them they're yours (2011), is danced to a score by Alvin Curran containing a potpourri of instruments. The set design by renowned artist Burt Barr has the dancers sharing the stage with industrial sized fans, which create startling, yet elegant effects on their bodies and costumes and blend the sound of pushed air with the music.
Though Brown's choreography will live on in the afterlife of the modern dance repertory, we shall miss the sweet surprises of her inventiveness.
Performances on Friday, June 27, at 7:30pm (followed by a discussion with the artists); Saturday, June 28, at 2pm (with pre-performance conversation at 1pm); and Saturday, June 28, at 7:30pm. Tickets: $25-$60. (845) 758-7900; Fishercenter.bard.edu.