Photo by Madeline Cottingham
The blue hue marks the age of the ice—created from decades of snowfall and enormous amounts of pressure that squeeze out all the air bubbles to form an incredibly dense and brilliantly blue frozen mass.
Last spring, I found myself aboard a polar expedition vessel as it peeled away from the tip of South America, bound for Antarctica.
I had traveled over 6,000 miles from my home in the Hudson Valley to see the Antarctic Peninsula—the fastest-warming place on the planet. As an environmental photographer, I was drawn by the terrifying ecological changes underway there, yet conflicted about the footprint required to document it. Cars, planes, and ships ultimately spewed tons of carbon to shuttle me to its endangered waters.
Photo by Madeline Cottingham
From acoustic monitoring to crossbow biopsies, researchers from UC-Santa Cruz use a variety of technologies to document how marine mammals are impacted by climate change. To study whale populations, the team often employs a custom-designed drone featuring photogrammetry equipment allowing them to study the health of animals from the air.
For several days, we plowed through the Drake Passage, passing solitary icebergs moving north accompanied by albatrosses surfing 20-meter-high waves. Our ship, the RCGS Resolute, could house 146 passengers and 70 crew members. The vessel was operated by One Ocean Expeditions, a Canadian tour outfitter hoping to "pioneer small-ship travel to Antarctica." They invited along journalists, a few eager tourists and a group of scientists for the ship's first late-spring expedition, a new offering made possible only by melting sea ice.
Photo by Madeline Cottingham
Antarctica is the only land mass on the planet that is not governed by a sovereign state. The Antarctic Treaty was established in 1959, which designated the entirety of Antarctica as a reserve dedicated to peace and science. In order to have a stake in the continent countries must maintain a research station. The Ukrainian, Vernadsky station was the first to discover the ozone depletion thirty years ago.
Tourism ships have become an efficient way for Antarctic scientists to extend their costly and scarcely funded research. In exchange for onboard lectures, scientists are able to continue fieldwork during funding lulls. Ari Friedlaender and his team of scientists from UC-Santa Cruz joined our expedition to continue documenting how marine mammals have been impacted by the changing environment.
In the past half century, winter air temperature on the Antarctic Peninsula has increased by 5°F, an astonishing five times the global average. Since 1979, the sea ice season has been shortened by three months and 87 percent of the glaciers are retreating as ocean temperatures continue to rise. Just last month, the peninsula logged the highest temperature ever recorded—a balmy 68°F. The continent contains 90 percent of all ice on Earth and would raise worldwide ocean levels by more than 200 feet if it melted entirely. Some concerned scientists have suggested that massive sea walls may need to be built to keep the water at bay as it begins to melt.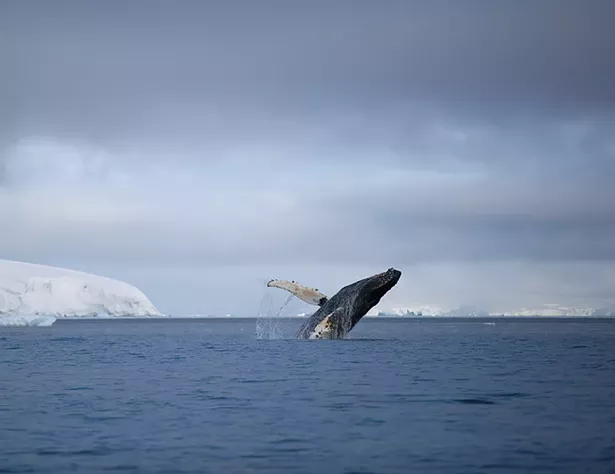 Photo by Madeline Cottingham
"A whale tells you about the emergent properties of the ocean that have to work together to make it productive. You need to have the right amount of nutrients, the right amount of sunlight, the right temperature of water, the right depth of water, all of these things have to work in concert to produce just a little bit of life, and if there is enough life to sustain the biggest animal on the planet, a whale represents a structure and a functioning ecosystem. So, to me, they are a good proxy for where you have stability in an ecosystem."– Ari Friedlaender, whale scientist
Over the next few days, we took day trips in a smaller boat throughout the northern peninsula. We observed fur seals in whiteout conditions, watched penguins build stone nests, and met the year-round resident scientists at Vernadsky station, who proudly showed us the room in which their predecessors identified the ozone hole.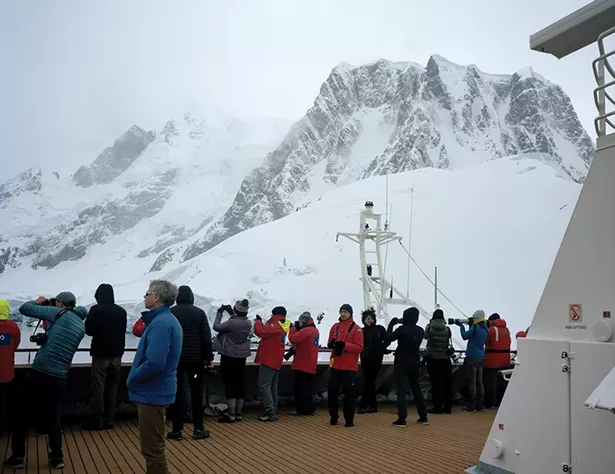 Photo by Madeline Cottingham
More than 40,000 tourists visit Antarctica eachyear. Over the next five years, with projectedmilder weather and reduced sea ice, the industryis expected to grow by 40 percent.
On our last excursion, I spent the morning darting across Wilhelmina Bay with Friedlander and his team in hopes of tagging a humpback, one of the planet's largest animals. The whales craftily evaded us, and it was hours before the team was able to secure a temporary tag, providing vital data on eating patterns and identifying high krill areas for future protection. During the 20th century, humpbacks, like most large whales, were harvested to near extinction. With the success of recent hunting moratoriums, their numbers have rebounded but only to witness their primary food supply, krill, dwindle in drastically changing waters.
Photo by Madeline Cottingham
clockwise from top left: Jonathan Chester, historian and polar guide; Ari Friedlaender, lead whale scientist; Clare Dudeney, ship's artist-in-residence; Brandon Southall, senior scientist.
Humans only set foot on the White Continent less than 200 years ago, a frozen time-capsule that we have only begun to understand. Yet it has come to know our species well. We have pillaged its waters, conquered its most hidden corners, and now we've unleashed a rapidly warming world upon the region.
Photo by Madeline Cottingham
"We are a global community and our behaviors at home have long-term effects in Antarctica. Our actions, which increase carbon dioxides and impact the environment, are influencing the animals, their habitat and the potential for growth in the Antarctic ecosystem."–Ari Friedlaender