What wonders emerge from the mountaintop artistic redoubt of Kathy Ruttenberg. She ships out sculptural assemblages as if jotting off postcards from a brisk vacation along the frontier of her unruly subconscious. In
Tree Hugger
, who is the dear-head creature? An old lover who bounded away after a moment of being trapped in the headlights? And why does he wear striped pants like a dandy from the 1930s? What does it mean that the tree wears heels and fishnet stockings? And why are no branches/arms embracing the stag? Should the tree figure be viewed primarily as a woman or part of a deciduous forest? The work, exquisitely crafted and engineered—
Tree Hugger
, minutely detailed, stands over seven-feet tall—
offers few clues. We are merely invited into the world Ruttenberg has created.
And what a world. It's fully realized, with all manner of flora and fauna, some actual and much that is fantastic. After the initial shock of discovery, it is the details that catch the eye and hold the key to unlocking the symbols in Ruttenberg's work. The bird perched in the tree's upper branches. The golden leaves that adorn the pedastal the couple stands on. The incredibly blank, deer-like look on the stag's face as he stares out at the viewer. The female deer painted on the stag's back, who seems to be in his past but not so far in his past. And the blood red heart that peaks out through a hole in the stag's back. All part of the enduring enigma.
Ruttenberg has also just launched a line of limited-edition jewelry, based on her sculptural designs, which can be viewed at her website.
Currently, Ruttenberg's work is on display at the the 2010 International Ceramics Biennial in Vallauris, France, through November 15. She also has many upcoming shows. Ruttenberg will be a part of the "On Earth" exhibition held at the Clay Art Center in Port Chester, from October 15 through December 5. The Sherrie Gallerie will bring her Enchanted Forest installation of Kathy's to SOFA (Sculpture Objects & Functional Art) Chicago, November 5-7. In January of 2011, Ruttenberg will be an artist in residence at the Singinawa Foundation in Kanha, India.
Portfolio: www.kathyruttenberg.com.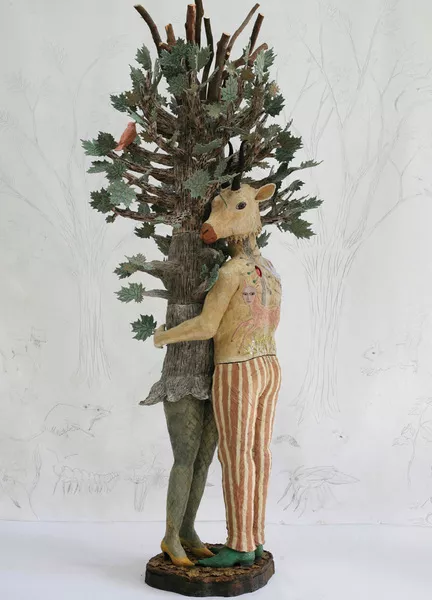 kathy ruttenberg | ceramic, bronze, wood | 92" x 35" x 40"| 2010