Deborah DeGraffenreid
Sexton and O'Connell's Greek Revival style home in Hillsdale. "I love that the house has changed over time," Sexton says. "Never with a total gut renovation, just bit by bit.; it has a living history that you can see. I'm still discovering new bits of the story after living here for three years.
Like so many before them, it was the need for respite that brought Douglas Sexton and Danny O'Connell to upstate New York. Travel is their shared passion, and the former Manhattanites have spent most of their lives, separately and together, criss-crossing the globe.
Deborah DeGraffenreid
Douglas Sexton, Danny O'Connell, and their dog Dean on their front porch. "We're friends with everyone on the street," O'Connell says. Sexton agrees. "People come over and hang out. It really has become a what we wanted it to be—a gathering spot for friends and family." Even the neighbor's chickens regularly come to visit.
It was the military that originally propelled O'Connell overseas. Deployed as a solider to Italy, he began taking weekend road trips and soon discovered he had an affinity for picking up languages (he speaks German, Italian, and Spanish) and immersing himself in other cultures. "When I came home, I just didn't stop," he says. For the past decade he's worked seasonally as a concierge in some of North America's most iconic historic lodges in the National Parks. Through CoolWorks he's lived and worked everywhere from Denali to Death Valley and even spent a summer working on the Alaskan railroad.
Sexton is a true wanderer. He's crossed the Atlantic three times by ship and plans a long hiking trek each fall. Even at home he tends to roam, taking to the rolling country roads around his house and walking at least five miles every day. Whether on foot or by boat, on an airplane or a train, he's reached some of the world's most interesting corners—visiting Moscow in the days of perestroika and walking "El Camino de Santiago" through Spain and Portugal are some of his more memorable adventures. "I've never found a mountain that's disappointed me," he says, "I've never found a lake that I've felt—oh, I've seen it before. Travel is a big part of who I am."
The House of Glass
Eight years ago the couple tackled the ultimate overseas adventure: Building a house in a foreign country. They'd fallen in love with Nicaragua; they loved its lush environment and easygoing way of life. More specifically, they'd fallen in love with a piece of land: A remote, wild peninsula jutting over the Pacific Ocean. They bought the property, moved their US base from New York to Miami, and began working with an architect to build their dream house.
The project quickly became complicated. Navigating the local bureaucracy was stressful. The architectural plans eroded with the naturally shifting topography. Costs ballooned. They finally manifested their vision—a mid-century inspired house of glass overlooking the sea—but found that the rugged, remote landscape which had first captivated them made the house difficult to maintain. After five years of construction and care, they were exhausted.
Like migrating birds, they turned their sights north again. Throughout their time in the tropics, they'd found themselves constantly flying to New York for birthday and anniversary celebrations or cultural events. ("Sometimes even just for dinner parties," O'Connell adds.) They also missed the change of seasons. "It just became apparent," he tells me, "our hearts were in the Northeast." They began searching the upstate region east of the Hudson for somewhere new "to keep them busy." They wanted to simplify but still needed a challenge.
The House Divided
They began their search in Great Barrington. They'd visited friends in the region and loved its atmosphere of arts and culture. The proximity to New York City—where they both have family—was also a draw. However, nothing there, or in nearby Housatonic, was the right combination of potential and price. That's when the house in Hillsdale caught their eye.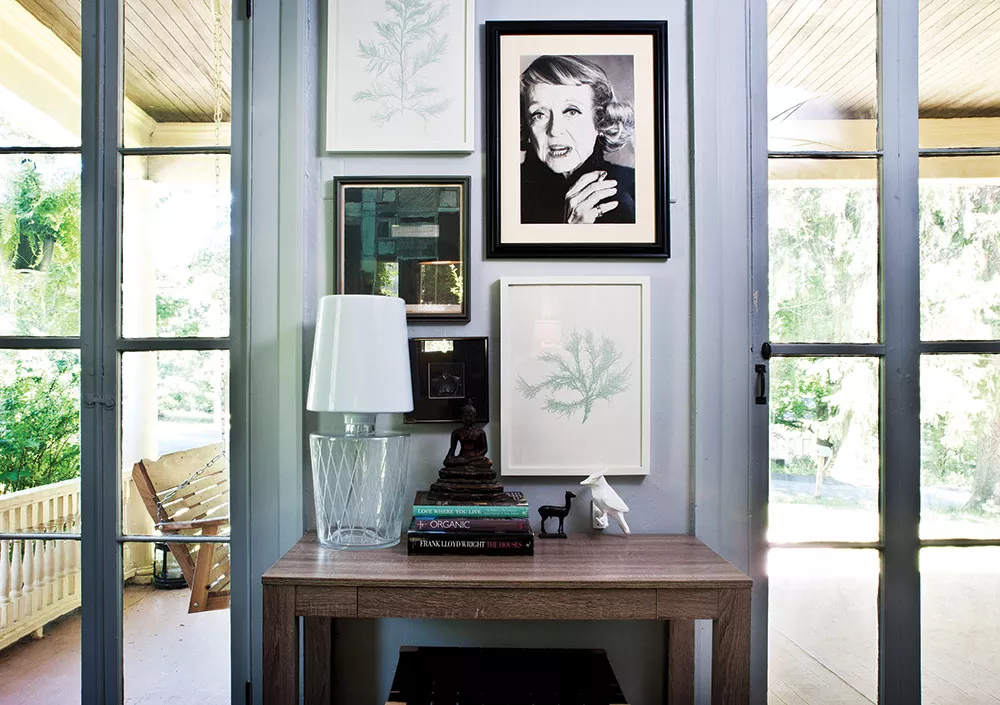 Deborah DeGraffenreid
"A lot of our artwork is from friends, a lot of our friends are artists," Sexton says—including this un-retouched portrait of Bette Davis from Harper's Bazaar.
"Hillsdale was always a mystery," Sexton says, "that little town that we drove between to get from the Taconic to Great Barrington but never really thought about." They found the 3,500-square-foot Greek Revival house online and were intrigued. When its price dropped they took it as a sign. Flying up to see the house in person, Sexton, at least, was immediately hooked. "When I first walked over the porch," he says, "I told Danny: As long as it's livable were getting this house." Within days, they had an accepted offer. "Then," Sexton says, "we just moved here."
Deborah DeGraffenreid
The home's breakfast nook. "I've gone through so many cans of paint in this house," Sexton says. "I painted one color, lived with it for a while, then painted it again. It's a creative process."
Three years later, the care the couple have put into every detail of the restoration is difficult to imagine but easy to see. The original structure dates from 1850 and was added to, over time, with an extended family in mind. "The story goes," O'Connell says, "there was a Civil War widow in the family, so they added rooms for her—but lived as one family." During the Great Depression, the house was fully divided into two residences and a second kitchen was added. When Sexton and O'Connell first walked through the front door, they were greeted by a wall with two doors dividing the house in half. Each residence had dining and living rooms and separate staircases leading upstairs.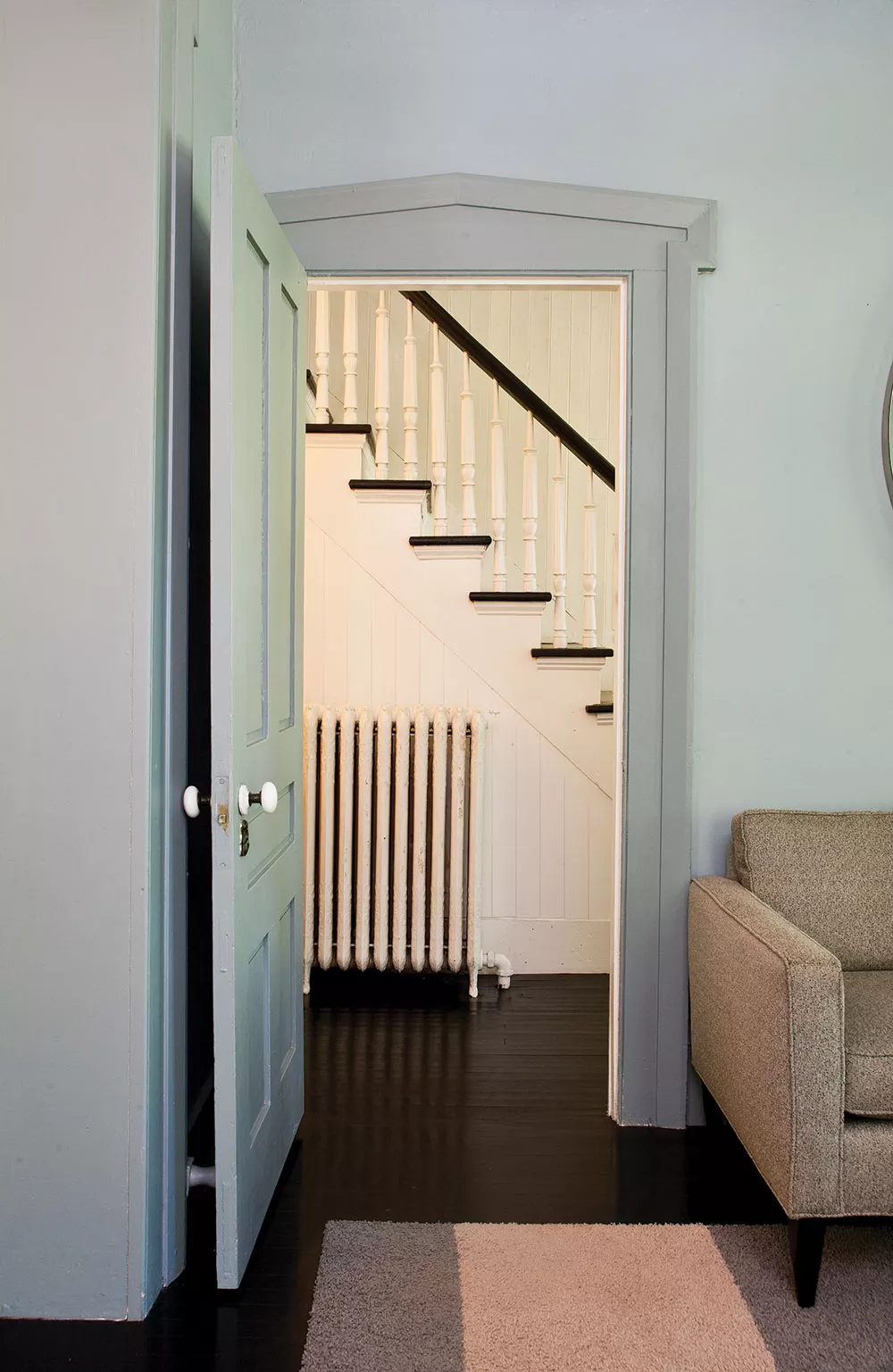 Deborah DeGraffenreid
The couple has restored the home's original staricase. "We had to custom mill the spindles and custom build the new bannister," Sexton says.
They started their renovation by tearing out the wall and restoring the home's original staircase. On one side of the first floor they created formal dining and sitting rooms; on the other, they removed a divider to create a large informal parlor. Both kitchens were retiled, and they installed a Viking stove and new appliances in the larger of the two. The tiny, original kitchen was transformed into a "butler's pantry" for their guests.
Deborah DeGraffenreid
The home's renovated main kitchen. O'Connell did much of the home's tile work.
Upstairs, six bedrooms provide ample space for guests and a studio for Sexton. The couple regularly invite fellow travelers to come for dinner or to stay the weekend. This spirit of welcome is extended to travelers they haven't yet met. "This is my third summer doing AirBnB," Sexton says, " and I just love it." He often invites his AirBnB guests to dinner or to sit and talk in his favorite spot—the elevated farmer's porch overlooking the yard and street. "I've made some really great friendships through AirBnB," Sexton says.
Deborah DeGraffenreid
The brown wood cabinet in the pantry is original to this house.
The House That Became a Home
Deborah DeGraffenreid
The home's sitting and dining rooms. Sexton painted all the floors by hand, crawling through the house with a two-wedge paint brush.
And the house they left behind in Nicaragua? With sadness, Sexton and O'Connell realized they had to let it go. Six months after putting it on the market, they received a letter telling another story of construction—this one ruined by heartbreak. It was from a couple who had built a large family compound in California and then lost five members of their family in a car accident. "We need your house," the couple wrote, "we just need to sit on that beach, look over those crashing waves and be quiet." Sexton and O'Connell realized all their hard work hadn't been for naught. "It made us feel so good that the house was being appreciated and loved as we had loved it," Sexton says. They still regularly receive letters from the home's new owners, describing how integral the house, and its incredible location, have become to their healing process.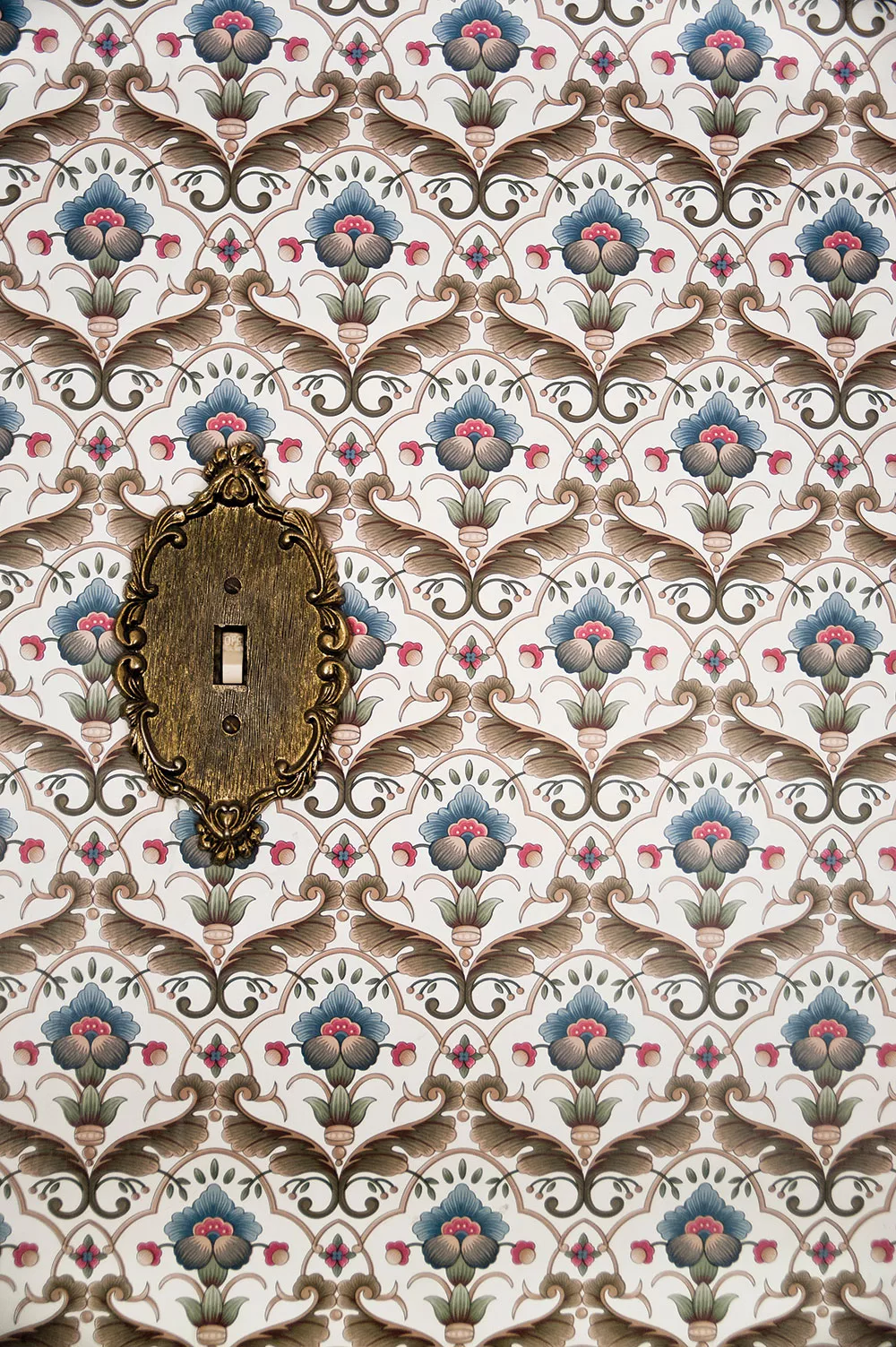 Deborah DeGraffenreid
The couple kept the original wallpaper and light switch panel in the upstairs guest room. "This is everyone's favorite room to stay," Sexton says.
For their part: O'Connell and Sexton have realized the tiny, historic hamlet of Hillsdale is much more than just a rest stop. Everything they need, a general store, a post office, four restaurants and even an ice cream parlor, is within walking distance. They love the town's mix of city and country folk and the different generations present. Their "open door policy" has made the house a gathering spot for neighbors, friends close and far, and their families.
Deborah DeGraffenreid
"By the time we got to rennovating this space, I was done painting for the year, so we just left it alone," Sexton says. The ladder-like former wood beam holders now frame an extra bed. "I spend a lot of time out here in summer and even sleep here when it's hot."
This fall, Sexton is planning a walking tour of Kashmir. O'Connell is eschewing the National Park gigs for now; he's enjoying summer in Hillsdale too much to leave. However, in the winter they're off to South Africa. No doubt they'll enjoy themselves: Making new friends and discovering new landscapes, taking everything they encounter—whether good or challenging—as another leg in their long journey. But when they begin their return, it will be happily. "I love to travel the world but I always get excited about coming back here," Sexton tells me. "It's not just this house, we really feel like we are a part of the community. Hillsdale has really become home."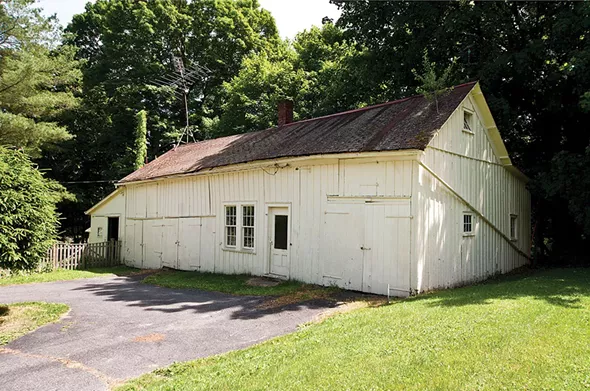 Deborah DeGraffenreid
"The Dog House": The couple have converted the home's original barn into a rustic office/den with an adjoining workshop. (Its also where they feed Dean.)