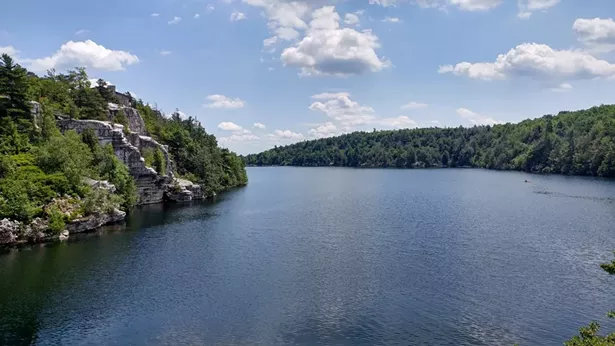 Minnewaska State Park is a popular destination, offering miles of carriage roads as well as more intense hikes.
With states and cities under lockdown to curb the spread of the novel coronavirus, cabin fever is spreading like wildfire. Luckily, the Hudson Valley offers thousands of acres of preserved land and miles of hiking trails for outdoor recreation. On March 20, Governor Andrew Cuomo waived all state park and preserve feed and encouraged the masses to take to woods saying, "Outdoor recreation is a solitary recreational exercise."
More people than ever are using the parks and trail systems across the nation, with overcrowding even forcing some parks to close. Aside from following social distancing practices and staying at least six feet away from other hikers, standard trail etiquette is more important than ever now so that we can all cooperatively steward our natural resources.
Don't Overcrowd Trails and Parks
Advocates for nature conservation urge against overcrowding to protect wildlife and natural resources. It's tempting to visit popular hiking destinations such as Overlook Mountain and Kaaterskill Falls. But in the midst of social distancing, the Catskill Center stewardship and advocacy coordinator Andy Mossey says this misses the point, as these iconic hikes become potential zones of overcrowding. "What folks should really focus on doing is still getting outside, but maybe spending a little more time researching some other trails. Skip the really busy areas," he says. The DEC backed up this advice in a recent press release, urging people to "seek out less-used trails and waters and avoid busy trailheads."
Bring Your Trash Home, AKA Carry In, Carry Out

With camping, hiking, rock climbing, and biking sites closing or limiting operations, Mossey says waste bins aren't serviced as frequently. "A lot of these outdoor spaces aren't ready for this amount of use at this time of year," he says. "So, it's even more imperative right now that folks bring that trash home with them." For several years before joining the team at The Catskill Center, Mossey worked as an educator for

Leave No Trace Center for Outdoor Ethics, which educates the public on responsible outdoor recreation practices. Leave No Trace recently released their own recommendations for COVID-19. And their seven principles are good rules to live by in anytime.

Plan Ahead and Prepare
Mapping out your plans for the day ahead ensures your own and your group's safety. But as sites and centers direct their staff to work from home, you should check if your favorite hiking trail is closed. If not, bathrooms might not be open.


Be Considerate and Kind to Others
Greeting fellow travelers is trail etiquette 101. Public officials now endorse social distancing measures of staying six feet away from others, but kindness doesn't go out the window. You can still wave or say hello. "We're all in this together," Mossey says. "If we can bring that into the outdoors, then why not?"