Emmadine Park in Hopewell Junction.
Pawling, Hopewell Junction, and Wappingers Falls are communities of sweeping farmlands, rolling forests, and unique restaurants and shops. There are mountain trails, riverside parks, peaceful retreats, and innovative businesses. Here nature and humanity interact with minimal conflict and celebrities and hard-working men and women of various trades rub shoulders and share a common sense of community. These burgs are welcoming to visitors and worth exploring at length.

Pawling
Visitors can take a train straight to the heart of Pawling's pleasantly old-fashioned New England-style downtown, located in the foothills of the Berkshire Mountains. On Saturdays in warm months, a weekly farmers' market is held on a new town green that runs parallel to the main drag. This farmers' market is a community gathering and also features live music performed by local musicians.
After a trip to the farmers' market you can head over to
McKinney & Doyle's Fine Foods Café
and the Corner Bakery. The bakery boasts a wonderful selection of homemade cookies, cakes, fruit tarts, pies, pound cakes, jams, jellies, dressings, and freshly baked breads and rolls. A mouthwatering specialty in the bakery is their rugelach, a type of Jewish pastry. The bakery is also home to a vintage, full-service soda fountain that serves up an assortment of ice cream drinks and dishes. The restaurant side of the establishment is an upscale dining area that features fine food, cocktails, wines, and freshly prepared lunch, brunch, and dinner items.
Next door at
The Book Cove
, visitors to the village can browse a selection of new books, as well as rare and hard-to-find, out-of-print books. The store has been open since the mid 1970s. Manager Tara Lombardozzi says the place has survived through the decades because it offers a personal touch for customers. In addition to books the store carries a wide variety of items. "We sell things that go alongside with books like cards and calendars," Lombardozzi says. "We sell jewelry as well. We sell anything that's unique and you can't find anywhere else, things that are one of a kind like our books."
Lambardozzi says that Pawling has an authentic small town feel. "We have unique stores, it's not just your everyday gift shops," she says. "If you wanted to come someplace, spend the day, and get the Norman Rockwell feel this is the place to do it."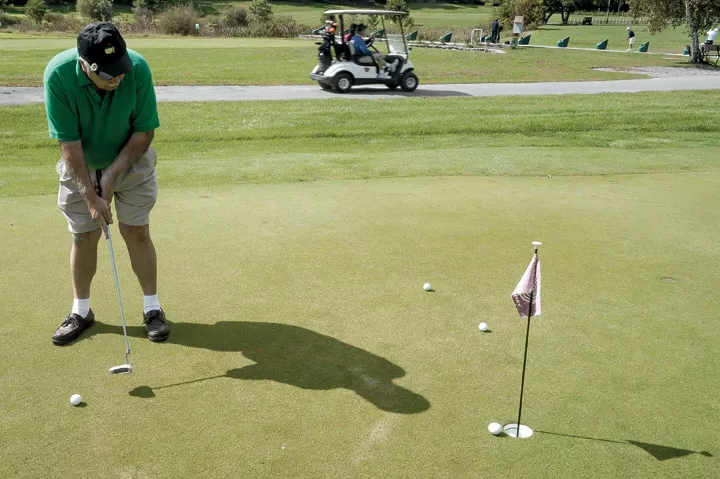 Dominick Matra at Beekman Golf and Restaurant.
Outside of downtown there are many exploring opportunities for nature lovers. A large part of the Great Swamp, a 63,000-acre watershed that stretches for 20 miles, is located in Pawling. Pawling also has two lakes and over 300 acres of parkland and a portion of the Appalachian Trail runs through the town's borders.