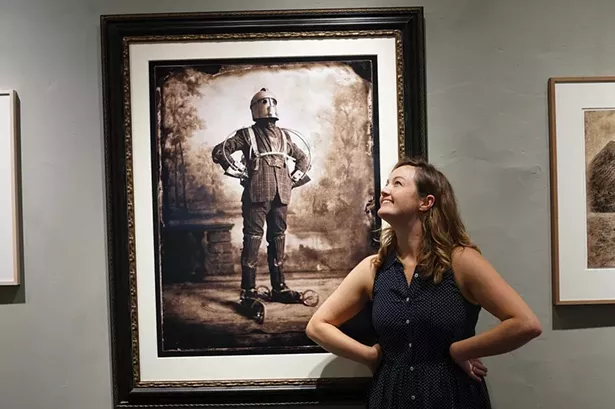 Photo by John Garay
Linden Scheff poses with Nick Simpson's The Perambulator at Carrie Haddad Gallery in Hudson.
While the Hudson Valley is most often cited for its rich history and natural beauty, less known is its concentration of talent that culminates in one of the most vibrant communities of artists in the country. The New York region always has something exciting on display in its dozens of museums, galleries, and outdoor sculpture gardens. Whether you're a local or visiting from busy Manhattan, these are four must-see Hudson Valley art centers.

The Museum at Bethel Woods offers up nostalgia for the peace and love generation with a permanent main exhibit on the Woodstock Festival. Offering an immersive multimedia experience, the museum's artifacts, films, photos and music recreate the '60s as a decade of immense cultural change, and illuminate the festival that rocked the world.
Want to see the very first fine art gallery to open its doors in Hudson? The Carrie Haddad Gallery has consistently brought together high-tier emerging and established painters, photographers, sculptors, and multimedia artists from across the Hudson Valley since the '90s.
For a more provocative experience, certainly consider feminist artists Paola Oxoa and Kirsten Deirup's Mother Gallery in Beacon. Determined to push back on the separation of creative output and family imposed by the male-dominated art world, their gallery brings together contemporary artists in thoughtfully curated exhibitions.
Finally, for the latest addition to Saugerties's small art scene, visit art and performance venue 11 Jane St. Gallery owner and director Jennifer Hicks brings together cutting-edge art in a gorgeous post-industrial brick warehouse located right in the village center.
Original article: https://explorethehudsonvalley.com/an-artful-visit/