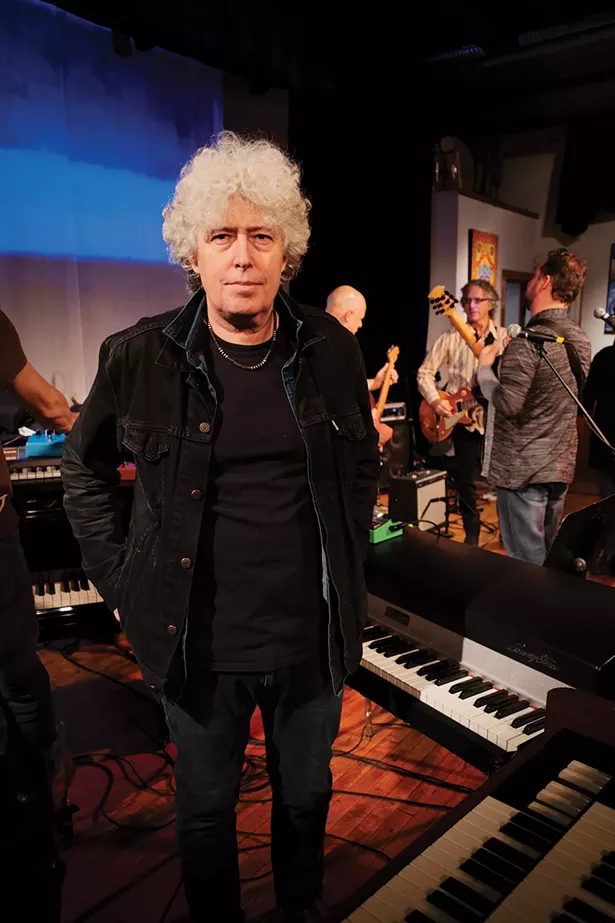 Tony Falco onstage at the Falcon.
Hey everyone, please support living artists," implores Tony Falco before pointing out the location of the tip box at the back of the room. It's a mantra and routine the curly haired impresario repeats with reverence every night as he introduces performers from the stage of The Falcon, the music venue/restaurant/art gallery he opened 11 years ago in its second Marlboro location.
On paper, it shouldn't work. A gorgeously appointed, acoustically superb nightclub in the middle of farm country that consistently presents leading jazz, rock, blues, world, and roots music artists to packed, enthusiastic, and attentive audiences and pays them well—via donations, and without the club itself taking a cut. But work it does, and beautifully. "We don't charge a cover," Falco explains. "We just ask people to donate what they can afford, and we don't judge anyone by the amount they can donate. When times are tough, they do what they can. And when they're doing a little better, hopefully they give a little more." Anyone who's visited the venue and been around its owner will likely tell you the same thing: What makes the Falcon fly is that it's an extension of Falco himself, an evangelical believer in the power of music and art.
"What Tony's doing is so great," says Medeski Martin & Wood keyboardist John Medeski, a Hudson Valley resident who performs frequently at the venue. "There's a feeling there that you really don't find at too many other clubs, anywhere. The club scene in New York is screwed right now: There used to be more places like [Lower East Side venue] Tonic, which worked to create an identity of being a place where you could come to hear real, creative musicians doing their thing. But now most of the clubs in New York are more about getting some Wall Street guy in who plays music as a hobby, so they can sell cocktails to his stockbroker friends. The Falcon treats the musicians with respect, and the audience just totally digs what we do. I'd play there more if I could. I tour a lot, and it's really great to be able do a gig like that and then go home and sleep in your own bed the same night. To have that right in your own back yard."
And it was right in Falco's own back yard that he began the ongoing venture. In 2001, after he'd stepped in for a year as the talent coordinator at a nearby community center, he began hosting casual concerts in the barn-like studio he'd constructed behind his family's home. A donation box was installed inside the timber-frame building, potluck food was brought in by guests, and, thanks to Falco's connections as a part-time musician who'd worked with cult rocker Buzzy Linhart, word began to spread about the series' uniquely warm atmosphere. Jazz giants like Joe Lovano, Dave Liebman, Dewey Redman, and Brad Mehldau, who'd headlined at festivals and large venues around the world and at Manhattan's most upscale clubs, began appearing regularly to play simply for the largesse of the host and a small but appreciative audience. "It's about creating a vibe where [the musicians] really feel relaxed," offers Falco. "Like they're playing in their living room." After nine years, though, the operation had outgrown the Falcos' "living room"—along with their residential neighborhood, which was beginning to chafe at the increased traffic the concerts were attracting—necessitating the move to a larger and more accessible site.
The new location: a rustic former button factory right in the center of town. The high-roofed, 3,500-square-foot main floor features a 24-foot-by-16-foot stage with excellent sightlines from its tabled seating, and its arsenal of in-house gear (full backline with drum kit, grand piano, Hammond B3 organ, state-of-the-art PA, stage monitors, and lighting system) is a musician's dream. The dining is also more than a few notches up from the humble potlucks of the original Falcon: With a full bar and kitchen, its wait staff serve savory, imaginative, and affordable dinner nightly and brunch on Sundays. The large outside deck and patio seating overlooks the adjacent Marlboro Falls, which originally powered the 18th-century facility (the expansive deck was decimated by Hurricane Irene in 2011, a year after the venue opened, but has since been rebuilt in upgraded form).

The downstairs houses the Falcon Underground, a smaller live music venue; the New York Tap Room and Beer Garden (with 16 regional and state craft microbrews); and the Avalon Archives, a rotating collection of concert posters and other rock 'n' roll memorabilia. Both the upstairs and downstairs bars take full advantage of the surrounding area's preponderance of local wineries, and the upstairs space is lined with the changing art of selected area visual artists, whose works are for sale (just as with the money that goes to the performers, the house takes no percentage of the sales). "The order of importance is 1) the vibe, 2) the music, 3) the food, and 4) the bar," explains Falco about the club's formula, an approach that's drawn numerous return visits from the acts who played its original incarnation, as well as other big names, like David Amram, Paul Schaeffer, David Bromberg, and David Johansen, whose family Falco, as a boy, delivered newspapers to during the singer's pre-New York Dolls days.
Falco grew up on Staten Island, one of seven siblings whose father sang and played bass in a pop jazz group called the Keynotes. In 1974, he moved up to the Hudson Valley to study chemistry at SUNY New Paltz and environmental science at Ulster Community College. He launched his "day gig," Environmental Labworks, in 1984, and played guitar and bass in local bar bands.

Danny Blume, Joey Eppard, Jeff Mercel, Leslie Ritter, and Adam Widoff tuning up at the Falcon for an Abbey Road tribute show.
Although it was rock that had fired him up at first ("the Stones, Leon Russell, Cream"), with the early 2000s advent of the intimate performances at the first Falcon, he found himself increasingly drawn to jazz, a genre that he'd grown up identifying mainly with his father. "It was the depth of the music, the quality," he says. "[Jazz musicians] are some of the best pure players in the world. It hit me that a lot of the great jazz musicians who play these big places in New York actually live up around here; people like Larry Grenadier [Kingston] and Brad Mehldau [Newburgh]. I figured I could get some of them to come and play if I treated them well and let them do what they love to do."
Falco clearly loves what he does and, busy as he is, doesn't seem to be in any hurry to retire. When the time comes, though, of his and his wife Julie's four children, it would appear that Lee, who sometimes runs sound at the club and does some of the booking, is the one most likely to take over the operation. But until then the 25-year-old son is quite busy himself: An in-demand drummer, he's played with Donald Fagen, Phil Lesh, Graham Nash, Amy Helm, and Rachel Yamagata, and at the time of this writing is on tour in Europe with the Lemonheads and his own band, the Restless Age.
For his dad, though, it's been one fanciful flight after another on stage at the Falcon. Of all the artists who've played at the club, does Falco have a favorite? He thinks hard for a minute before answering: "Yeah! Whoever played last night."