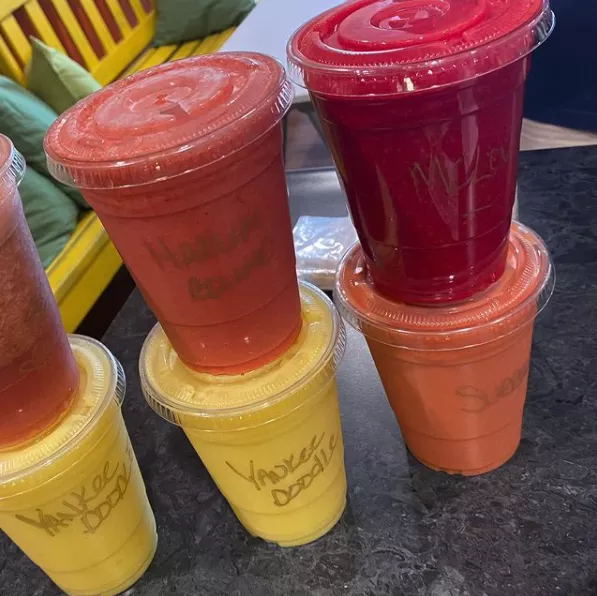 A selection of juices from the Juice Branch's Hudson location.
Juice is powerful, essential stuff in these or any times; it's no wonder that the adjective form has come to mean—among other things—enhanced, electrified, and enthused. And we couldn't be more juiced about being able to report that the Hudson Valley is replete with places to get your share. Juice wizards are all around us and it's never been easier or more delicious to be kind to your body and spirit at the same time. Here are some places serving health in a cup:
The Juice Branch
in Catskill and Hudson offers over 100 wildly creative options. Order up a Purple Rain, a Monkey Business, or a sea moss smoothie and add your choice of health-enhancing seeds, oils, and spices. They've got artful acai bowls and hearty plant-based soups, and will fix you up with a two- to five-day detox plan if you need. 65 West Bridge St, Catskill, (518) 947-0920; 719 Columbia Street, Hudson, (518) 291-2612.
An acai bowl at The Juice Branch.
At
Bliss Juice and Smoothie Bar
in Red Hook, every morsel is whole, organic and vegan. Juices are cold-pressed daily and superfoods balanced to bring you to the state the name describes. Their Spiced Cider (apple, pear, orange, lemon, cinnamon, clove and nutmeg) makes any day a holiday; you can concoct your own Super Smoothie or just enjoy one of their clever immunity-boosting variations. 8 East Market Street, (845) 835-8337.
Gluten-free grain bowl at Bliss Juice and Smoothie Bar with quinoa, roasted purple sweet potato, cauliflower, asparagus, beets and carrots.
Poughkeepsie's
All Shook Up Cafe
blends old-school malt shop/diner vibes with new wave juice bar nutritional savvy into a place where folks of all dietary persuasions can find happiness. The knowledgeable vegans there offer a great juicing program alongside sandwiches, wraps, paninis and soups in a funky, homey setting. 44 Raymond Avenue, (845) 485-1955.
We Got the Juice
in Kingston glows with health and joy. There's an affiliated arts gallery and a strong, wise streak of activism to nurture mind, soul and community, and the Soul Food Sundays — shrimp and grits, meat loaf, deep fried chicken with Belgian waffles — are becoming legend right along with the plant-based deliciousness. 694 Broadway; (845) 481-4089.
Soul Food Sunday at We Got the Juice.
Vegetalien
is Beacon's sweet spot for plant-based, locally sourced and 100% organic deliciousness, offering sandwiches on bread, wrap or tortilla and Buddha bowls that are as hearty as they are clean and pretty. You'll find a BLT with crispy, smoky "facon," BBQ marinated jackfruit fit for a pulled-pork lover served with a zesty slaw, and a seasonal mix-n-match array of bowl goodies to wash down with delicious juices and smoothies. 504 Main Street, (845) 765-1943.
Artful avocado toast from Vegetalien.
Karma Road Organic Cafe
in New Paltz will provision you body and soul with soups, salads, curries, stews, smoothies, juices and delectable desserts, Fresh, organic and seasonally local, the goodies are put together by Jenn and Seth using techniques informed by their quarter-century of combined experience in clean, green kitchens downstate. 11 Main Street; (845) 255-1099.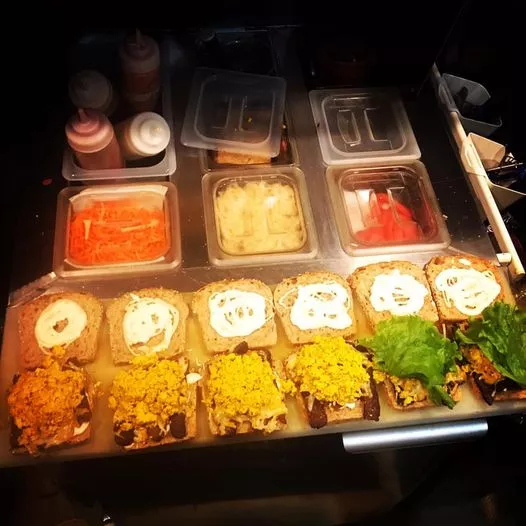 Election Day sandwich spread at Karma Road.
Turn Up the Beet
in Kingston has opened a nifty new walkup window where you can obtain your acai bowls, fresh smoothies, cold pressed juices and hot soups made with local-forward ingredients. Try a Jack & the Green Stalk, slam a Tumeric Tonic at the beginning of a long day, or chill with a Blueberry Dream Super Smoothie; bring your own mason jar to minimize waste and get 25 cents off. 456 Broadway, (845) 389-7767.
You can now grab a hot soup at Turn Up The Beet's walkup window.
Maggie's Krooked Cafe and Juice Bar
is a Zagat-rated and beloved community cornerstone of Tannersville, aka the Painted Village in the Sky. You'll find deluxe breakfasts served all day, delicious sandwiches and salads, and with creative, healthy juice blends and shakes. 6000 Main Street, (518) 589-6101.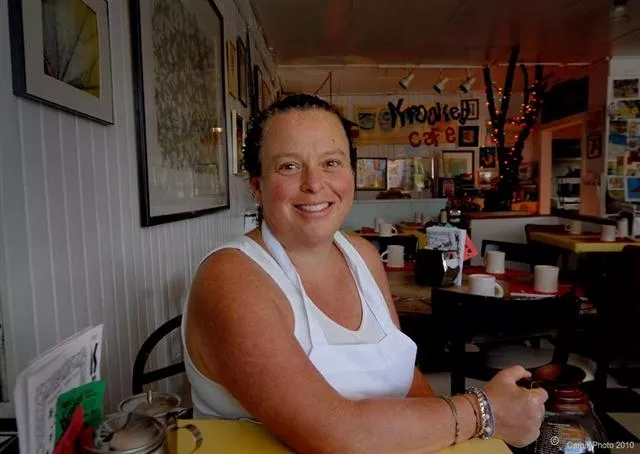 Maggie Landis has been feeding Tannersville at Maggie's Krooked Cafe and Juice Bar since 1986.