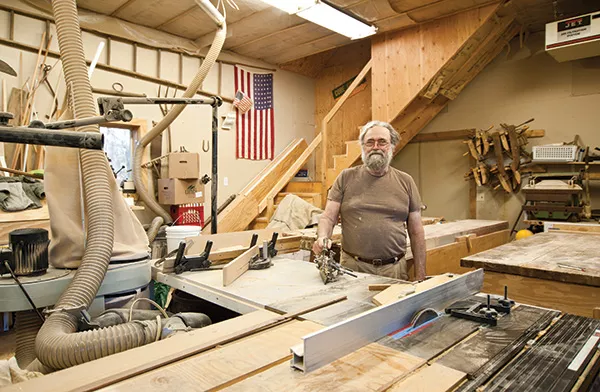 Deborah DeGraffenreid
Jerry Vis
Before you buy an old house, think about what exactly is attracting you to it aesthetically.
Inform yourself thoroughly about its structural integrity. Consider what contemporary comforts matter most to you, and likewise learn what you can about the period style or amalgam of styles to define the direction of the renovations.
Study the structure. Pay exquisite attention to period details of moldings, original paint and paper colors, even textures, inside and out. "Most of the older homes I am involved with are totally handmade—they contain few, if any, readymade products. I try to save all that is reasonable and duplicate vital details, where needed, in a cost-effective way," says Jerry.
"I always ask the client to make a clipping file of elements they like," says architectural designer Jerry Vis, who owns and operates Cottage Industries together with his son Ben. They're both experts on early American finish carpentry, but can handle all phases of a historical replication or renovation project. Currently, they're bidding on a Catskills hotel project; Ben's also working for painter Jamie Wyeth on a project in Maine.
If the house has not been updated in recent years, you will want to start with adding insulation between walls and floors, upgrading windows and doors, and perhaps adding radiant heat, a tankless hot water heater, and a high-efficiency furnace.
Modern conveniences such as a custom kitchen, laundry facility, updated bathrooms—Vis recommends that while the renovation should contain all the elements the owner wants for comfort, they should also be somewhat unobtrusive. "You don't want to lose the overall feeling of period," says Jerry.
Find out everything you can about the local building styles and eccentricities. "It's a great way to get to know your new neighbors and your local library," says Ben.
Cottage Industries specializes in the restoration and renovation of 18th and 19th century American homes but will consider almost any appropriate project. Their specialty is designing and building renovations and additions that fully blend in with the original parts of an historic homes.
Jerry also specializes in color consulting.
Ben is an expert on the applied use of sacred geometry for building design, which he says is a more active esoteric practice than Feng Shui, the Chinese art of arranging spaces for maximum auspiciousness, beauty and health.
For more information, visit viscottageindustries.com.