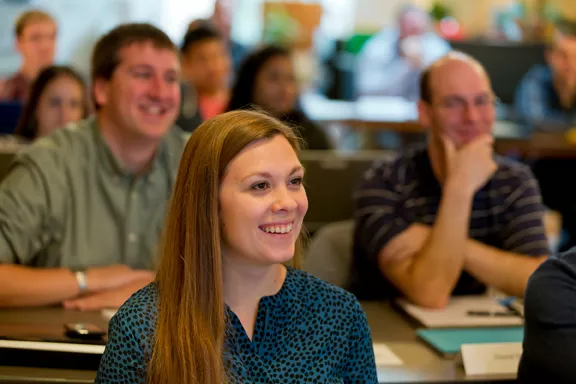 Steve Jacobs
All the students in Clarkson's Master of Science in Engineering Management program are working professionals at top companies like IBM and Global Foundries.
There's been much discussion recently, in light of the global health crisis we're facing, about how our elected officials are performing as leaders, and what constitutes the quicksilver qualities of leadership. In the Mid-Hudson Valley, Clarkson is training the next set of leaders in the fields of manufacturing and civil engineering in its Master of Science in Engineering Management (MSEM).
"We have developed a program that brings technical professionals from industry-leaders in both the Mid-Hudson Valley and beyond to address the unique challenges facing engineering-based organizations," says Nick Dodge, assistant director of Clarkson's engineering management program. "In an increasingly complex economy, organizations need leaders with a unique combination of technical, analytical, and managerial skills. This program takes an interdisciplinary approach to develop leadership potential."
Started in 2013 and based out of Clarkson's Beacon Institute for Rivers and Estuaries, the MSEM degree is for early and mid-career working professionals within technical environments—manufacturing, civil engineering, operations—looking to enhance their managerial and leadership capabilities. Clarkson's MSEM degree provides a skill set in leadership and managerial principles that unites world-class engineering expertise with best practices in managerial concepts such as Project Management, Risk Management, and Lean Six Sigma, to give rising technical professionals the tools they need to be successful leaders.
"When addressing the challenges facing our technical organizations, you need to take a synergistic approach that combines the engineering, operations, and business perspectives," says Dodge. "This degree is designed to provide our students with a skillset to lead cross-disciplinary teams and be able to engage in conversations across the different organizational value chains so that they can address problems holistically and move organizations forward."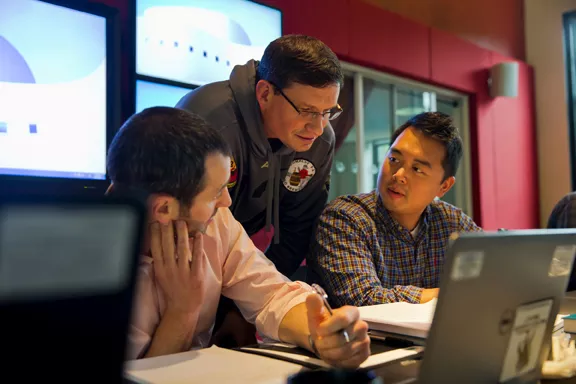 Steve Jacobs
The peer-to-peer experience of students being able to learn from each other professionals is the secret ingredient in Clarkson's MSEM program.
Clarkson is known for its strong track record of developing engineering and cross-disciplinary engineering and management professionals through its undergraduate programs at its main campus in Potsdam, NY. Clarkson's students are recruited by the top engineering and manufacturing companies in the US. Many of these companies, including United Technologies, Turner Construction, Global Foundries, and General Dynamics, also participate in the MSEM program, helping to shape the curriculum to ensure it meets the needs of future industry leaders. For their capstone project, MSEM students take what they've learned and apply it to a project developed in conjunction with their companies. "We wanted an application-focused program where our students can engage with faculty and each other regarding how the concepts they're learning about are being used within their workplaces and what challenges are going to be presented in implementing these processes in the real-world," says Dodge.
The 250 students currently enrolled in the MSEM program come from across the US—some as far away as Texas and Utah—and work for Pratt & Whitney, Johnson Controls, Collins Aerospace, and many others. The MSEM faculty includes working professionals at Siemens, Pfizer, and PAR Technology, among others.
As it's designed for working professionals, the MSEM program blends in-person learning with virtual instruction. During the two-year program, students attend six in-residence weekends at Clarkson's Beacon Institute for Rivers and Estuaries campus. These face-to-face interactions build the foundation for vibrant online discussions and courses while providing the flexibility working professionals need through synchronous and asynchronous learning.
The peer-to-peer experience of students being able to learn from each other professionals is the secret ingredient in Clarkson's MSEM program. "The students in our program are getting exposed to best practices from leading organizations around the country," says Dodge. "A student from IBM in Poughkeepsie is learning about best practices from someone at Micron in Salt Lake City. That type of student-to-student learning defines our program."
Learn more about Clarkson's MSEM professional graduate program.