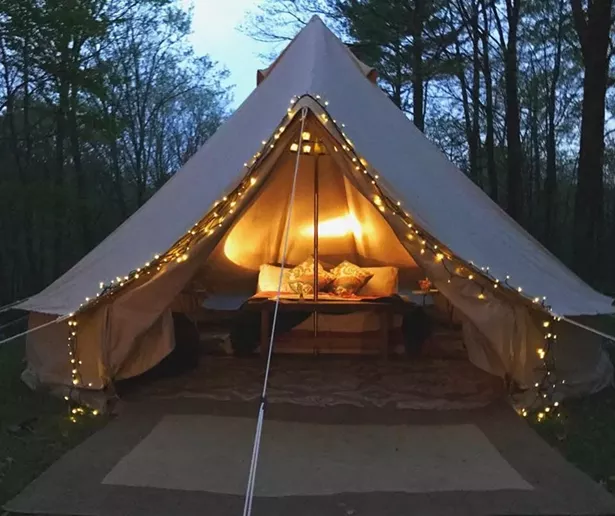 Images courtesy of GlampStar
Fresh air and starry nights await: GlampStar and Chronogram are proud to offer you a glamping experience in the Hudson Valley.
Be a GlampStar Rockstar, and win up to three nights in a luxurious GlampStar Rockstar tent.
Glamping combines camping with the little luxuries and glamor of a fine hotel. Feel cozy and comfortable on a real mattress with luxurious bedding. A chandelier and solar twinkle lights, a table mirror and soft rugs—GlampStar has thought of all the little things that add up to comfort and fun!
Full sweepstakes details can be found here. Enter to win!
Images courtesy of GlampStar
GlampStar is a Woodstock-based company born from the idea that camping can be fun and a little glamorous.
Glampstar comes to your location with exactly what you want to make your experience unique. Whether you choose to go camping with just the basics or really want to indulge, GlampStar has just the right package for you. Glampstar was named Best Rental Company by Chronogram readers in the 2021 Chronogrammies.
Images courtesy of GlampStar
The RockStar tent includes multiple rugs, solar twinkle lights, solar flashlight, small trash can, first aid kit, bench (or two ottomans), queen green tea foam mattress with cozy bedding including a duvet cover, deco pillows and a throw blanket, two picnic blankets, small mirror, jewelry dish, journal and pencils, two side tables, two exterior chairs, serving tray, and the option of a Corda Roys™ full-size bean bag (extra bed with sheets) or Pack N Play with sheet.
*Glampstar tent rental available between May 15 - October 15.