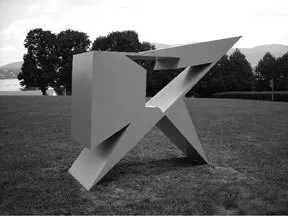 Alejandro Dron, Aleph, welded and painted steel.
Through August 10, "Current," an outdoor exhibition featuring 50 works by 20 sculptors, will be on display at five landmark sites along the Hudson River in Cold Spring and Garrison, including Boscobel Restoration, the Desmond Fish Library, Garrison's Landing, Manitoga, and on the Cold Spring waterfront. The exhibition, produced by the Garrison Art Center, features sculptures by Gilbert Boro, Stephen Fabrico, and Lori Nozick, among others, and was juried by curator Merrill Falkenberg, artist Edward Smith and sculptor Grace Knowlton.
In conjunction with and in the exhibition, the Garrison Art Center is sponsoring a photography contest of the exhibition. All entries should be submitted by July 6, and there will be an exhibition of the photographs at the Garrison Art Center on July 19, from 12 to 6pm.
(845) 424-3960; www.garrisonartcenter.org.