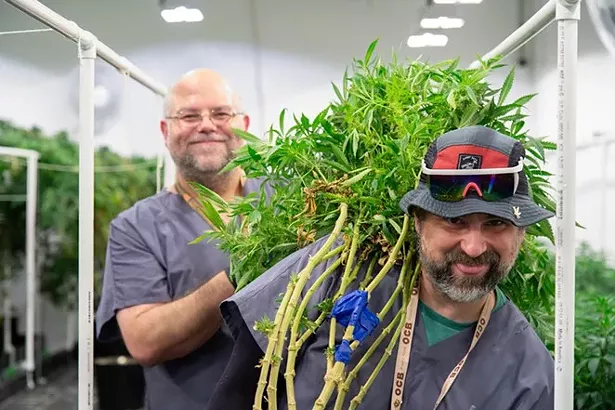 Images courtesy of Canna Provisions
Greg "Chemdog" Krzanowski (left)
Greg "Chemdog" Krzanowski is a living cultivation and culture legend of the cannabis legacy market. The renowned Western Mass native is best known for his eponymous Chemdog-named strains, which have been used as the parent or grandparent to many well known cannabis strains today (think: Sour Diesel, OG Kush, and many many others).
And wouldn't you know it, he's gone fully legal, and there's only one place to find where he's operating: Canna Provisions, a Massachusetts-based dispensary with locations in Lee and Holyoke founded by Meg Sanders, an industry legend known for her legalization efforts. There, Chemdog and the Canna Provisions team launched "Smash Hits" cannabis.
Images courtesy of Canna Provisions
Canna Provisions dispensary in Lee
Since Krzanowski joined the team as director of cultivation just over a year ago, he's already developed dozens of strains from his own cannabis genetics vault, as well as classics and stellar examples of strains and special cuts all for the "Smash Hits" cannabis brand.
The only thing left to do is get to know some of the superstars available right now at Canna Provisions, or at the select shops across Massachusetts that are lucky enough to carry such special and sought after flower.
Behold! Here's a handy cheat-sheet of three "Smash Hits" strains that you should know all about, and jump at the chance to sample.
Chem S1
Images courtesy of Canna Provisions
Chem S1
Krzanowski bred this strain of Chem S1 from a single Chemdog seed, so think of Chem S1 as a stronger, more vivacious version of classic Chemdog from top to bottom.
Appearance: Classic hand-trimmed Chem D buds of light and crayon-green leaves, dark orange/brown hairs, and deeply frosted cluster buds.
Flavor Profile: Diesel, conifer trees, cracked pepper, and distant sweet garden herbs.
Effects: Looking for the best of all worlds? This hybrid Indica/Sativa strain has balanced mind and body effects. Uplifting and euphoric with a deep, satisfying body high ideal for a post-work wind-down without a knockout punch.
Da Funk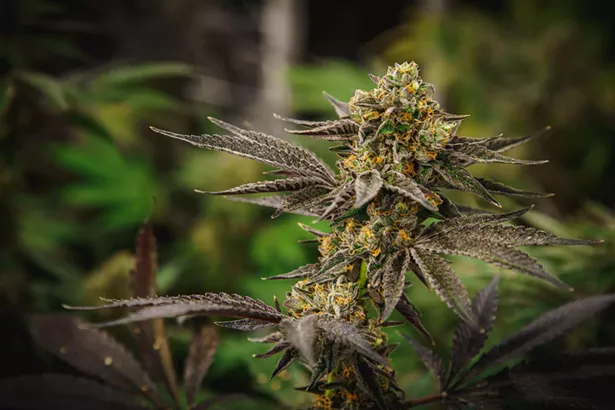 Images courtesy of Canna Provisions
Da Funk
Thanks to its family history of First Class Funk crossed with White Runtz, Da Funk is a slam dunk flavor-bomb of a flower.
Appearance: Buds have a cracked-geode purple and dusty-green color range with wispy yellow-orange hairs, and nearly sparkle from the trichome frost.
Flavor Profile: Complex mint-cream touches and a heavy gas and floral blanket, accented by berry, citrus, and cookie spicy earth.
Effects: This Indica strain provides a stoney, misty euphoria and high-impact body, then gets loosey-goosey and in range of couchlock.
White Runtz
Images courtesy of Canna Provisions
White Runtz
Straight from the Cookies family of strains, the White Runtz S1 strain is the result of crossing Gelato and Skittlez. So, what you get with those notorious parents is a perfect flavor balance between sweet and fruity, a smooth smoke, and a telltale long-lasting high.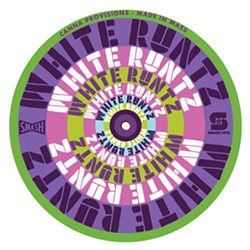 Appearance: Buds burst in technicolor with lime green, deep purple and violet cluster colors, with orange hairs.
Flavor Profile: Creamy smoke that's smooth and drenched in sugar, berries, and pineapple.
Effects: This hybrid Indica/Sativa strain won't keep you on the down low. The heady high of White Runtz kicks in pretty much right away. Creatives love White Runtz because it's not just uplifting but really opens up a new headspace for new perspectives—plus its tingly body effects are just as noteworthy.
Special note on the White Runtz—it was a small batch craft release, and the line is coming to an end at "Smash Hits." So to land some of this coveted bud, you gotta get on it fast!
Looking for all the accoutrement to pair with your flower-power experience? Alongside Canna Provisions' premium strains, the dispensary also stocks pre-rolls, vape cartridges, concentrates, edibles, tinctures, and topicals. And just in case you show up without the means to enjoy your purchase, an array of smoking accessories are available for purchase, too.
Want to hear about the newest strain drops before everyone else gets in on the fun? Sign up for Canna Provisions email list to get notified before supplies run out.