Outdoor dining at Peace Village Learning and Retreat Center.
The drive to Peace Village Learning and Retreat Center, perched atop the Catskills just above Kaaterskill Falls, seems to wind up into the stratosphere. Although the weather is clear below, you might find yourself steering through clouds into the guest parking lot, as I did one May afternoon, and then walking along an entry path that vanishes into mist. On days like this, the door to the reception hall appears out of nowhere, as if rolled in by stage hands. Inside, a few people move about quietly, dressed in flowing white clothes. Shrouded in a celestial microclimate and dedicated to the inner life, the place has an otherworldliness and calm that envelops you right away. And well it should: Peace Village is the Catskills outpost of the Brahma Kumaris—the largest spiritual organization in the world led by women. With a home base in Rajasthan, India, the Brahma Kumaris have satellite hubs around the globe—some 8,500 community centers and about 15 retreat centers offering an immersive experience like this one.
Maybe it's the lofty highlands or the labyrinth of waterways, but something about the Hudson Valley makes the terrain ideal for spiritual centers, many of them outposts of sister communities in India. There are places like Shanti Mandir—the 300-acre ashram in Walden that is the residence of Swami Nityananda (aka Gurudev) when he is in the US—which invites people to disconnect from their busy lives and immerse in chanting, meditation, vegetarian food, nature walks, hatha yoga, and philosophy talks, either through residential options or community sessions every Sunday. There is the Vivekananda Retreat Ridgely in Stone Ridge, a center for meditation and pilgrimage dedicated to Vedanta spiritual philosophy. From seekers' destinations like Matagiri Sri Aurobindo Center to luxe, food-centered havens such as newcomer Yoga Vida Farms, there is something for everyone. It's as if, just north of the hectic swirl of New York City, we've cooked up a laboratory for the higher consciousness, and a chance to be nurtured by Indian spiritual traditions.
Discovering Soul Consciousness
At Peace Village, the focus is on experiencing your highest possible self. "It's a knowledge-based path, based on spiritual learning," says Judy Rodgers, a resident of Peace Village who works on international projects for the Brahma Kumaris. "We start every day in class, coming together to read and listen and talk. Then we try to live according to the class." Although the Brahma Kumaris organization is women-led, it's not women-only: About 40 percent of its practitioners are men, and the group's founder, Dada Lekraj (or Brahma Baba), was a man. "He felt that for a long time, feminine energy had been underplayed," says Kala Iyengar, director at Peace Village. "He had a strong vision that it was time to reverse that balance, and passed the organization on to women"—a revolutionary idea at the time in 1930s India. Today, the Brahma Kumaris' spiritual leader is 103-year-old Dadi Janki, who is still very active. (When I visited, the community was happily anticipating her arrival at Peace Village in late May.)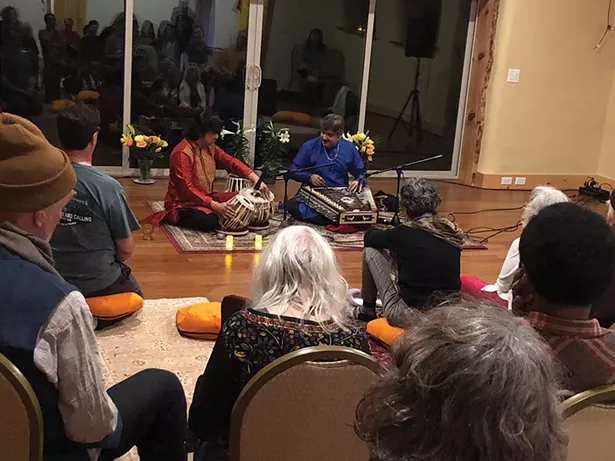 A performance at Matagiri Sri Aurobindo Center.
"A big part of what we do is meditation," explains Iyengar. "We do Raja Yoga meditation to practice something called Soul Consciousness, which is consciousness of the self as spirit or soul. We believe that each one of us has an individual connection with the supreme source of spiritual energy. It's very important to reignite that connection at this time, when so much about the world is upside down." Raja Yoga meditation is practiced with the eyes open, so that you can apply its benefits toward daily life, including the people and situations you need to face with clear sight and a calm presence. You're instructed to gently rest the eyes on a point in front of you, ideally on a point of light so that you can remember that you, too, are light.
Although the Brahma Kumaris don't focus strongly on the feminine aspect of the organization, there is a certain emphasis on the power and strength of mothers, as well as on the importance of the kitchen. "We consider the making of food to be a sacred process," says Rodgers. Wandering about the center, you'll periodically hear soft music begin to play, called "traffic control," which signals a time to take a break. "This helps us to avoid haphazard ways of thinking or acting," says Iyengar. Weekend retreatants soak up an atmosphere that is nurturing and grounding. Retreats are by-donation so people only pay what they can afford. Some are geared toward beginner or experienced practitioners, while others are designed for certain groups like healthcare workers or members of the media.