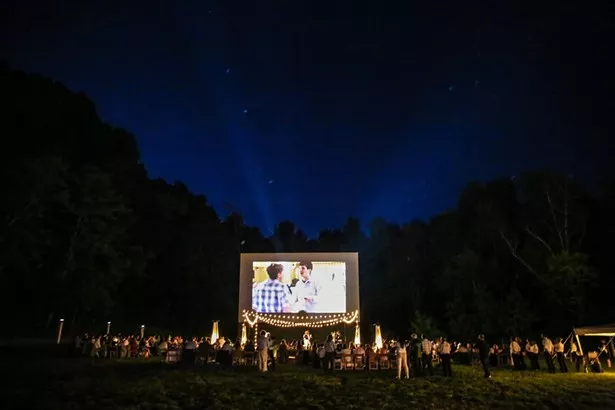 As the weather heats up, so do the excellent activities that await you around the region.
"Movies Under the Stars" Series Returns to Kingston | July 21-August 11
Kingston's popular, family-friendly "
Movies Under the Stars
" program returns on July 21 at 8pm and continues through August 11. Established by a group of community volunteers, the free outdoor events connect local residents and visitors to Kingston's various parks and public spaces. The series begins with
Zootopia
at the Kingston Public Library on July 21 and continues with
Lost Rondout: A Story of Urban Removal
at T.R. Gallo Park on July 24;
42
at Loughran Park on July 31;
Jumanji
at T.R. Gallo Park on August 14; and
Raya and the Last Dragon
at T.R. Gallo Park on August 28.
"Winter Walk Makes a Summer Splash" in Hudson | July 21
To celebrate the upcoming 25th anniversary of Hudson's Winter Walk this December,
Hudson Hall
invites the community to head down to Henry Hudson Waterfront Park on July 21 from 5:30pm to 9pm for a festive evening of Winter Walk-themed music, dance, a processional down Warren Street, and a grand fireworks display, as well as food, market stalls, and kayak rentals. The free event also features live entertainment by Kuumba Dance and Drum Circle, dancers from the Hudson Valley Academy of the Arts (performing segments from "The Nutcracker"), the Jeanne O'Connor Jazz Quintet, and more.
"Mr. Fullerton" on Stage at Great Barrington Theater | July 21-August 1
Called "a steamy, eyebrow-raising return to the Gilded Age," "Mr. Fullerton" is a daring new play written by area playwright-actor Anne Undeland that will debut at the
Great Barrington Public Theater
in Great Barrington, Massachusetts, and July 21 through August 1. Directed by Judy Braha, the play will be staged in the facility's intimate Liebowitz Black Box Theater. "Mr. Fullerton" brings together Edith Wharton, Henry James, Morton Fullerton, and Edith's saucy Irish maid for parlor games and society foreplay from Paris to Lenox in a rich retelling of Wharton's actual romance with a younger stateroom dandy. Mr. Fullerton has been called "a banquet of language, poise, sex, mores, and manners that rings with literary and local history." See website for showtimes and ticket prices.
Waste Land Screens at Greenville Drive-In | July 22
On July 22 at 8pm, Basilica Hudson's Basilica Non-Fiction Screening Series returns to Greenville Drive-In with a screening of the 2010 documentary
Waste Land
. Filmed over nearly three years, the film follows artist Vik Muniz as he journeys from his home in Brooklyn to his native Brazil and the world's largest garbage dump, Jardim Gramacho, located on the outskirts of Rio de Janeiro. There, he photographs an eclectic band of "catadores"—self-designated pickers of recyclable materials. Muniz's collaboration with these inspiring characters as they recreate photographic images of themselves out of garbage reveals both the dignity and despair of the catadores as they begin to reimagine their lives. The screening is free with a suggested donation of $15. Register at Basilica Hudson's
website
.
Steve Gunn Plays Live at Livingston Manor | July 23
Modern psychedelic guitar master and singer-songwriter Steve Gunn recently released his fourth album,
The Unseen in Between
. A one-week East Coast tour in support of the album brings him Catskill Brewery in Livingston Manor on July 23 at 5:30pm. Joining Gunn on the jaunt is Nashville acoustic "cosmic country" guitarist William Tyler, whose third album,
Modern Country
, was hailed by
Rolling Stone
as one of the best country albums of 2016. His newest release is 2020's
Music from First Cow
, a soundtrack album. Tickets are $15 via
Brownpapertickets
.
Brassroots Festival Blares at Kingston Farm | July 24
The
Hudson Valley Brassroots Festival
makes its long-awaited return to Seed Song Farm in Kingston on July 24 at 2pm. This year marks the event's third, with a program that runs through 10pm and features six East Coast brass bands "whose influences range from traditional second-line music to Ghanian drumming to '70s discopunk [sic]." Performing are Funkrust Brass Band, Hot Hand Band, Kotoko Brass, Novi Hitovi, Ocean Avenue Stompers, and What Cheer? Brigade. The family-fun fest also includes farm tours, locally sourced food and drink, and bonfire. Adult tickets are $25 in advance or $30 at the door. (Seniors: $20; students: $15; ages 13-18: $10; children 12 and under are free).
Mushroom Growing Workshop in Kingston | July 24
Budding agriculturists may be interested in the
specialty mushrooms growing workshop
that will hosted by expert Steve Gabriel from the Cornell Small Farms Program Specialty Mushroom Project and members of the New Paltz Mushroom Shed at the Hudson River Maritime Museum in Kingston on July 24 at 9am. The four-hour workshop introduces participants to the world of fungi and engages them in hands-on inoculations of shiitake logs and oyster straw bags, to learn the successful techniques for growing mushrooms at home. The class will also touch on uses of mushrooms including cooking, drying, and medicine. The $50 fee includes a shiitake log and other mushroom goodies to take home and helps support New York community projects. Participants also get access to a website with further resources.
Matt Munisteri Jams at Kingston Jazz Series | July 24
Local jazz guitar virtuoso and vocalist Matt Munisteri brings his duo to the Senate Garage in the Kingston Stockade on July 24 at 8pm for the long-running
JazzStock
series' first post-quarantine concert. Munisteri's compositions and playing reflect his lifelong devotion to the history of American popular song, linking rural and urban, long-gone with contemporary. His prewar-meets-modern style has seen him called "a Nick Lucas for the 21st century." Joining Munisteri for the set will be bassist Danton Boller, a veteran of Roy Hargrove's band, among others. Tickets are $30. Wine, beer, and soft drinks will be available for purchase.
To find out about more upcoming events in the Hudson Valley, subscribe to our weekly newsletter Eat. Play. Stay.