Coppersea Distilling
is celebrating the first weekend of October in style, with unique parties on both Saturday and Sunday.
On Saturday, it's Pig Fest, a day to savor and give thanks for Coppersea's harvest of heritage breed pork. On Sunday, it's a celebration of the beauteous and bountiful land itself, as Coppersea co-hosts
Bikes, Bourbon and Brunch
with the Wallkill Valley Land Trust.
When you're starting with 100 percent New York organic ingredients and using heritage distilling methods, even the spent, residual whisky mash is good stuff. To a pig, it's delicious, blending extremely well with the roots, bugs, wild nuts and mast they forage around the farm. This makes for healthy, happy pigs and ultimately for savory, juicy, and truly gorgeous pork.
The pigs at Coppersea are heritage breeds. Most are Gloucestershire Old Spots, known for producing well-marbled, savory pork and tasty bacon. Coppersea pork has been served at
Blue Hill at Stone Barns
,
Trattoria Italienne
,
Eataly
and
Hometown BBQ
to satisfied diners.
The free-ranging and the whisky mash bring out the breed's best features. The thoughtful farmer-distillers of Coppersea make sure their swine lead healthy, happy lives.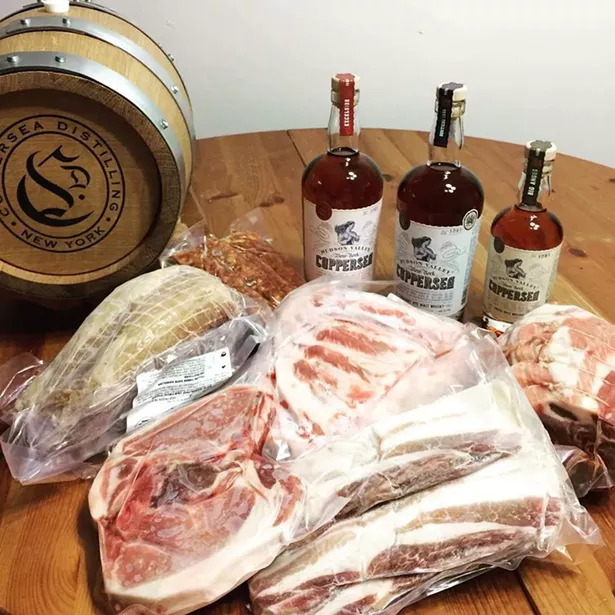 Photos Courtesy of Coppersea Distillery
Saturday at Pig Fest you can stock up on bacon, sausage, roasts and chops for your freezer, perfect for chilly-day breakfasts and holiday feasting, And surely you know someone (maybe it's you!) who'd be cheered by a bottle of Coppersea whisky, with its rich, complex flavors and velvet mouthfeel.
Purchase a drink or a flight of Coppersea whisky and you'll get to taste-test the grilled goodies; pick a bottle of your favorite and its purchase will get you 15 perfect off on the meat you buy to take home.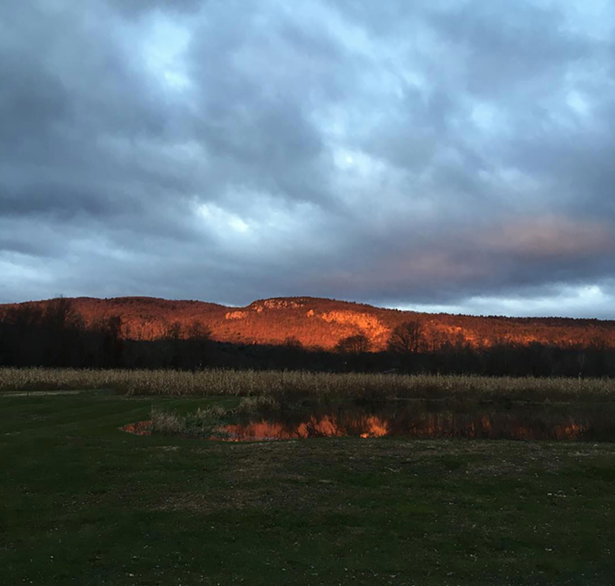 Photos Courtesy of Coppersea Distillery
Sunday's
Bike, Bourbon and Brunch
is a benefit party for the WVLT, and you'll enjoy bourbon, distillery tours, mimosas, bicycle demos, raffles, yard games and face painting (kids under 12 are free.) And you'll know, as you admire the beginning touches of autumn painting the Gunks, that you're helping to preserve the landscape that grows so many wonders and nurtures so many dreams and achievements.
We'll drink to that.
Come visit on Saturday between 12 and 7 for a chance to stock both your larder and your liquor-cabinet with farm-to-taste-buds heritage excellence. Sunday's Bikes, Bourbon and Brunch fundraiser will be held from11 am-2 pm.