Image courtesy the Cornell Creative Arts Center

As summer gets underway, the search is on for activities that balance safe social distancing with a fun, creative atmosphere. That's why the Cornell Creative Arts Center (CCAC) in Midtown Kingston has a full summer schedule of live-streamed arts classes that you can attend from the comfort of your own home.
Developed by the Arc Mid-Hudson to provide inclusive arts programming to the Kingston community, the CCAC's mission is to knock down barriers to arts participation, from financial affordability to developmental or physical disabilities. The organization just finished construction on its 12,000-square-foot location at 129 Cornell Street, complete with a ceramics studio, gallery space, art classroom and studio, and dance and movement studio.
The ceramics studio at the Cornell Creative Arts Center
While the CCAC is looking forward to welcoming the community into the new space, their virtual classes will give people a look at how they design classes to bring together as many different abilities and ages as possible. This summer, the classes include visual art workshops, dance, yoga, and guided meditation. "We're trying to look at art holistically and the art world as a medium for being healthy and creating total wellness." says Art Director Rachel Jacob.
Supported arts classes with Jillian Rahm are offered on Monday, Wednesday, and Friday evenings and Saturday during the day. The classes are developed with both beginning and advanced artists in mind and will help create familiarity with specific techniques like watercolor, paper coiling, resists, and basic color theory. The projects for June's classes featured supplies people might already have in their houses, like making collages from household materials, painting mandala rocks, and creating no-sew tee shirt masks. Later in the summer, the CCAC hopes to collaborate with local organizations on art materials kits that students can pick up directly from the center.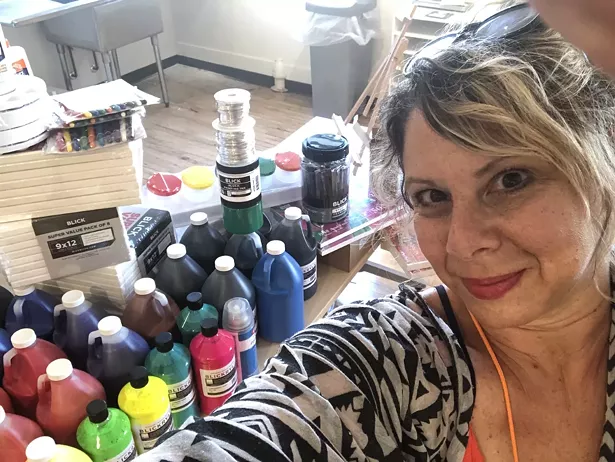 Supportive Arts Instructor Jillian Rahm
On Saturday afternoons, you can attend Nina Ries Easter's adaptive dance class, which modifies traditional techniques for all types of movement and creative expression in a welcoming environment. Anyone looking for an approachable introduction to yoga and meditation can join Melissa Mae on Mondays for chair-based yoga and guided meditation.
While these three areas form the core of the CCAC's virtual offerings, the organization is also looking for digitally-savvy instructors who have experience in a teaching environment to help build out their arts curriculum in the coming months. For more information, or to sign up for the CCAC's newsletter for up-to-date info on events, workshops, and schedules visit cornellcreativeartscenter.com.