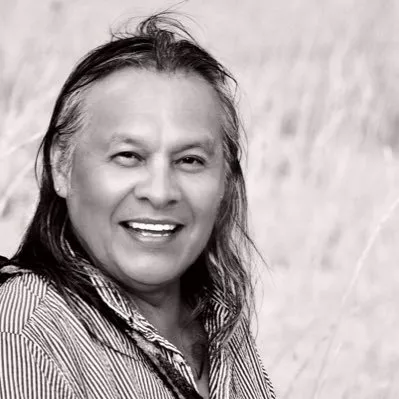 Book signings, jazz, art, film, and a visit from a Native American flutist and activist—welcome to another interesting week in the Hudson Valley.
MUSIC
Tiokasin Gosthorse in Beacon
As part of its ongoing Tribal Harmony series celebrating indigenous culture, the
Howland Cultural Center
in Beacon presents activist and musician Tiokasin Ghosthorse on January 15 at 7pm. A member of the Cheyenne River Lakota Nation of South Dakota, Ghosthorse is an international speaker on peace and the indigenous "Mother Earth" perspective and the host and producer of the syndicated "First Voices Radio" show. Accompanying him for the concert and talk will be the legendary composer and musician David Amram. Tickets are $10 in advance and $15 at the door. (845) 831-4988.
FILM
Dreaming of a Vetter World in Rhinecliff
Morton Library
in Rhinecliff will screen the documentary
Dreaming of a Vetter World
for its Rhinecliff Sustainability Series (sponsored by Backyard to Table). Produced by Bonnie Hawthorne, the film tells the story of Nebraska organic farmers Donald and David Vetter and their pioneering, revolutionary work in regenerative agriculture. The showing is free and open to all. (845) 876-4769.
LITERARY EVENTS
Matthew Goodman in Rhinebeck
New York Times
-bestselling author Matthew Goodman (
Eighty Days
) will appear in support of his newest book,
The City Game: Triumph, Scandal & a Legendary Basketball Team
, at
Oblong Books
in Rhinebeck on January 17 at 6pm.
The City Game
tells the dramatic story of the New York City College Beavers basketball team (ca. 1949-1950), who broke racial and religious barriers and, despite all odds, became tournament champions. The event is free, but space is limited so RSVP at the store's website. (845) 876-0500.
MUSIC
Eric Andersen in Woodstock
Iconic singer-songwriter Eric Andersen was a staple of both the 1960s Greenwich Village folk circuit and the 1970s/1980s Woodstock scene, and his songs have been recorded by Bob Dylan, Johnny Cash, Judy Collins, and many others. On January 17 at 7:3pm, Andersen will return to the latter locale to perform at the
Byrdcliffe Kleinert-James Center
for the Arts. Joining Andersen, whose immortal songs include "Violets of Dawn" and "Thirsty Boots," will be violinist Eric Lee. Tickets are $23 ($20 for Byrdcliffe members; $75 for VIP seating with meet-and-greet). (845) 679-2079.
ART
Quilt Exhibit at Wassaic Project
Nu, Shoo, Fly by DARNstudio
Opening at the
Wassaic Project
's Maxon Mills Gallery with a reception on January 18 from 3 to 6pm is "Heirlooms," a showing of colorful quilts created by DARNstudio. A collaborative project formed by multidisciplinary artists David Anthone and Ron Norsworthy, DARNstudio's "work explores, exposes and critiques American cultural myths and historical narratives." The six quilts that form "Heirlooms" are taken from a larger series titled "American Country: A Quilt Cycle." The pieces will be on display at the Wassaic gallery through March 28. (845) 927-7242.
To find out about more upcoming events in the Hudson Valley, subscribe to our weekly newsletter Eat. Play. Stay.