All images courtesy Dharmakaya Center for Wellbeing
Trungram Gyalwa Rinpoche is a familiar name in Cragsmoor, a tiny hamlet of just 500 people located in the Shawangunk Mountains two hours outside of New York City. That's because the picturesque rural town is where Rinpoche, an incarnate lama and one of the highest teachers in Tibetan Buddhist tradition, chose to establish the
Dharmakaya Center for Wellbeing
. As the first incarnate lama to receive a PhD from a western university, which he earned from Harvard in 2004, it's no surprise that Rinpoche's teachings provide a contemporary path for anyone who wants to incorporate Buddhist practices into their daily life.
Under Rinpoche's guidance, the Dharmakaya Center's programming is designed to meet each individual student where they are. On any of their five learning paths, you'll find ample opportunity to discover how you can apply Buddhist teachings to your own day-to-day.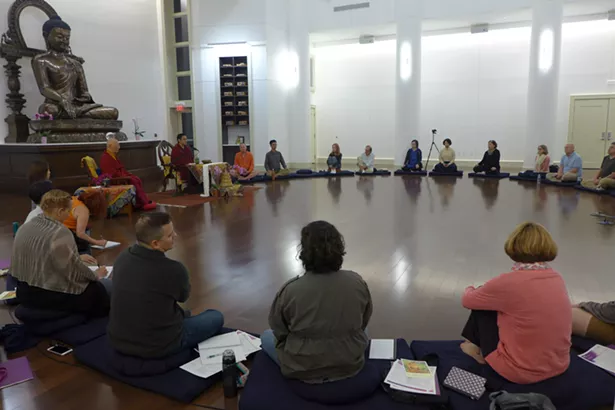 All images courtesy Dharmakaya Center for Wellbeing
Those looking for a more traditional approach might be interested in the programs offered in the Buddhist studies or meditation and spirituality paths. There, you'll find programs like Basic Buddhism, a three-day course on traditional spiritual teachings or the opportunity to craft your own personal retreat.
For those interested in exploring how Buddhism can provide lessons in other aspects of daily life, the remaining three paths—yoga and movement, health and nutrition, and art and culture—might be more your style. Here, you'll find programs like Yoga of Transformation, a weekend of somatic yoga, yoga nidra, gong baths, hikes, and other body-based tools and practices; Being Your Own Medicine, which is focused on understanding and transforming your relationship with food; and the Cultivating Compassion Art Mandala Weekend, an intensive creative workshop that explores the healing impact and beauty of these traditional symbols.
All images courtesy Dharmakaya Center for Wellbeing
The Dharmakaya Center is currently in the process of thoughtfully reopening. Limited class sizes will enable appropriate social distancing and take advantage of the center's impressive 90-acre campus, as well as the light-filled meditation hall, two comfortable residence halls, and a dining room that specializes in locally grown vegetarian fare. Whether you're looking for a weeklong in-person retreat or a short virtual meditation class, the center has something to offer anyone exploring what a modern practice of Buddhism can look like.

For more information on the Dharmakaya Center for Wellbeing, visit dharmakayacenter.org.