Page 2 of 3
He graduated from the University of Western Australia, then studied law at Cambridge. Moving to New York, he passed the bar exam on the first try and went to work for a big Wall Street firm. "I was a great law student and a terrible lawyer," he says now. "I was working on things called 'derivatives' that destroyed Wall Street 15 years later." He recalls sitting in on a billion-dollar deal at age 24, looking at a big pile of microfiche and thinking, "This could all be a fraud."
Years later, this legal training and insider knowledge would be invaluable in interviewing rogue trader Sam Israel for Octopus. But long before he started writing nonfiction, Lawson quit his six-figure job at the law firm to write his first novel, Pilgrim's Plummet, which he now calls "terrible—a Bright Lights, Big City kind of thing, your classic failing writer writing about a failing writer."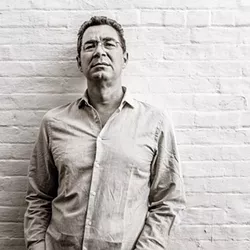 He moved back to Montreal, living in a neighborhood so lousy he was burgled three times in six months ("They stole my dirty laundry," he says, still incredulous). Canadian author Merrily Weisbord, a family friend, introduced him to the producers of TV Ontario's literary talk show "Imprint," which wanted to replace its departing host with a complete unknown. "I fit the bill," quips Lawson.
He hosted the show a year. "I was the Charlie Rose of Canada," he says. "I experienced worldwide fame in a 16-block stretch of downtown Toronto." Though he got to hang out with writers like Margaret Atwood and Martin Amis, he didn't enjoy being a celebrity interviewer. He wanted to write.
Lawson's first journalism gig was covering the Quebec referendum for a Toronto alternative weekly. As luck would have it, he was staying down the hall from legendary Australian journalist Murray Sayle, who was covering the same story for the New Yorker. "Murray loved to talk, loved to share stories. And he had great stories—he'd found Che Guevara's campsite in the Bolivian jungle, broke the Bloody Sunday story. By anyone's lights he was one of the bravest Vietnam war correspondents, this long-legged, amazing guy," Lawson says of his mentor. "The biggest compliment I've ever received from anybody is when he said I had promise."
Lawson's cell phone rings, and he glances at it. "This is actually my movie agent." He answers, "Hey man, is it something quick? I'm doing an interview." He agrees to call back and hangs up, saying, "I didn't stage that." He's smiling. Who wouldn't?
After that first gig, the young reporter landed—and nearly blew—a commission from Harper's. "I was trying to play with the form, to be artful," Lawson recalls. A shrewd editor gave him a second shot, and Lawson went to the library, "trying to give myself an MA in journalism in a weekend."
He discovered a penchant for fly-on-the-wall observation. "I found out I could vanish: it didn't have to be about me," he says. "If I became a conduit—the glass instead of the water—the piece would work much better."
His breakthrough story for Harper's, an in-depth feature about the hardscrabble lives of small-town Canadian hockey players, led to jobs at GQ and Rolling Stone.
Lawson met Kaimal, then a photo editor at Saveur magazine, at a party in New York. They married in 2001. Shortly after their honeymoon, she lost her job. Lawson encouraged her to start a business making Indian sauces and condiments. Maya Kaimal Foods was launched in their Clinton Hill apartment, with a manufacturer in Saugerties. In 2004, the couple had twin daughters and moved upstate.
They've lived in Rhinebeck for six years now. Lawson starts his workday answering e-mails at home, then heads to an office in the village to write. He works best in spurts. "If you can get four hours of productivity out of it, that's a good writing day."
Clearly he's been having a lot of good writing days. Four of his books and magazine features have been optioned for film, with a possible fifth in the wings (hence that call from his agent): Octopus will be adapted for HBO by "Breaking Bad" scribe Peter Gould; The Brotherhoods was optioned by Warner Brothers; and New Line just optioned his recent Rolling Stone article "The Dukes of Oxy," with teen heartthrob Ansel Elgort attached.
The action has been as nonstop as a Guy Lawson story. But the author finds himself now with an odd slice of freedom. "For years I've been kind of a hard-charging guy. After banging your head on the wall for 15 years, it feels odd to stop." He's thought about making a documentary, possibly based on the story he's writing for the New York Times Magazine about a gruesome triple homicide. "My wife says, 'Would you just write about something happy?'"